Creating the kitchen of your dreams is an exciting prospect but where is the best place to start? We are thrilled to share with you advice from award winning, interiors journalist and blogger, Kate Watson-Smyth of Mad About The House whose stylish kitchen has recently graced the pages of the Sunday Telegraph's Stella Magazine.
"Planning a kitchen might seem like an overwhelming task at first but if you break it down into sections it's much easier. First of all, start thinking about what you want from your kitchen. So many people design a kitchen based on who they want to be rather than who they are. Once you have decided what your kitchen is for and how you want to use it, you can start to look at the design.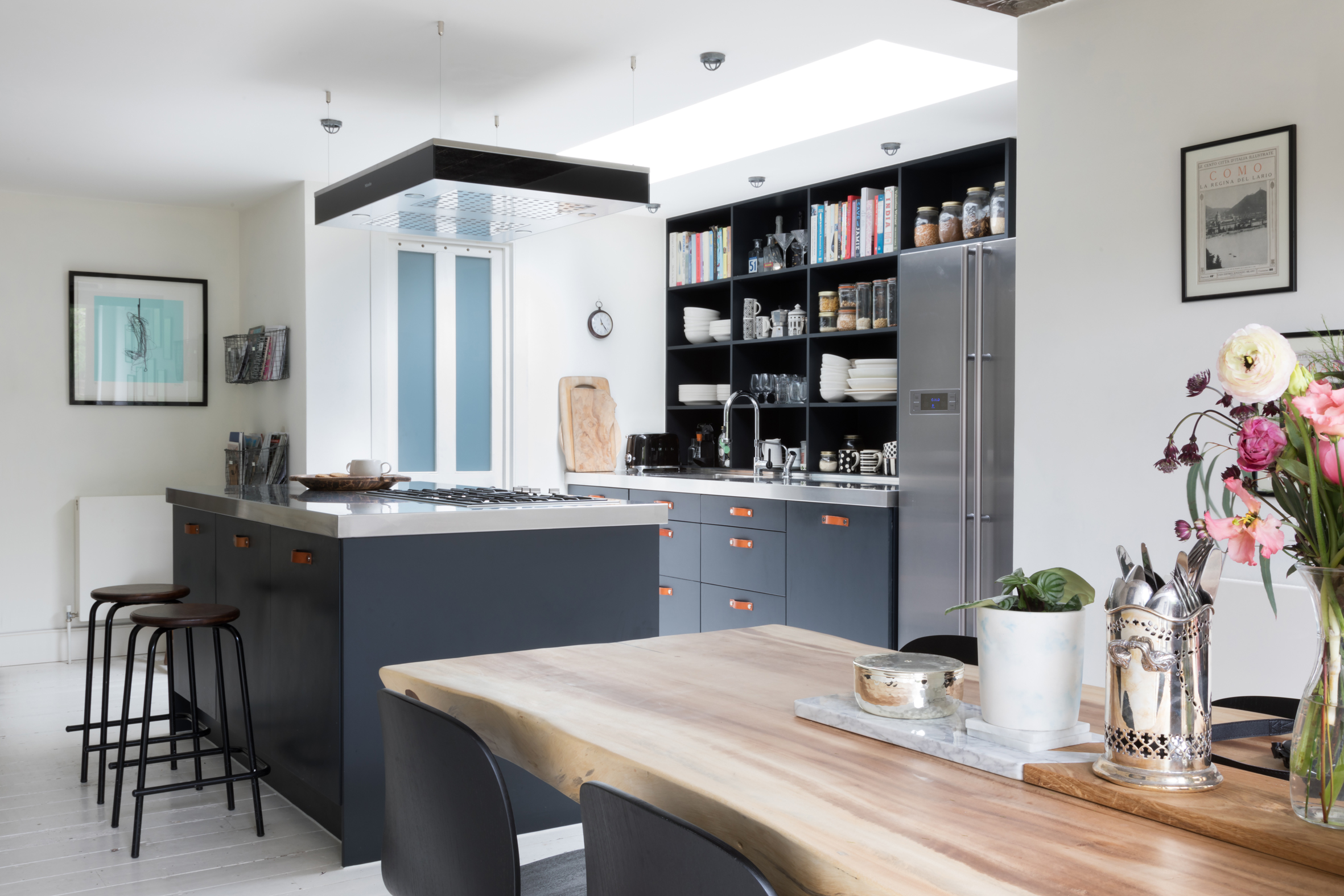 Key to this stage of the planning is the appliances you want to have. Are you a keen cook, do you want a dishwasher or a steam oven, or both? Working out what appliances you want in advance means you can then concentrate on how many cupboards you can fit round them. Then you can move into the placement part of the process.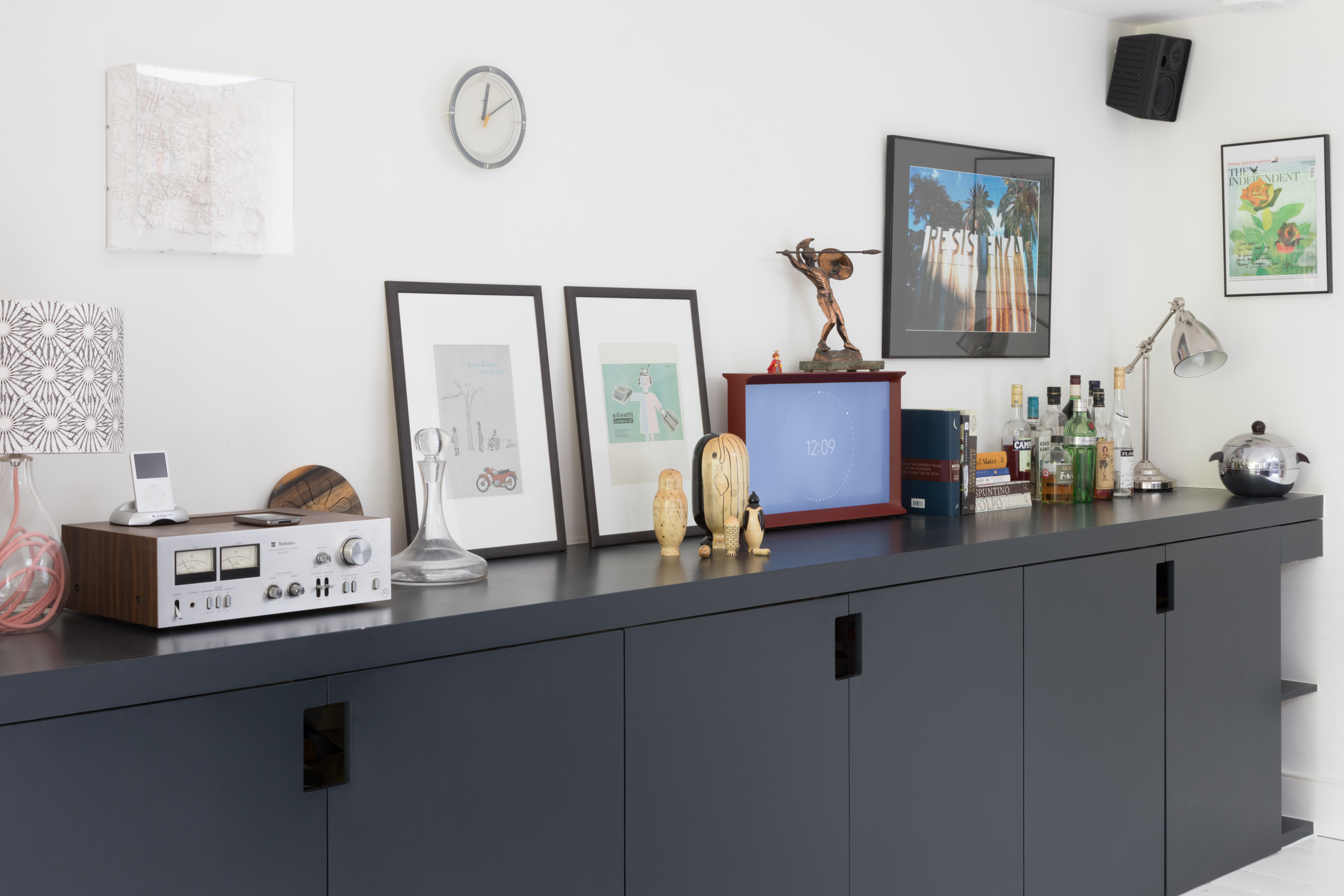 The chances are you already know what's irritating about your current kitchen. So, use that as a starting point. Is there not enough worktop? Would you like more cupboard space? Make a list of the things you know that need to be corrected. Then invite a friend round to cook something in your kitchen (or just ask them to find various things as if they were putting a meal together). A fresh pair of eyes is more likely to realise that the chopping boards are in accessible or the mugs are too far away from the kettle. These are the details that you have become so used to you hardly notice. Listen to their feedback and add those things to the list.
Now you have worked out all the problems, you can start thinking about how to put them right together with the things you know you want. The first thing on many people's wish list is an island. So, you need to work out if you have enough room. For a rough guide stand at your existing counter and work out the distance you need to pivot between it and an imaginary island without taking a step. Imagine you were doing this with a heavy pan of potatoes – picking them from the hob and swinging round to the sink to drain them. That is ideal distance for you and will allow you to operate efficiently in the space. Then you need a metre clear at each end for people to walk comfortably past. You can do it with less - a standard door is 76cm wide but it's best if it doesn't feel too squashed. If that doesn't work then consider a peninsula with is attached to a run of units so takes up less space. It also works well as a room divider between the kitchen and dining area and still gives you a breakfast bar which kids love in the morning and adults love for a glass of wine in the evening.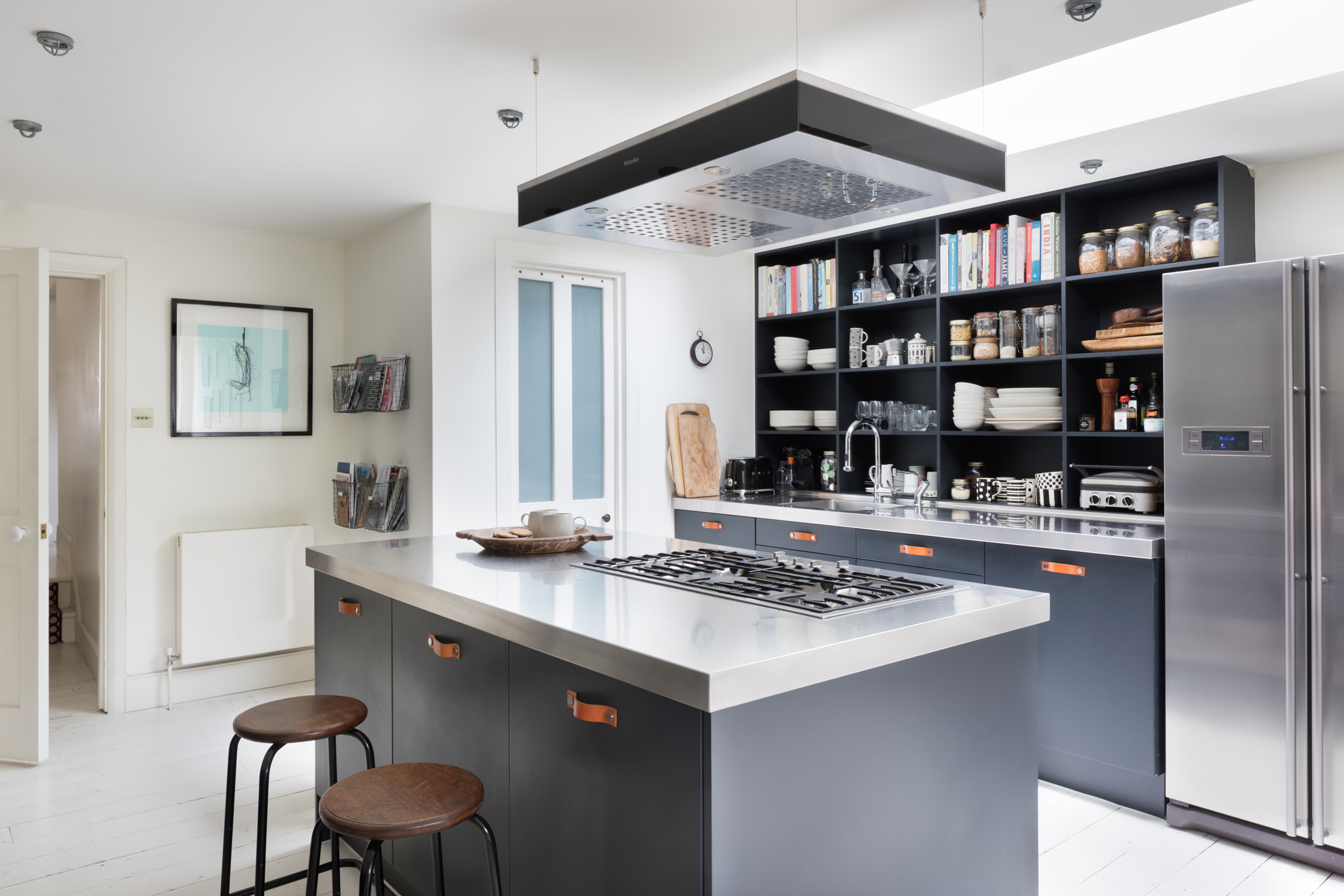 Once you have decided on the basic layout, it's time to think about your cupboards. Open shelves are fashionable and look great if you have lovely crockery to display but they will need dusting. If you prefer a more minimal look then choose wall cabinets but make sure they go all the way up to the ceiling. If they are shorter than that you will end up storing things on top that you can't reach so you won't use them. Eventually they will be covered in dust and make the room look cluttered. If you hide them behind a door you still won't use them but at least they will be clean and hidden from view.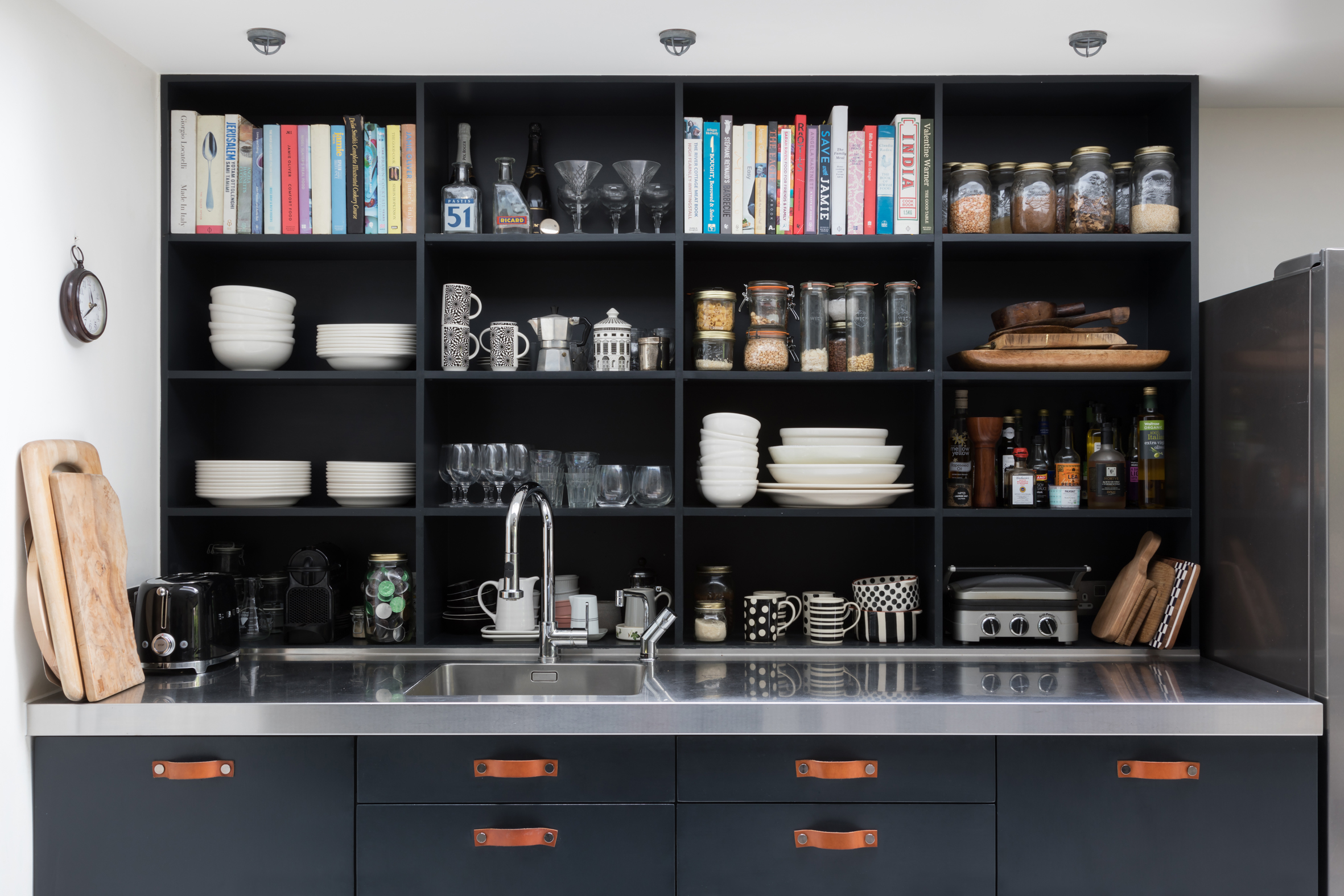 When it comes to worktops, there is probably no perfect solution. You have to decide what you want and how much you cook. Wood looks great and is good for breakfast bars as it's warm and tactile. But it burns with hot pans and doesn't like to be too near the sink as the damp can cause black marks. Marble is beautiful but, as it's a natural stone, it can stain and needs to be resealed regularly. The composite worktops are manmade but can look as good as the real stone and are tougher although you will still need to be careful with hot pans. Stainless steel is used in restaurants and can cope with anything you throw at it but it is a more industrial look that not everyone likes. One solution is to mix up the surfaces depending on the work that is being done there which will also create a more bespoke look to your kitchen.
When it comes to the splashback consider using patterned tiles to add a little more personality. Kitchens are often made up of lots of hard surfaces and straight lines and a small area of patterned tiles can redress this. By the same token choose your cupboard handles carefully – I have leather straps which, again, soften the industrial look of the stainless-steel worktops. If your kitchen is small consider using some foxed or antique mirror as a splashback. This can bounce the light around and reflect back into the room tricking the eye that there is more space. You can also use this instead of a kickboard at the base of the cupboards. It will reflect the floor and make the units look as if they are floating.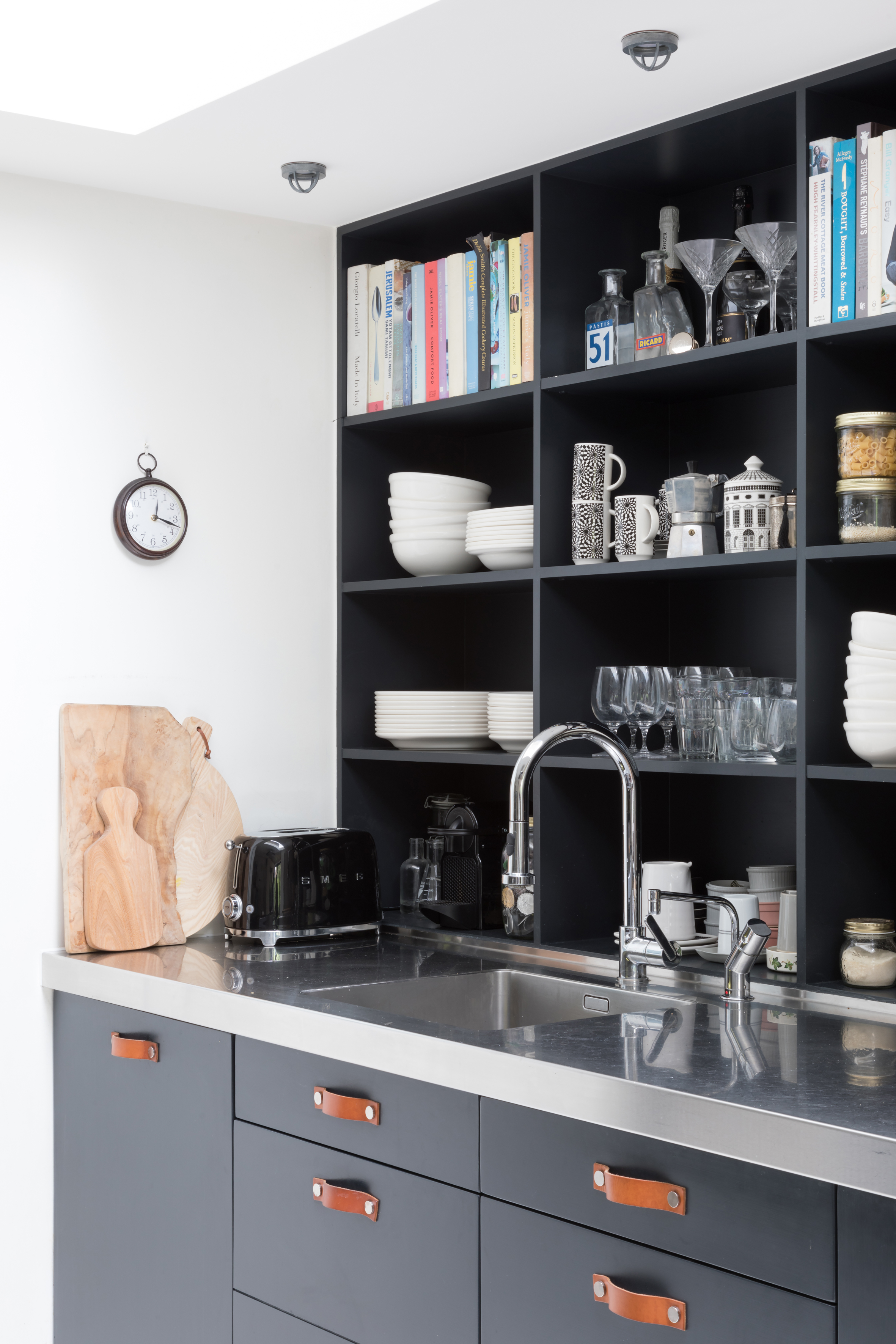 On a more practical note – the more floor you see the bigger the room will look so adding a little reflected floor will add to that impression. A final word on the appliances. You should always, always buy the best you can afford. Not only will they work well and look good but the right names can also help with resale value as well."
Photography Credit – Paul Craig