More often than not, a new kitchen is now used for much more than cooking, whether it is school work, formal entertaining, family meals or flexible working from home. We are delighted to chat with Darren Taylor, managing director for Searle & Taylor concerning the use of pocket doors in this modern Shaker design, which are used to conceal a workspace when not in use.
Tell us a little about the design of the kitchen. What was your brief from the client?
The clients were seeking a modern Shaker style handpainted kitchen with flowing curves, clean lines and capacious storage. The kitchen was part of an extension to the property, which is a detached house that was built during the 1990's. The extension was designed as an open plan lifestyle space that incorporated a kitchen and separate dining area, a 'snug' and importantly, a workstation that could be hidden from view when socialising and entertaining. Searle & Taylor's design manager, Gavin Alexander designed this kitchen.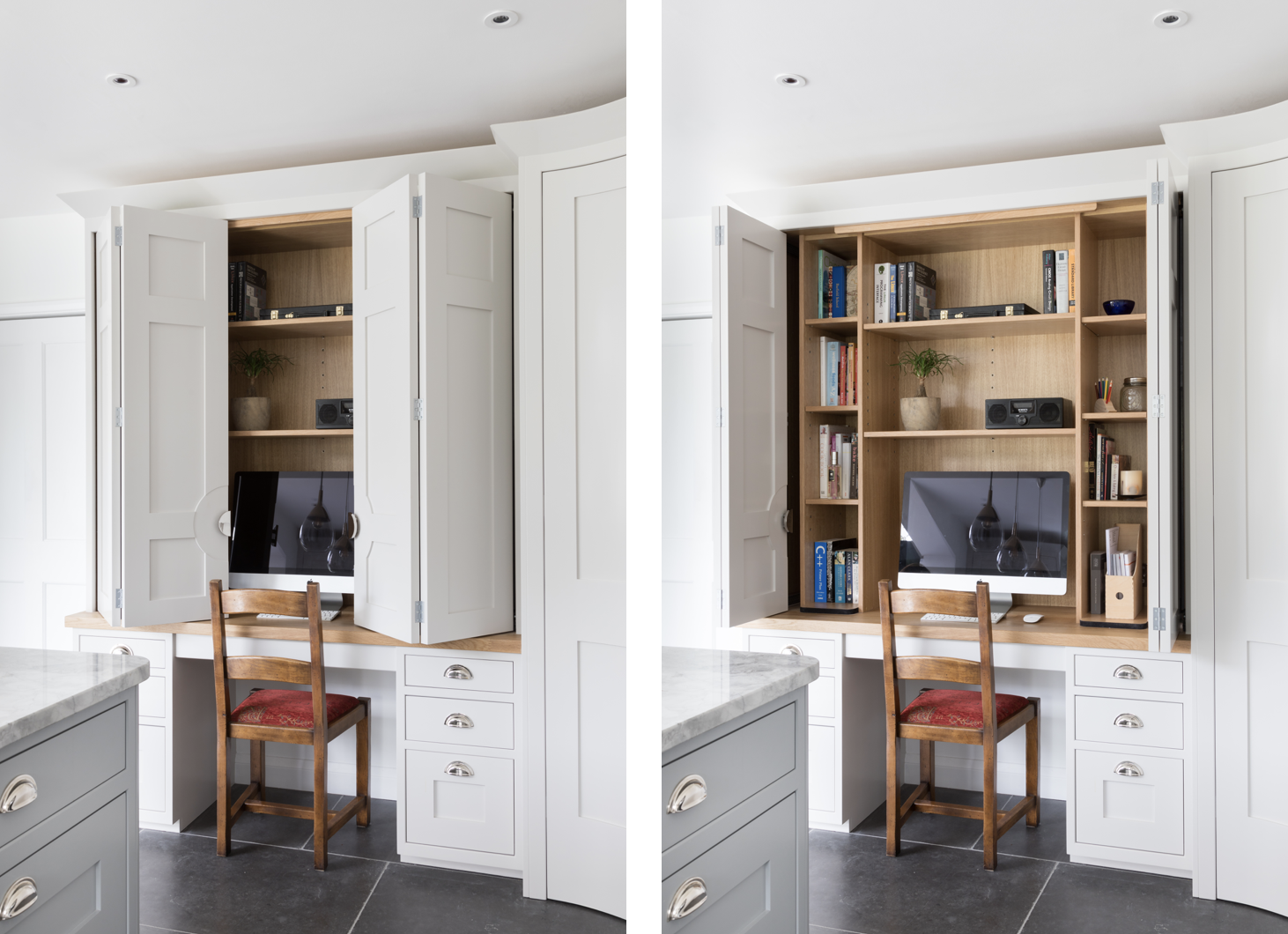 Is an integrated workstation an unusual request or are more of your clients opting for a multipurpose kitchen design? 
As part of our Signature Bespoke offer, we specialise in making bespoke pocket doors, which feature discreet interior hinges so that the doors can be folded and then completely retracted within slim pockets on either side of the unit. By using pocket doors we can design working areas that are concealed as part of the overall design and then opened to effectively become part of the room. While an integrated workstation within the kitchen is an unusual request, we are increasingly being asked to create additional multifunctional aspects within an open plan living space. These include bar areas, pantries and media units.
How did the integrated workstation impact on the design of the kitchen? 
The house has high ceilings, and while we wanted to maximise the space by creating tall units, we also wanted to soften the effect so we designed the corner units with curves, while the central kitchen island featured completely straight lines. We designed the workstation behind pocket doors within the run of cabinetry to the left of the kitchen island, yet with enough space so that our clients could sit comfortably when they were working. When the doors are closed the run of cabinetry remains perfectly streamlined.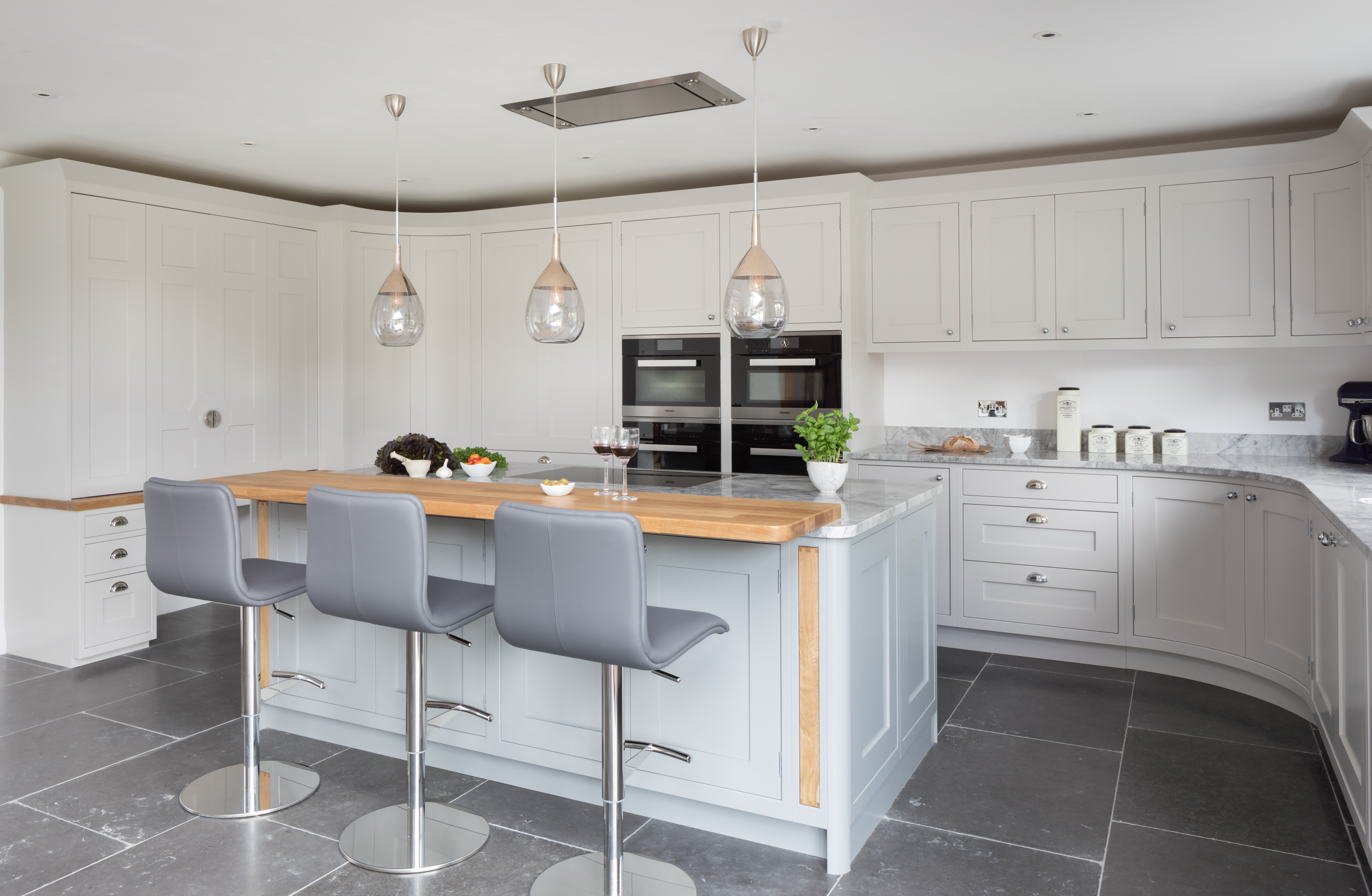 What advice would you offer readers who are planning an extension to include a kitchen? 
At the same time as appointing your architect, start speaking with a few independent kitchen specialists. Architects can advise on the space and options on how to achieve an extension whilst working within the planning guidelines, being sympathetic to your existing home. However, they may not accurately consider the detail of the actual kitchen that will be filling most of this additional space. Involving a kitchen designer at an early stage allows them to possibly move windows and doors and suggest a better layout. Through discussions, your kitchen designer may come up with ideas that you hadn't thought of and you may wish to consider. An example could be a hob or sink in the island so plumbing and electrics have to be considered.
How did the design develop? 
We initially worked from architects plans. After a few meetings and working through the unique client brief that we offer to all our clients, we soon started to understand the requirements for this particular kitchen, which included the appliance set up that was very important to them.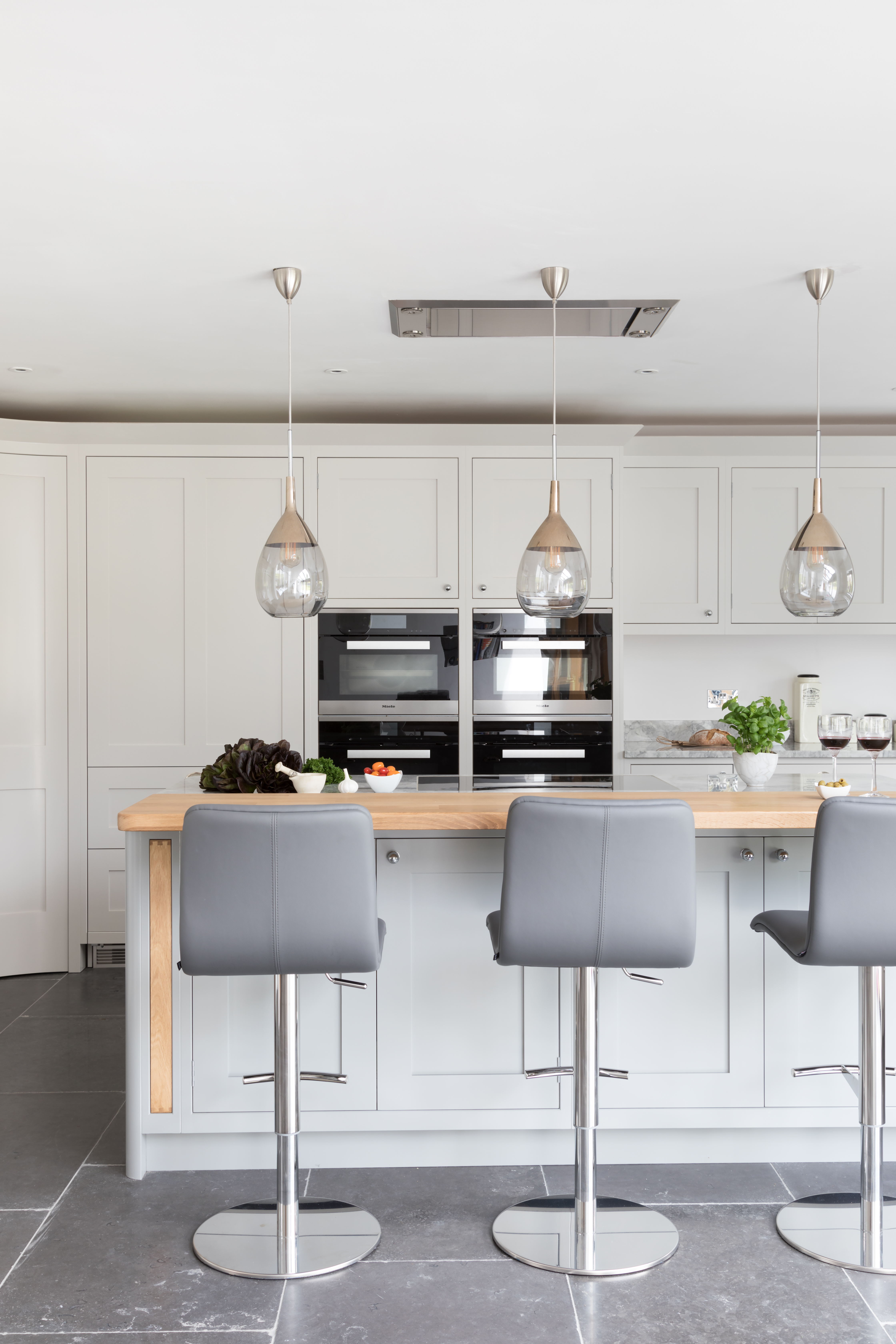 How does an open plan layout impact on a kitchen design? 
I believe an open plan layout is always a more complex design to create as you need to factor in the surroundings. We need to know the sizes of tables, whether there will be chairs or bench seating, soft furnishings and glass bi-folding or sliding doors – all of which will impact on an open plan kitchen.
How long did the initial process take from planning to completion?
Because it was part of a major building project, it took over three months of planning before we actually secured the order. Then there was another three months of tweaking and agreeing the very final specifications. However, there was time, as the build had to take place ahead of our part. Manufacture time to build the units was around 12 weeks and installation ran over two weeks with a final sign off two weeks later.
Were there any challenges you had to overcome? 
The challenge was to create a harmonious design with so many tall units. We needed to ensure they would not be too imposing within the space, and we also wanted to keep the central island as the focal point. While curved furniture is always a lovely design feature in a bespoke kitchen, it is complicated to make but we specialise in unusual and intricate design challenges.
The island features a trend that we are seeing for three pendant lights. Why do think this is popular? Can you tell us how else the kitchen is lit? 
There is certainly a trend for hanging lights, especially now that there is such a choice of decorative filament bulbs on the market. Having three pendants side by side is a balanced format and works well (never have two or four). This pendant lighting was used to light the seating area with a softer ambient light but there is also a ceiling lighting, which can be zoned according to requirement; all lights can be on when cooking and fewer when entertaining.
We understand the kitchen features a wealth of built in storage? 
Yes. The clients were very keen to ensure that there was a place for everything and everything in its place, so we focused on providing a run of tall cupboard units, which incorporated space for the bank of ovens. The kitchen island also featured a range of deep drawers with shell handles to accommodate pans, cutlery and kitchen implements.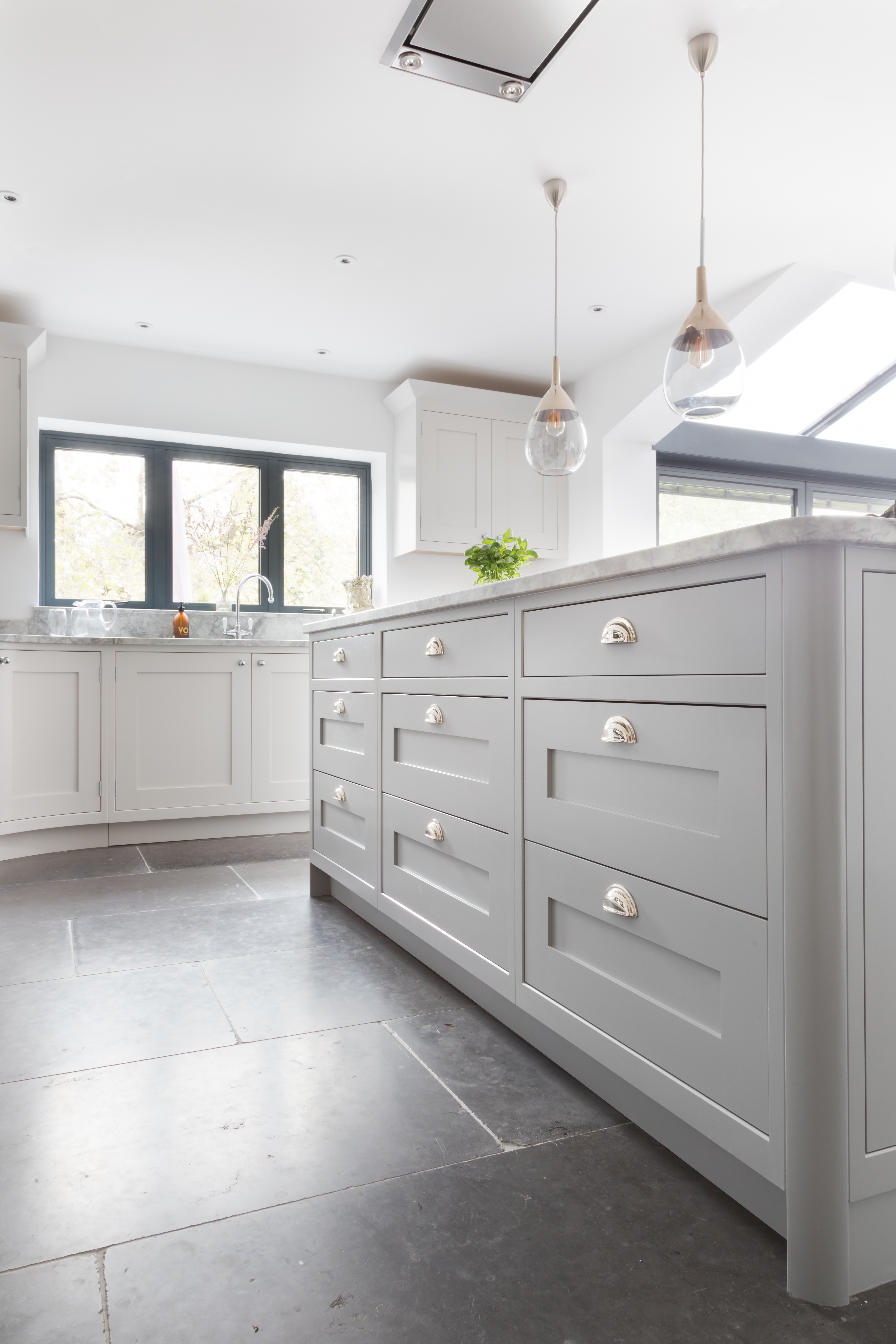 Why did the client opt for Miele ovens? 
As part of the design process, we always discuss the cooking requirements of our clients and also their brand preferences. The clients had owned a Miele oven before and they were very pleased with its continued performance. They opted to purchase a family of PureLine Miele ovens for their new kitchen to keep the design streamlined. Together with them, we decided upon a bank of ovens that included two matching single pyrolytic self-cleaning ovens, a microwave combination oven and a combination steam oven.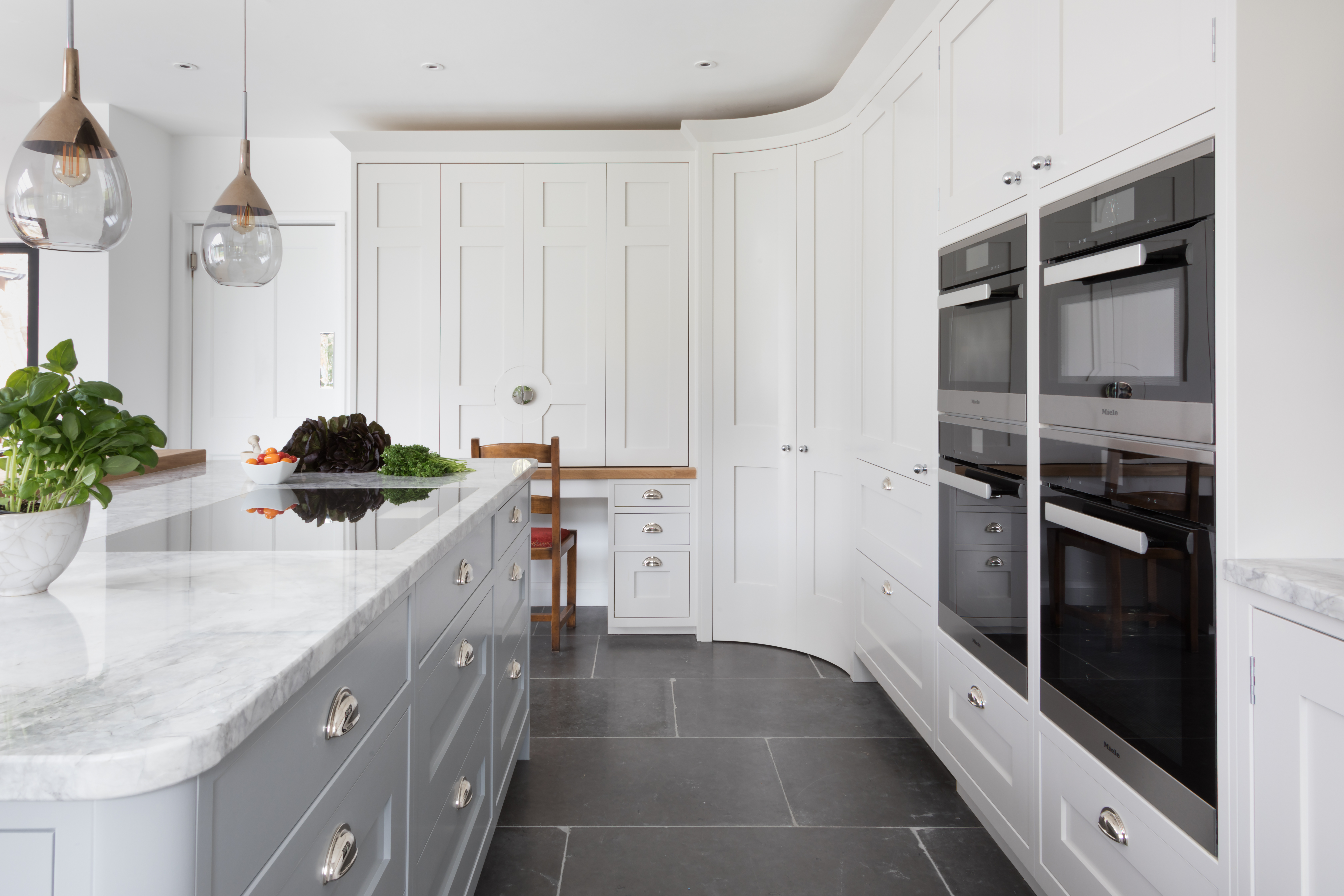 Miele has a great cooking offer with superb build quality and accurate cooking results. I believe the functionality is easy to use and the PureLine design works very well with a traditional kitchen. A lot of other appliance manufacturers' products don't work as well within a traditional design, which is why we have Miele appliances installed with the Signature Bespoke kitchen display in our Winchester showroom.
Do you have a favourite part of the kitchen design? 
The curved walk-in corner pantry and the workstation with pocket doors work beautifully. Both are highly functional areas in the kitchen but are completely concealed when the cabinetry doors are closed.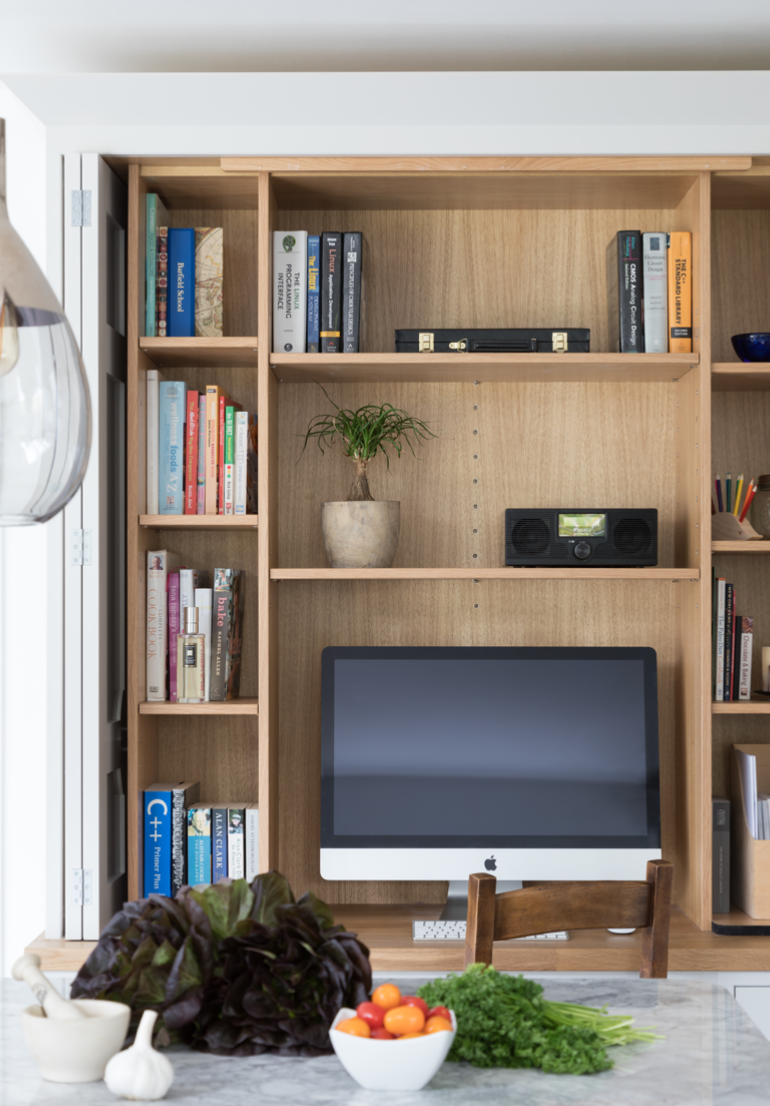 Photo Credit: Paul Craig