With stints at accomplished Michelin Star restaurants such as L'Enclume, Mallory Court and The Curlew, former Ramsay Scholarship finalist and accomplished chef, Andrew Scott has an impressive resume. Andrew's culinary talents were also recognised by popular BBC2 television series Great British Menu where he was chosen to represent the central region. With his expertise and shared principles for passion and perfection, we are delighted that Andrew has joined Miele as our development chef. We sat down with him to discuss his cooking heroes, favourite appliances and love of British cooking.
What/who inspired you to become a chef?
Both my parents went to catering college and had professions in the field, so I was surrounded by cooking throughout my childhood. I have a really fond memory of making my first Tiramisu with my step-mother at Christmas. I got a real buzz out of watching my family enjoy what I had made.
In my teens I decided to enter into a local cooking competition and even though I didn't win, the experience opened many doors. The chef who judged the competition offered me a job washing up at The Whately Hall in Banbury. Working hard to become an integral part of the team, I started to help out on the garnish section, dressing plates. By the time I was 16, I had decided to enroll onto a 3 year catering course at North Oxfordshire Catering College, Joining the 1 Michelin Star Mallory Court as a commis chef after I completed my course.
What has been your greatest achievement in cooking to date?
To be recognised with a solo Michelin star at the Curlew is of course a highlight of my career and one which I am extremely proud of, however, I think my greatest to date would have to be taking part in the Great British Menu, representing the central region. I watched the show throughout my years as a chef and still tune in now. Receiving the call to let me know that I had been cherry-picked to appear was something quite surreal. It was a great experience and I am honoured to have taken part.
What's your kitchen at home like?
We've recently moved into a new house, which has a large open-plan, u-shaped kitchen. The kitchen overlooks the dining area so it's really social and a great place to entertain. Both myself and my fiancé, Jodie love to cook and we share the responsibility at home, I would say she actually cooks more than me! I've also just had a Miele Dialog Oven fitted so I'm getting the opportunity to think of and develop different dishes whilst mastering this new form of cooking technology, which is great.
Do you have a favourite Miele appliance?
The Dialog Oven is something that really needs to be seen to be believed, it's a masterpiece, but I love the Miele Gourmet Warming Drawer, it's possibilities are endless. You can cook whole dishes at low temperatures resulting in an amazing depth of flavour and texture. For example, slow cooking cuts of meat at 60°C for up to twelve hours makes the meat both succulent and tender, it also takes the fuss out of cooking which is great when you've got other things to get on with. You can prepare delicious curries from start to finish using the warming drawer and even sweet dishes such as meringues. It's so diverse.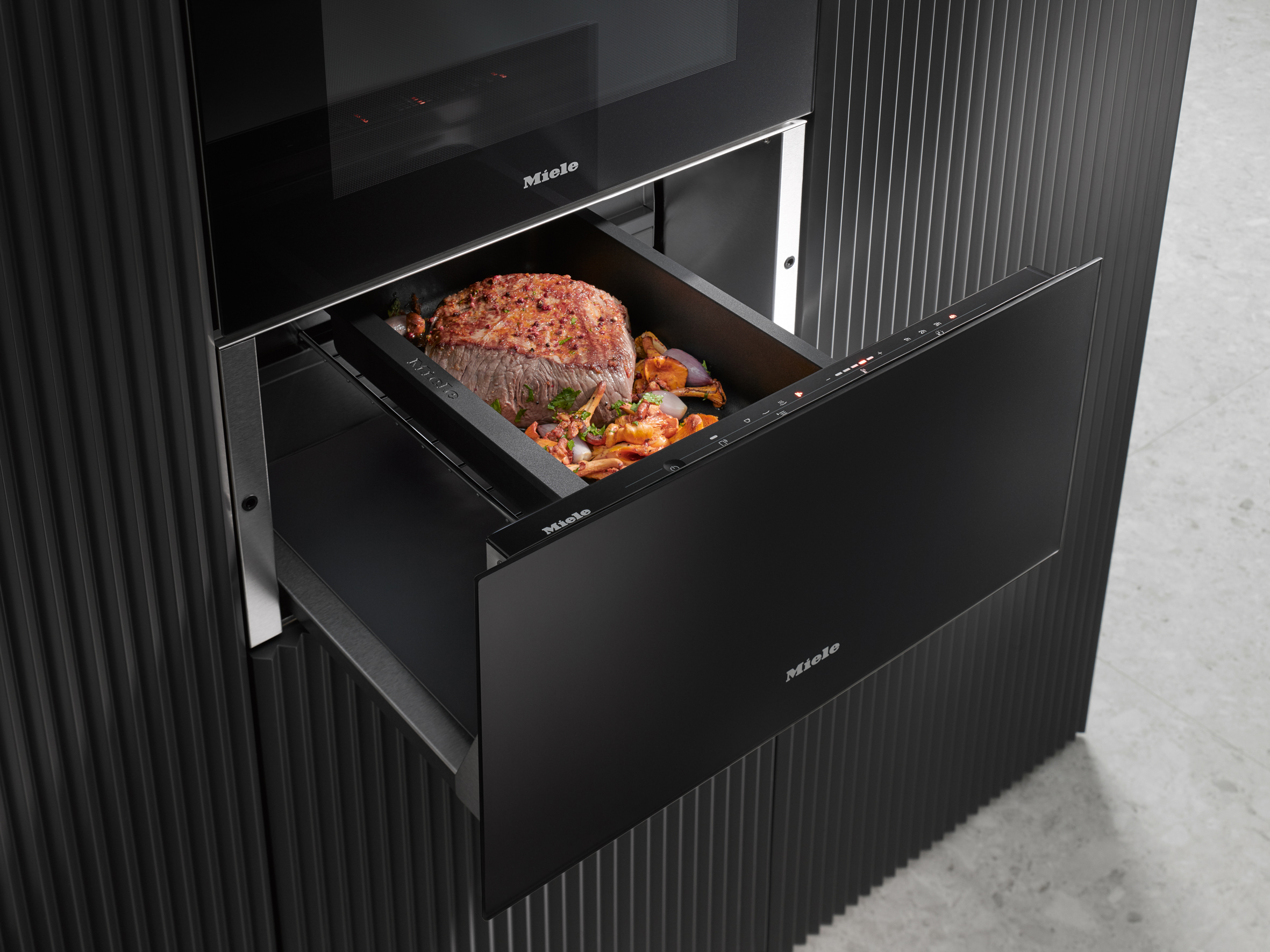 What is your go to recipe for entertaining?
Sabrina Ghayour's Persian Pork Belly with Cous Cous is a favourite. It's a sharing dish and is great for getting everyone involved. The pork is slow cooked in spices and molasses and roasted in the oven resulting in succulent, sweet flavours. A real crowd pleaser!
As a chef, you must be used to cooking predominantly on Gas, how does Induction compare?
I have grown up on gas and I think it does still have its pros however, if you invest in a good quality induction hob such as a Miele Induction model with fast heat up times, precise temperature controls and even heat distribution, you will begin to see the benefits immediately. Induction is much quicker and so much more accurate than gas. It's also incredibly easy to clean. I would also recommend investing in some quality induction-friendly pans too, such as those from Demeyere. The right tools can make such a difference to your cooking.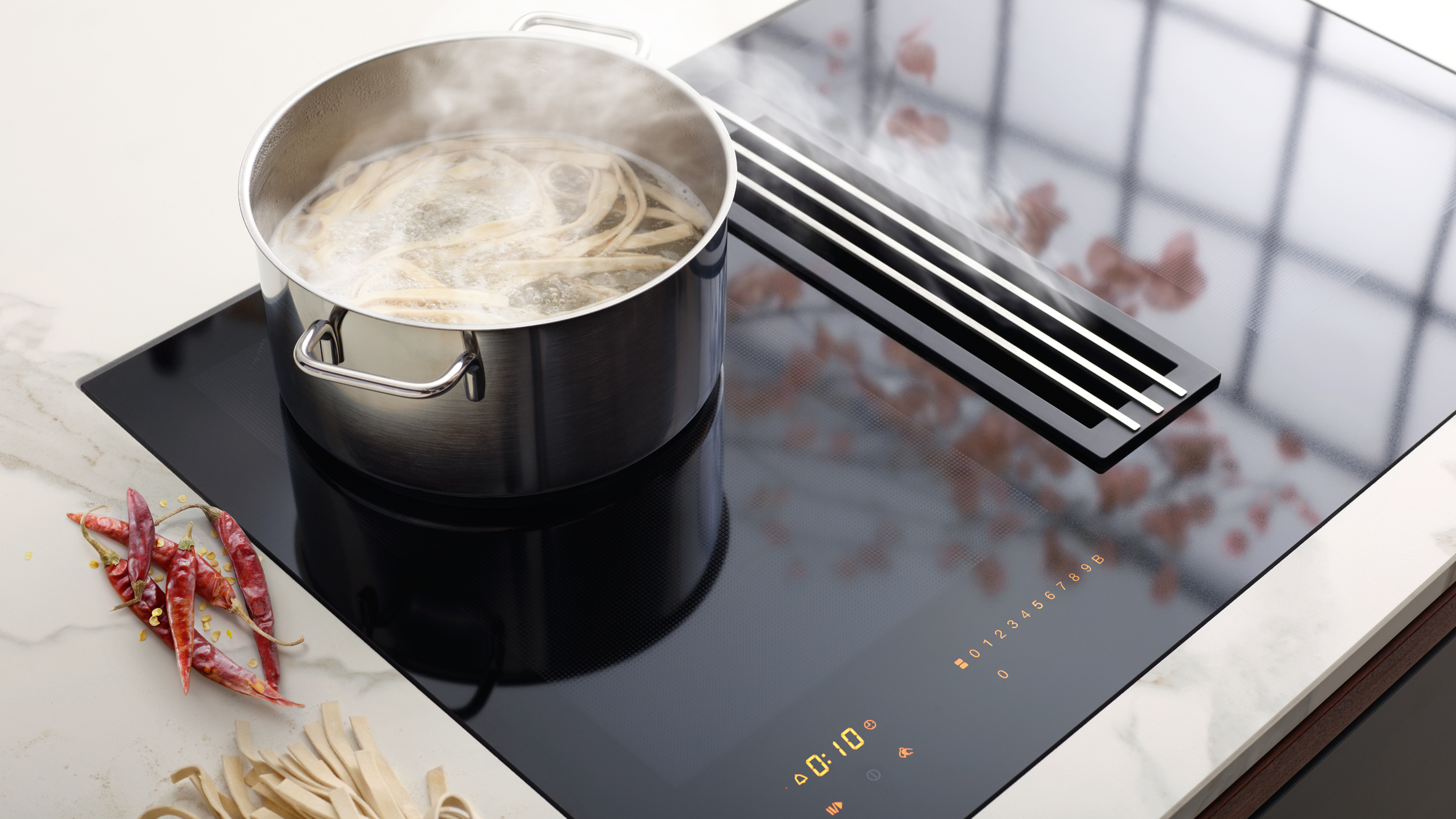 How would you describe your style of cooking?
Modern British with a nostalgic twist. Association of flavour is so important and food should make you happy. With my cooking, I want to evoke those feelings and try to transport people back to a memory or something that made them smile.
What's the secret to cooking the perfect steak?
The steak should be cooked in a very hot, heavy based pan to seal the meat and caramelise the fat. Once sealed you can then add in butter, herbs and garlic for flavour, basting the meat as the butter melts. The important thing is to rest the meat properly. A lot of people make the mistake of serving the steak straight out of the pan resulting in tough, chewy meat.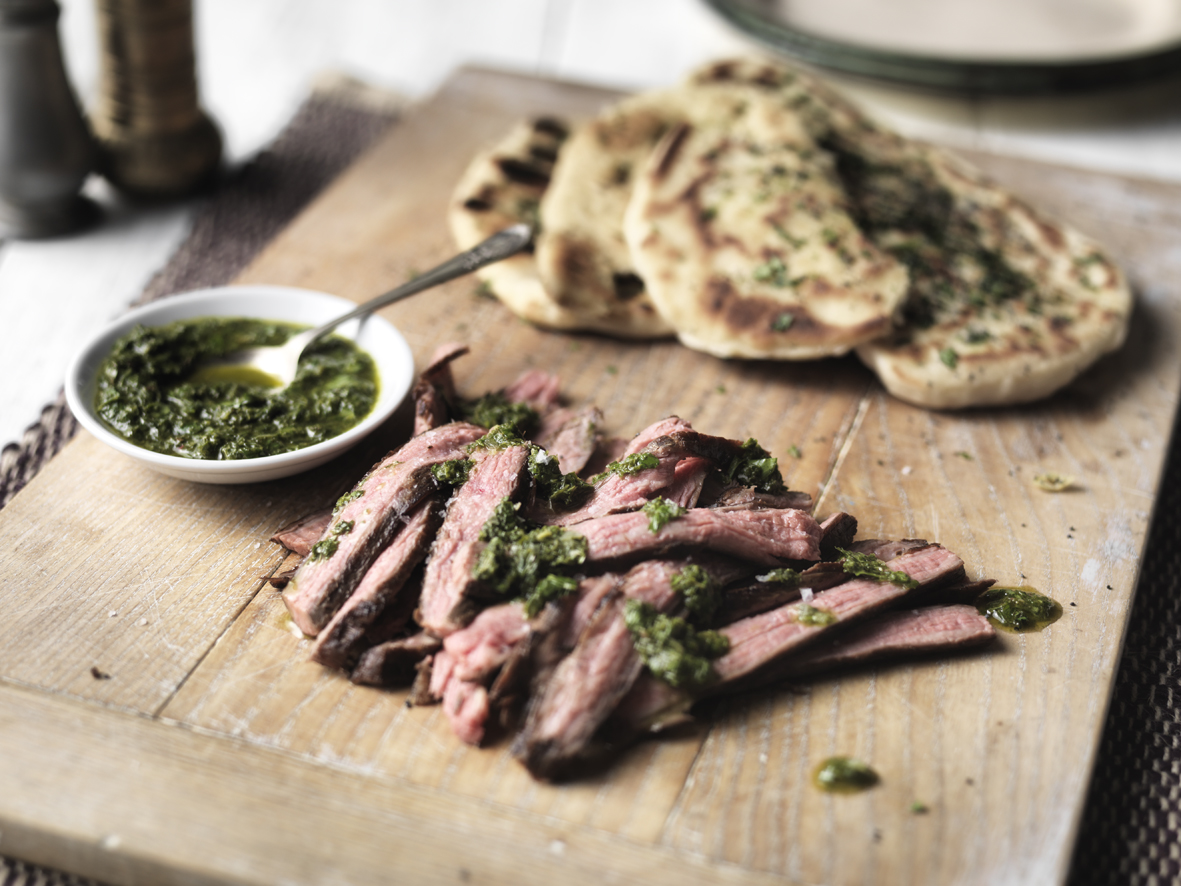 Resting the steak means that it has time to relax and develop flavours. For example, an 8oz steak would need to rest for around 10 minutes before serving. You can do this in a Miele Warming Drawer at 50°c to keep it at a precise temperature. This provides a great texture as all of the cooking juices transfer back into the steak. Alternatively, the 'Proving' function on Miele Ovens will keep ingredients at precisely 50°C. If you are entertaining and cooking steaks to order (such as medium rare to well done), you can keep all of them in the Miele oven to rest without the risk of them becoming overcooked, saving you time without compromising on taste.
What's your favourite thing to cook in the Miele Steam Oven?
Rice is great in the steam oven as it comes out perfectly cooked every time. Simply take a Solid Steam Container, fill it with rice and cover with water, leaving an extra 1cm of fluid on top. As it cooks, the rice absorbs the water resulting in a fluffy texture, no waste or mess. The steam oven is also great for infusing flavours and you could add extra spices to your rice such as cinnamon or cook it in stock for extra depth.
What is the one dish you think everyone should be able to cook?
A good risotto. At first it might be a little daunting but it's a good one to master as it can give you a lot of confidence. You can dress it up a bit or even cook it to suit the seasons, such as a simple tomato and herb risotto for summer, or a light pea and mint version for Spring. You can also serve it alongside meat or fish, it's a great all-rounder.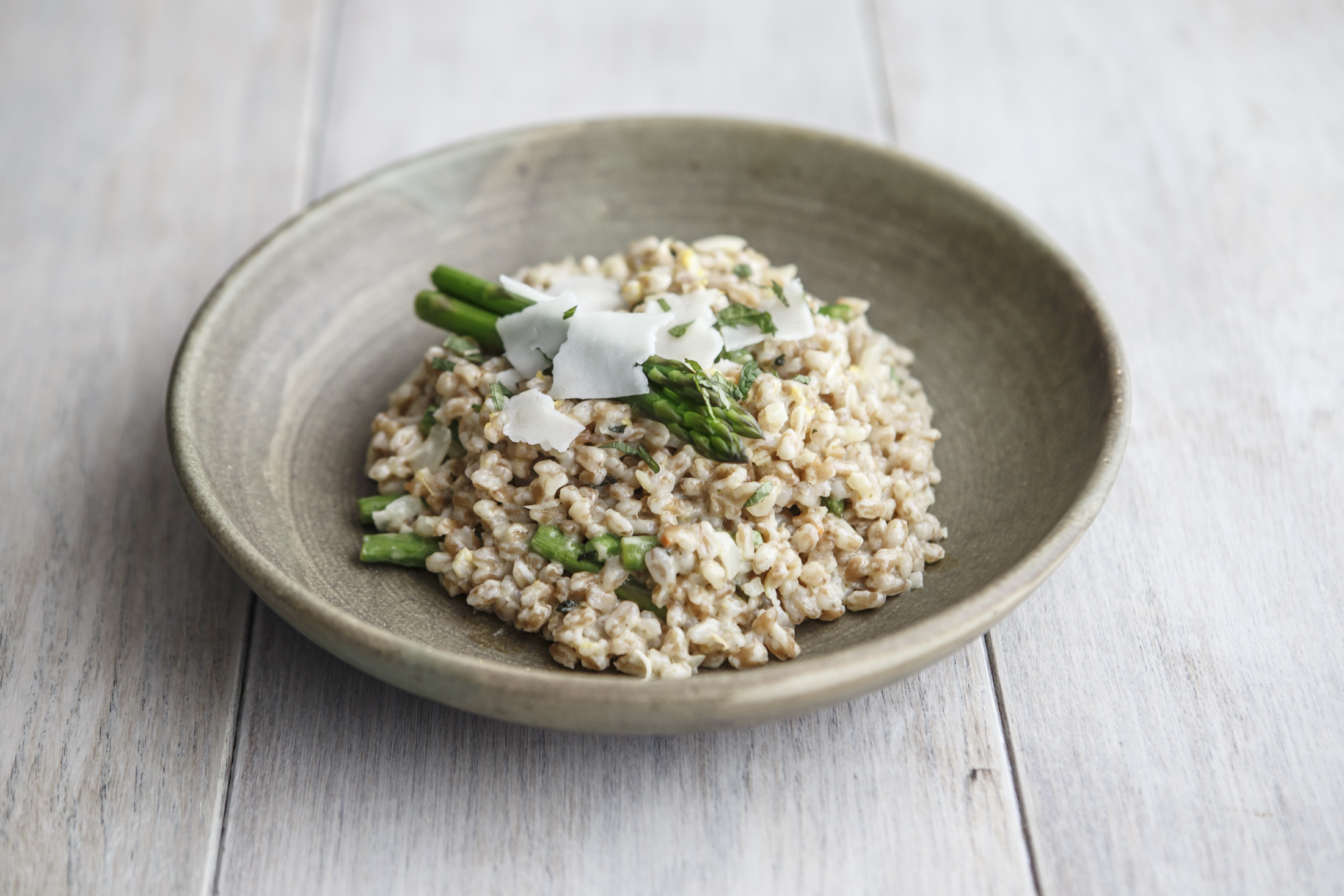 What is the one appliance you think everyone should have in the kitchen?
A good oven. It's the backbone of the kitchen. Miele's extensive range of ovens, from top of the range down to entry level are hand finished and offer one degree of accuracy for professional results. They are a fantastic tool and completely take the fuss out of cooking.
What are your feelings towards 'Smart' cooking appliances?
I think they can be really helpful, fitting into the fast paced lifestyle's we see today, but sometimes I wish we would all slow down a little and really take the time to cook for the family, spending time in the kitchen together.
Who are your cooking heroes?
There are two chefs in particular that have really inspired me throughout my career. The first one would be Simon Haigh, who I worked with for two, four year stints at Mallory Court. He has been a mentor throughout my career and is a craftsman with what he does. Not only did he teach me skills in the kitchen, he also taught me business and man management, which was invaluable.
The second would have to be Gordon Ramsey. He might a bit of a marmite character to some but I think he is an incredible chef and business man. To come from a really tough upbringing and propel himself to probably the most famous chef in the world is incredible. I have been lucky enough to eat in some great restaurants in my time, but the best meal I have ever had was at his flagship restaurant, Royal Hospital Road. The experience was unparalleled and I have a lot of admiration for him.