The demand for Shaker style kitchens continues to thrive. While the painted, framed wooden door fronts remain a constant in all Shaker style kitchens, it is always the little design details such as handles, style of appliances, brassware and worktop finishes that determine whether the overall look will be traditional or modern. Here is a stunning example of a classic Shaker style kitchen with a contemporary twist. Its designer, Philip Bacon from OpenHaus gives us an insight into how he has created this beautiful kitchen.
What was the brief from your client? 
My clients are very sociable, busy business owners with older children. My brief was to design a continuous living/kitchen space that would allow for plenty of circulation space, as well as a place for eating and studying that flows seamlessly onto the adjoining landscaped garden. The client requested an in-frame Shaker style kitchen with a clean modern look and feel.
Tell us about the colour palette
The colour palette for this project was largely developed from the exposed brick textures and tones. The deep blue and natural dark walnut wood cabinetry complement the different colours in the reclaimed bricks and contrasts with the white walls and high gloss white Dekton work surfaces. The ambience is very bright and airy without being cold.
How does the layout work?
The large island with informal dining works very well here creating a spacious flowing kitchen.  There are practical principles which have been applied throughout the design such as a dedicated food prep and cooking area with the sink, Miele Induction Hob and fridge within easy reach. Understanding how the kitchen will be used and how this fits the rest of the room is key - we try to 'role play' these scenarios during the design process. So, for example, there is a direct view to the TV in the living area from the circular breakfast bar area. Where possible, I tend to design without internal corners as this avoids 'traffic jams' in the busy areas, especially at peak times like breakfast or Sunday lunch.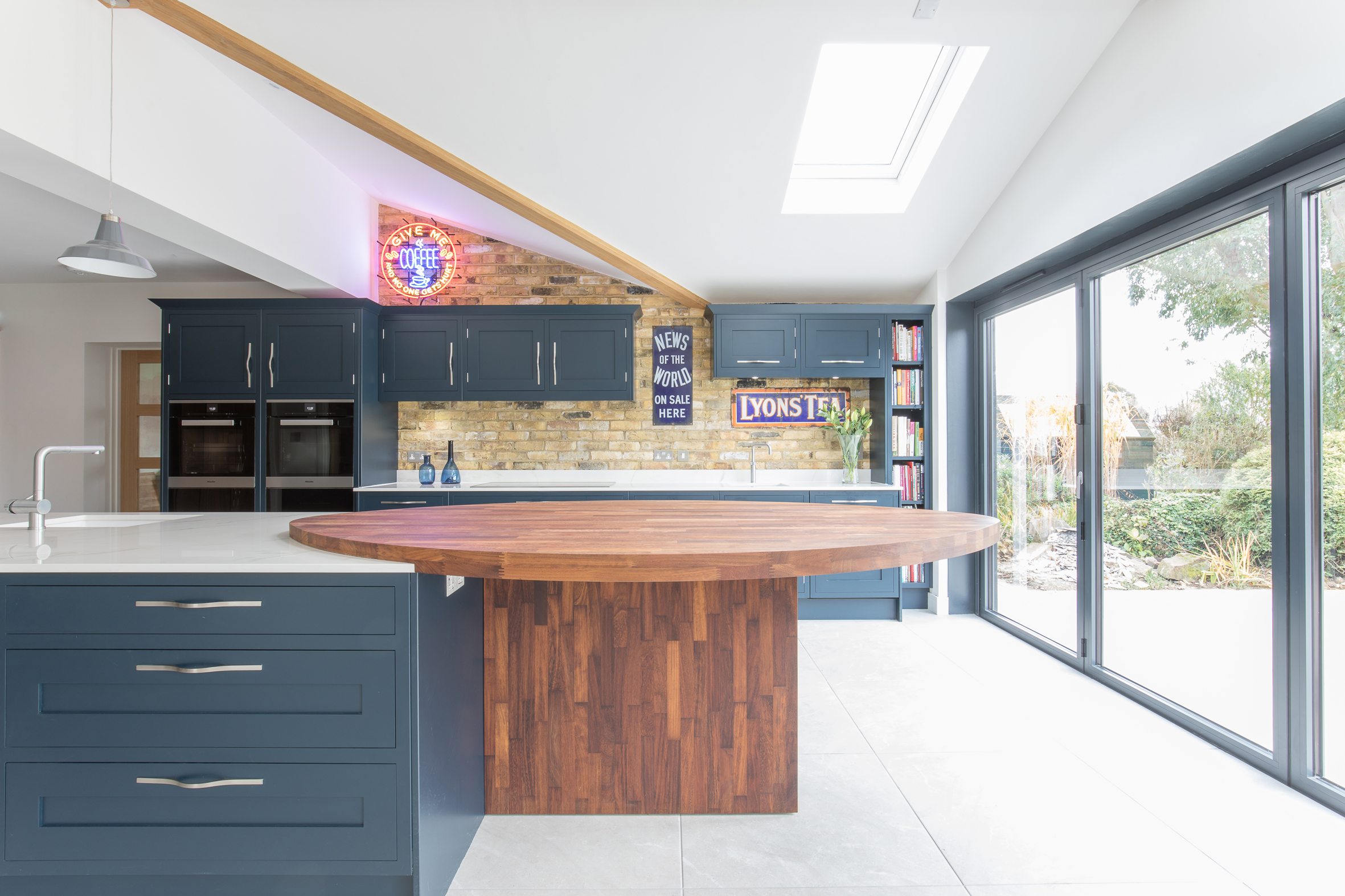 What do readers need to think about when choosing blue as the primary colour in a kitchen?
Choosing a dark blue is indeed a bold decision. Keep in mind it is a cool colour choice - I would try and balance the blue with some real wood, this will bring some warmth to the scheme. In this case, the tall furniture is American black walnut and the island table is made from Iroko. The Dekton worktop in white gloss is the counter point that balances the blue.
While the kitchen is a Shaker style it also looks modern, how has this been achieved? 
The Shaker doors do not have moulded rails or beading and sit within a simple flat frame. The slim brushed stainless steel handles have a very modern feel and complement the simple tap designs also in a brushed steel finish. The decision to opt for a super sleek, steel framed induction hob and eye level bank of Miele appliances over a traditional range cooker instantly changes the aesthetic of the kitchen. There is a hint of industrial about the space that would suggest that this is a kitchen for a serious cook and entertainer.
Why was Miele selected for the cooking appliances?  
The clients love to entertain for large numbers. Passionate cooks, they enjoy experimenting with different dishes and styles of cooking and wanted to be able to prepare restaurant quality food at home. A visit to the Miele Experience Centre in Abingdon and taking part in the Taste for Design experience helped the clients finalise their appliance choices with an XXL Miele Combination Steam Oven placed at the top of the list! The client was already familiar with the ever reliable Miele Dishwasher and didn't want anything else. Two warming drawers were specified which can also be used for slow cooking. The extra wide 90cm induction hob gives them complete flexibility when entertaining for large numbers.
What needs to be considered when opting for an open plan kitchen?
It is important to have in mind that we don't want to feel like we are 'living' in just a kitchen. This can be achieved by ensuring good circulation flow around the kitchen furniture and into the adjoining spaces.
A well-defined lighting plan can help zone a large space - task lighting and ambient dimmable lighting covers all likely events. We like to gently light the perimeter and avoid the large matrix of down-lights covering the architecture.  Soft reflected light is very desirable, where the light source is hidden from view.
Aesthetic continuity through the whole room with regards to the furniture style and colour palette will soften the effect of the kitchen's open space.  The use of softer finishes like real wood in areas looking onto the lifestyle areas works to create a unified look.
Good extraction protects the spread of odours and steam, but it is important to go for an extractor that is properly insulated to ensure that it is as quiet as possible even when operating at its most powerful setting.
Keeping an open plan kitchen organised and tidy is a must so it is vital to create storage and a place for everything, while ensuring easy access.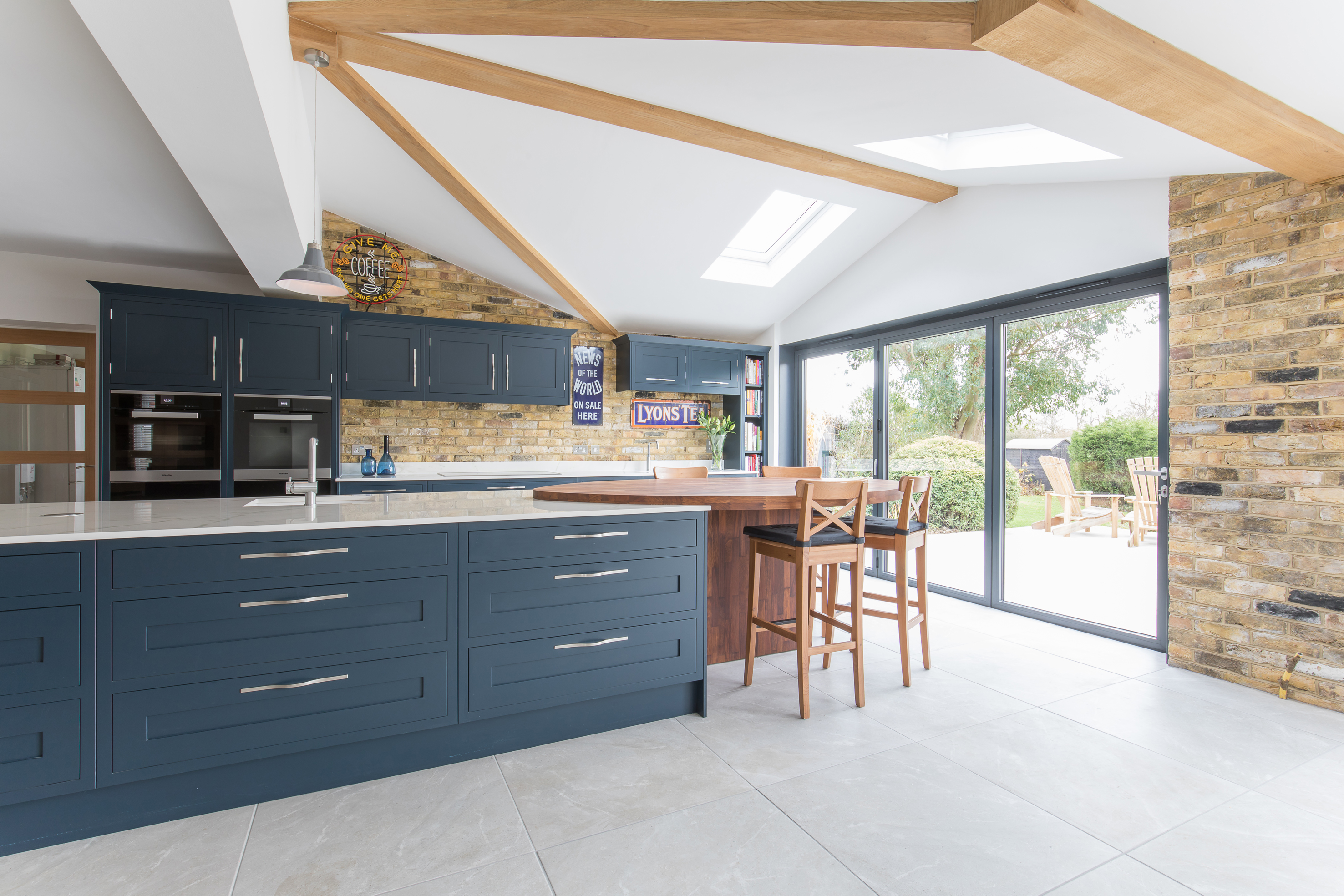 The kitchen opens out to the garden - what challenges and opportunities did this present? 
The wall of glazing and the garden beyond frame this room perfectly. There is no step between the inside and outside and so when the bifold doors are open, there is a seamless flow in and out and it feels like one big space. Gently lighting the garden adds greater depth at night and avoids a large wall of black reflective glass.
What is the best way to create a focus or design feature in a large space?
A focal point or centre piece is important in a larger scheme and here we had space to accommodate extra dining, storage and a walk-in pantry. The superb island with a high dining table to one end is central and versatile – perfect for meal times, studying, working from home, hosting a drinks party and much more besides.
What advice would you give readers who are about to embark on a kitchen redesign?
Do plenty of research online, find some images you like and store them on your phone or make a vision board - visit your local kitchen studios to get a sense of what's happening locally. Find a designer that you trust and my advice is to invest in the highest quality for the funds you have available for the project. Start early and give yourself plenty of time as your builder will need accurate plans sooner than you think.