Having designed and installed a kitchen for Jackie and Tyrone Farber fourteen years ago, award winning designer, Diane Berry of Diane Berry Kitchens worked with the couple to create a stunning kitchen that was reflective of the brief for a grey, reflective and timeless design. Having specified Miele in their last kitchen, this was a priority once again for the couple along with a striking quartz worksurface.
Tell us about this stunning kitchen and colour palette
"The furniture is made by Eggersmann in Germany who have a passion for high quality and detail. The front of the cabinetry is metallic grey, which appears to change colour in different light, adding depth and interest. To complement this toned grey kitchen, Graphite Grey Miele ArtLine Ovens are the pièce de résistance; no dominating black ovens here, just classy handleless ovens sitting perfectly in the colour scheme and which also adapt to the lighting of the room.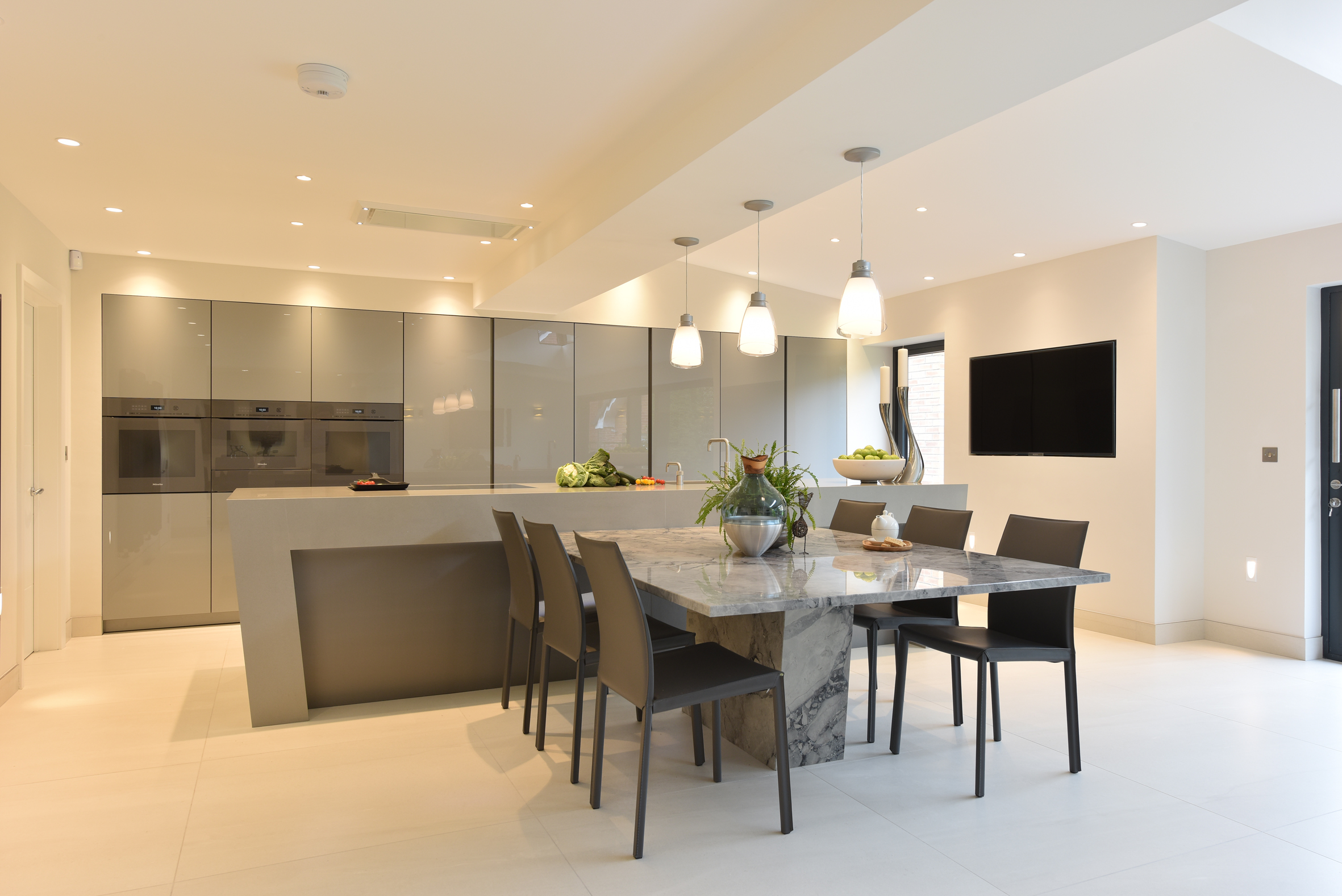 We love how this kitchen is lit - can you tell us the different solutions you have incorporated? 
Incorporating a variety of light sources into a design to create interest and efficiency is crucial. I am a big advocate of positioning lights close to walls and cabinetry for a wash of light, which adds depth to the colour palette, while the three pendants produce a softer hue, which is ideal for evening meals. Ensuring lights are grouped rather than on one switch is essential as this can create a harsh effect with an all or nothing brightness.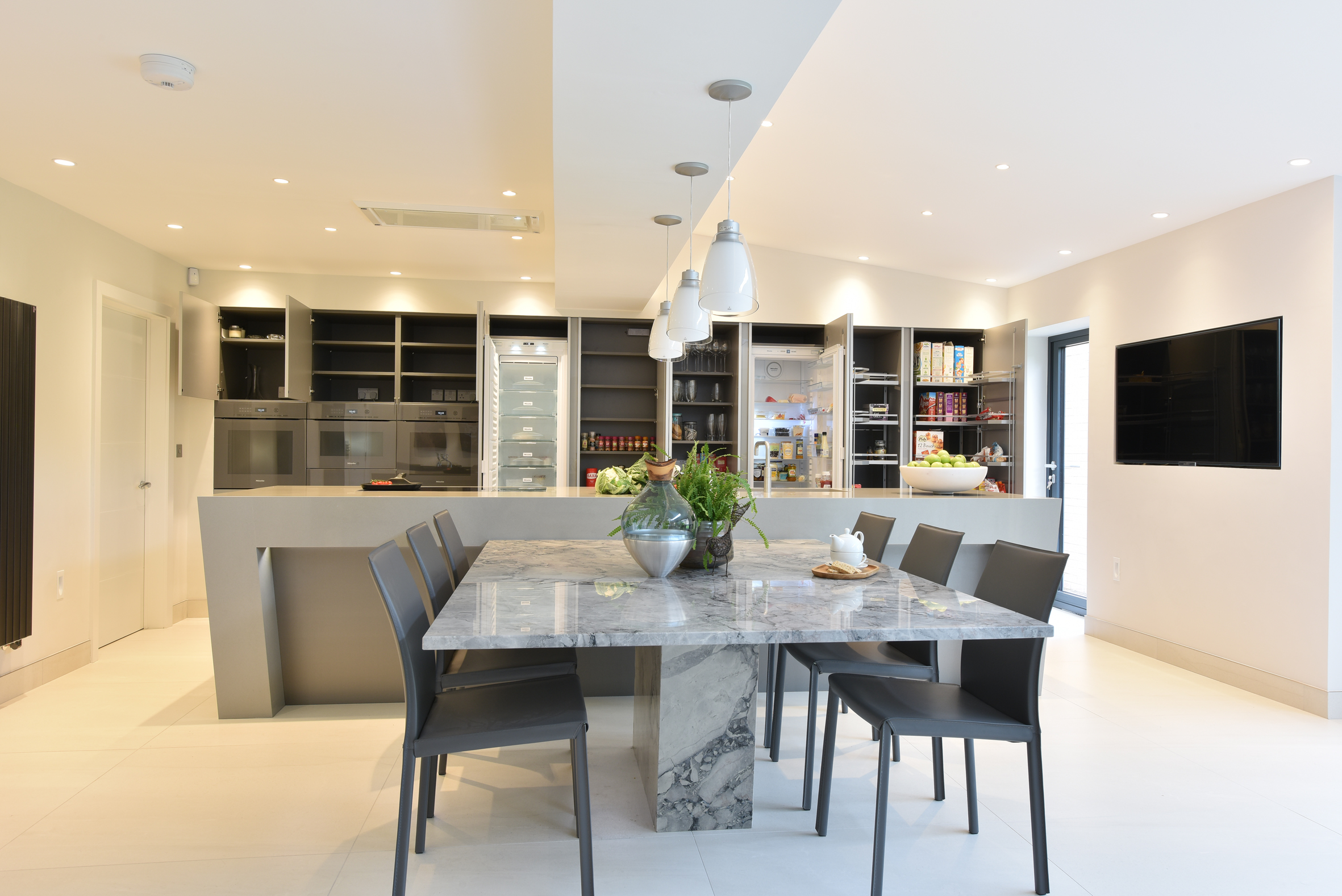 The space offers three seating areas, how is each defined? 
When creating zones in a large space, it is important that each is clearly defined. The kitchen has been purposely designed to have the table connected to it, to make it clear that this seating area is part of the kitchen and suits family dining. The far dining area is for entertaining and can be dressed in a very different way to the kitchen. Through the use of soft furnishings, a relaxation zone has been created with the focus on the entertainment system and garden. The three zones are all clearly defined but complement each other to ensure a cohesive design.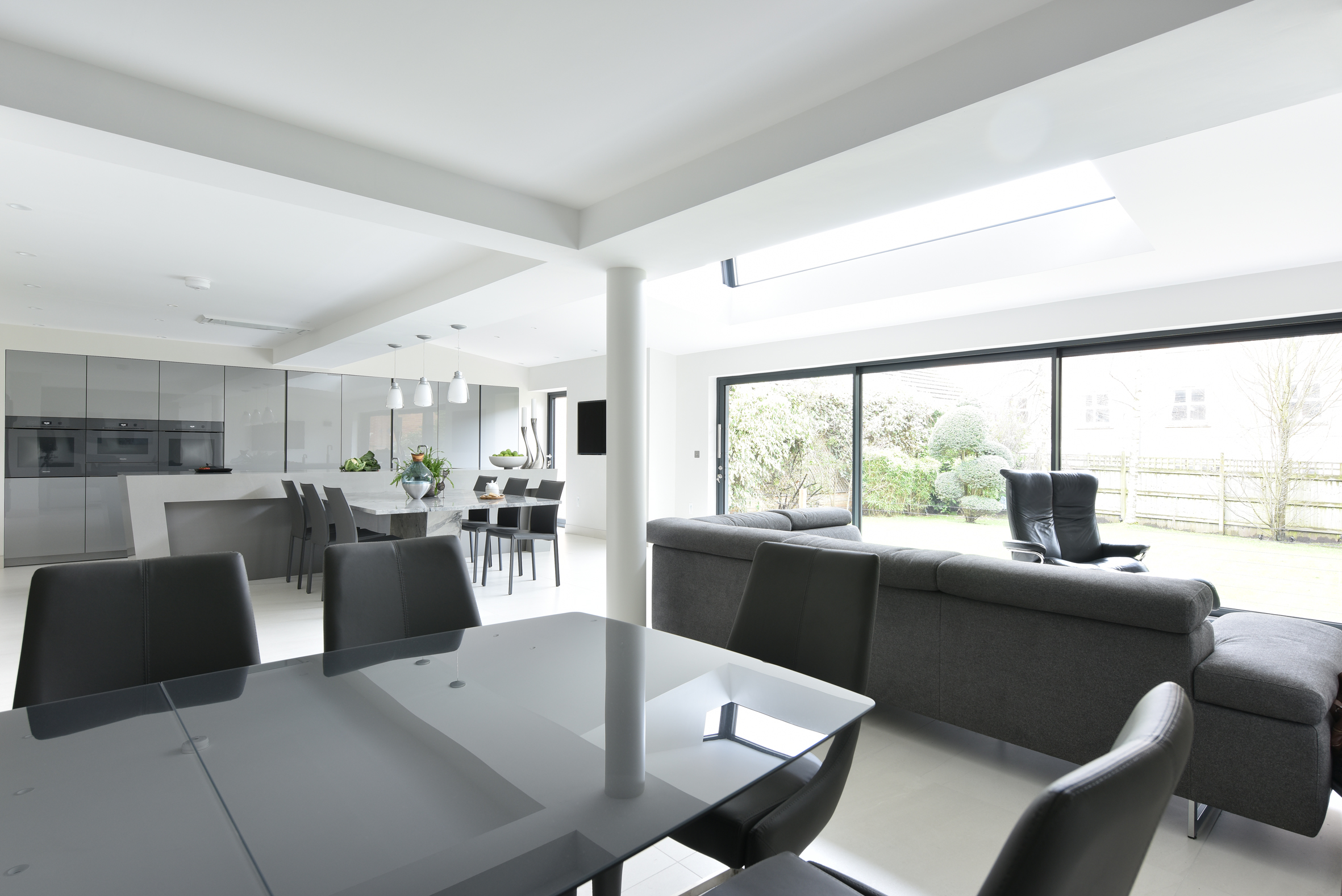 How does an open plan layout impact on a kitchen design?
The elements people tend to overlook in open plan living are the cooking smells and acoustics. Always invest in a good quality extractor with the right size ducting and if possible opt for a model with an external motor for a quieter experience. Velux windows are a great addition and are now available with rain sensors, which will automatically close when needed.
Many large open plan rooms will have tiled floors, lots of glass and hard surfaces such as the worktops and you will find that noise bounces around the space, which can be incredibly stressful. Always buy the best appliances you can that will run quietly, Miele is great for this, and take the time to research decibel levels. Make sure your kitchen includes soft furnishing such as a rug, sofa and cushions along with art work and plants, which will help to absorb noise.
What is the best way to create a focus or design feature in a large space? 
Islands with open shelving for cookbooks and glassware are a great way to create interest in a large room and are ideal for informal dining and discussion. If space allows, a tall double sided fireplace is an incredible addition, as it provides a view through the two spaces and helps to zone areas. Pendant lights are another great way to zone areas. Often people are scared of going big …don't be! Positioning them closer to the surface, whether above a table or an island, will create impact.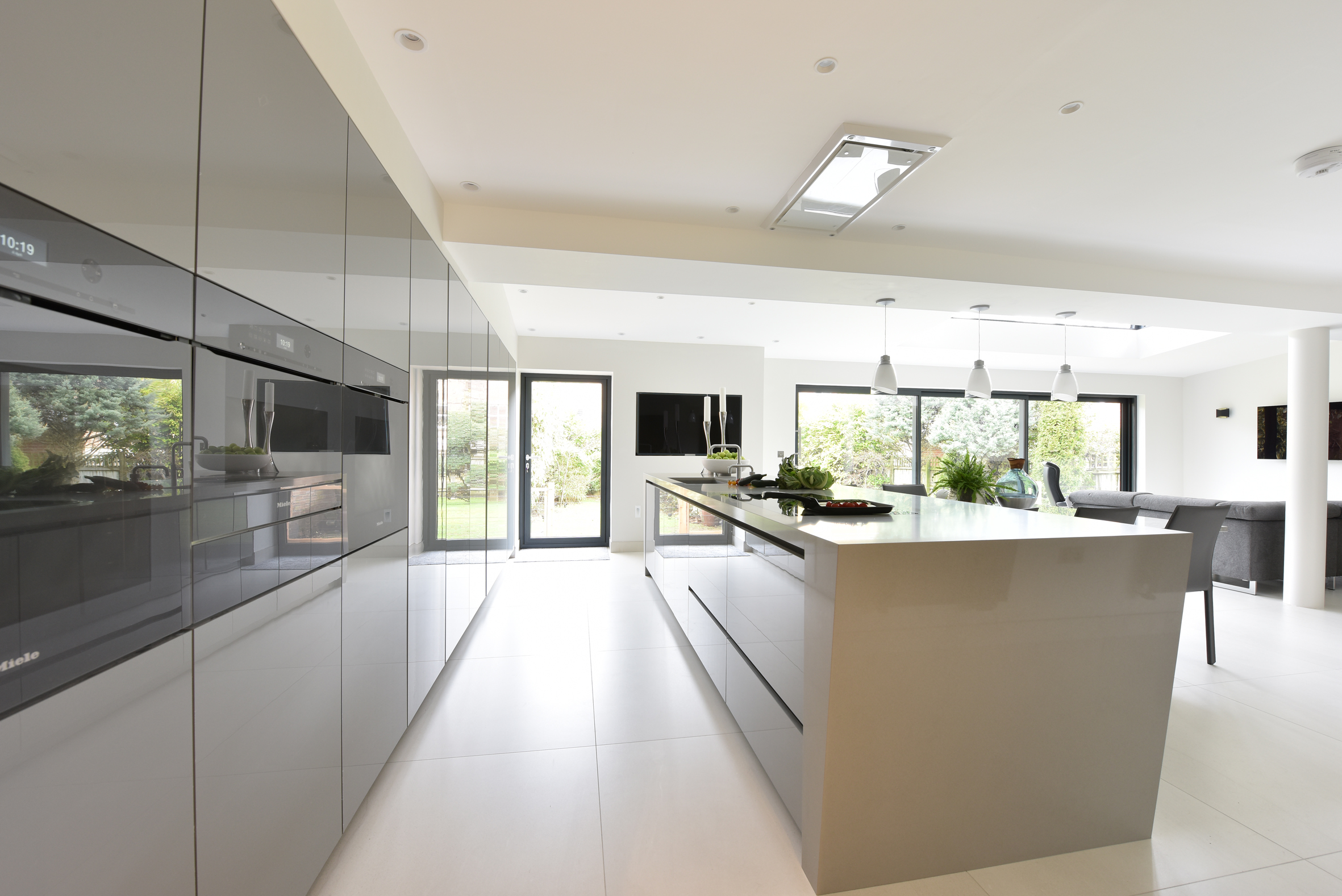 Do you have a favourite part of the kitchen design? 
I love the chunky island. It is a simple concept but adds a unique style with the angled design and is also practical, as it allows the owners to work comfortably at the end of the island. The table in the contrasting granite looks fabulous as it is unique, with each piece of stone benefitting from different natural markings.
What advice would you give readers who are about to embark on a kitchen redesign?
Use the internet to start researching your project early and find a designer you trust. Do not worry about distance, it is imperative to find someone who will care about you and making your kitchen work for you with a keen eye for detail. Make time for your purchase, this will potentially be the second largest purchase you will make after your house and try and spend a little bit more than you thought you should - all too often buying cheap means you buy twice!"
Photo credit - Geoff Watson from Central Photography