With open plan living and kitchen areas continuing to be as popular as ever, the evolution of the pocket door is a brilliant solution to creating a clean, uncluttered kitchen design. They enable much of the kitchen functionality to be hidden behind closed doors when not in use. So first of all, what is a pocket door? Well, they open outwards like a normal door, but then glide backwards to be concealed into a pocket. They are fantastic space-savers and can be used to conceal all areas of the kitchen such as workspaces and pantries. They are ideal for hiding washing machines and tumble dryers and small appliances such as toasters and coffee machines. Everything can be kept out of sight yet remain easily accessible. Julie Chan from London based Jack Trench Bespoke Kitchens explains how pocket doors were incorporated into this modestly sized open-plan, contemporary kitchen.
What was the brief from your client?
We worked closely with the architects and their client to meet the brief of creating a light, airy and contemporary kitchen. Because the kitchen was to be part of an open-plan dining and living room, it was crucial for the design, materials and appliance specification to be discreet and pared back whilst still exuding quality. In addition, this open-plan space is located on the lower-ground floor of a London townhouse so part of our brief was to design a scheme that would draw in as much natural light as possible.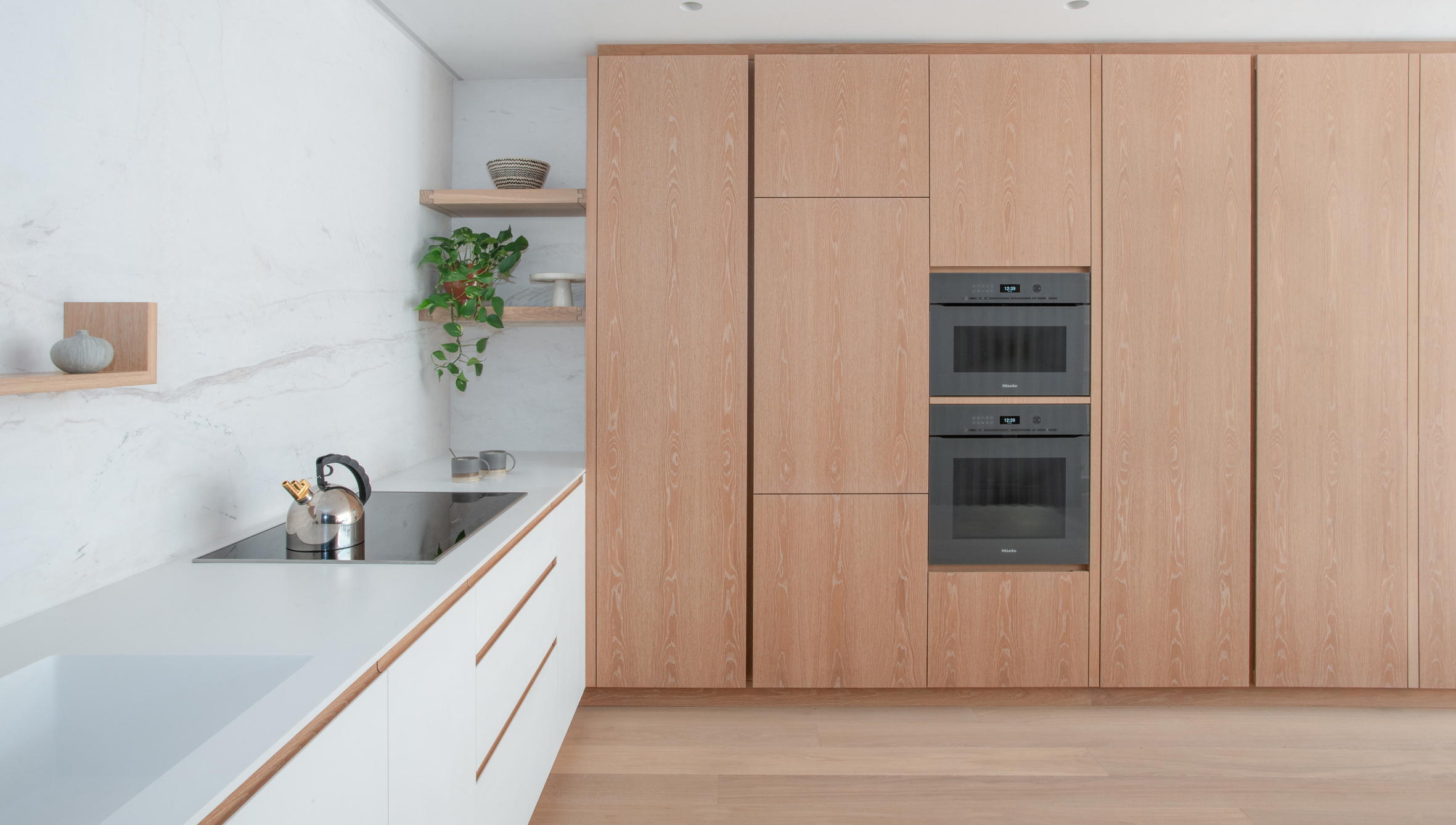 Who is the kitchen designed for?
The kitchen was designed for a professional couple and though it is a relatively modest-sized kitchen, we made sure there was plenty of scope for entertaining friends and family, hence the inclusion of a Miele ArtLine Single Oven and a Miele ArtLine Combination Microwave Oven.
Why did you choose to use a pocket door system in this design?
As a multi-functional space, it was important for the clients to have a pantry that could remain open for extended periods while they were using the kitchen. This also had the added benefit of creating an additional worktop space within the pantry itself. The pocket-door system is perfect for this and also allows for unimpeded access to the two ovens and cabinets on either side of the pantry even with the doors open.
Are you using more pocket doors in kitchens and if so why?
As pantries become a more common fixture of the open-plan kitchen, we are certainly including the pocket-door more regularly in our clean, uncluttered contemporary designs. However, our original pantry design with solid timber racks on Tectus-hinged doors, is still very popular for clients who prefer a more traditional design.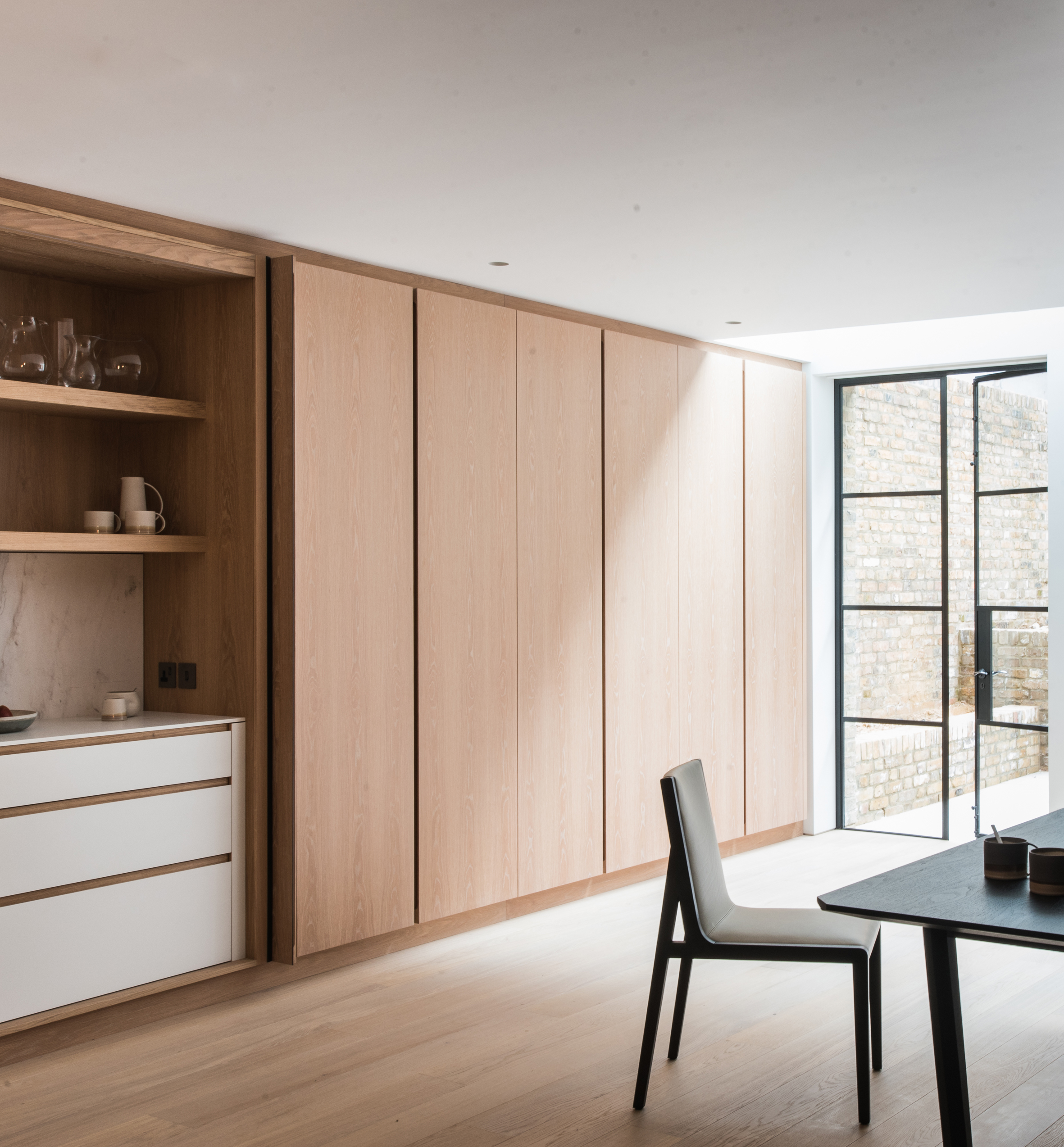 The kitchen is located next to the garden with lots of natural light - how does that impact the design?
Even though there is lots of natural light coming into the space from the Crittall-style garden doors, it is nonetheless a lower-ground floor location and the kitchen is placed furthest away from the garden. To counteract the lack of natural light at certain times of the day, we avoided putting upper cabinets above the main kitchen elevation and instead, opted for a marble splashback wall with solid oak shelving to retain an open feel. In addition to this, we applied a white oil finish to the oak timber, creating a more neutral palette.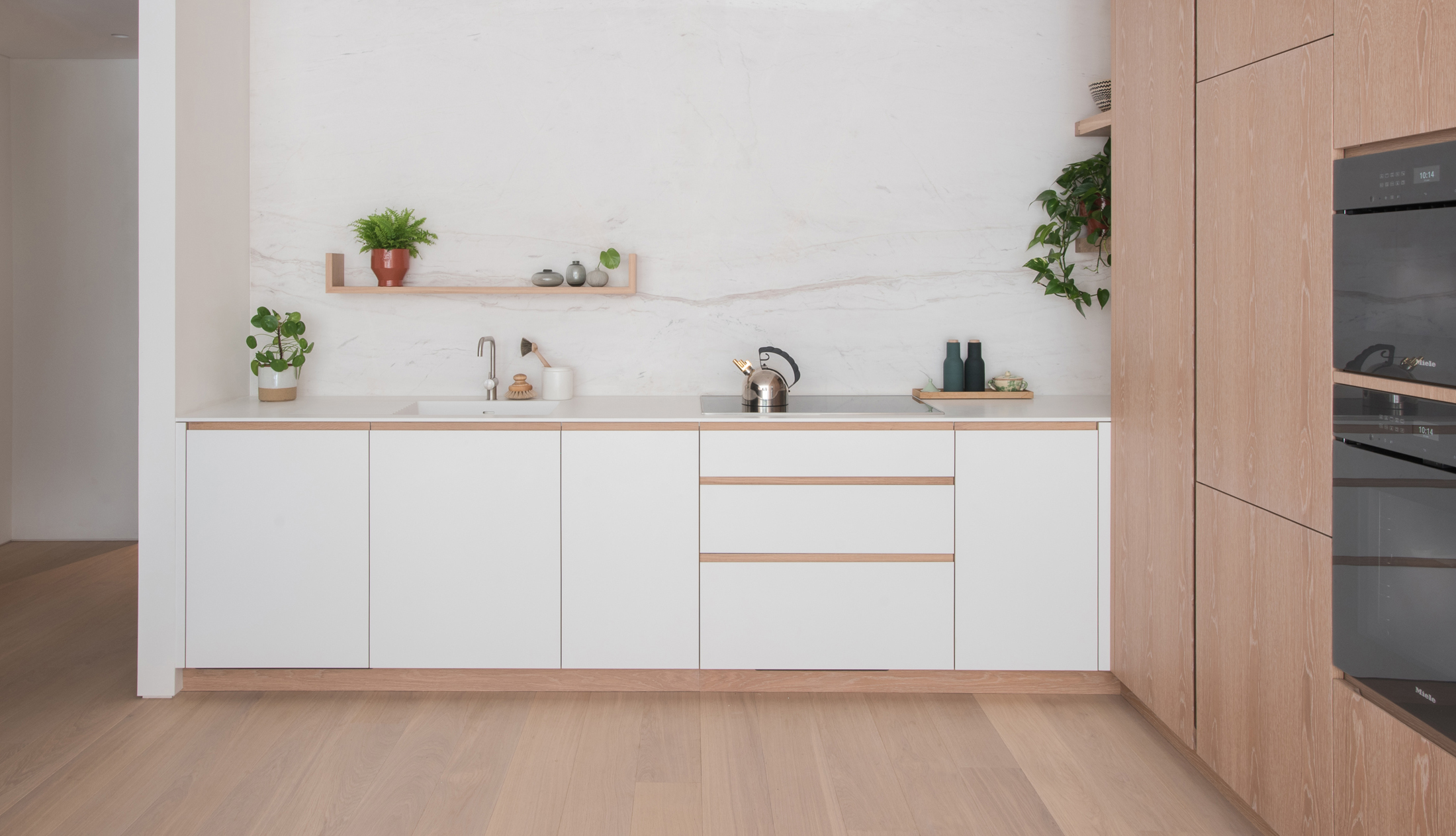 How does the layout of the kitchen work?
We would describe the scheme as an extended L-shaped layout. The main elevation houses the sink, dishwasher and an induction hob. Immediately adjacent is the full-height oak elevation which houses a fridge-freezer, larder cupboard and the two stacked ArtLine Ovens while a dining table sits alongside the pocket-door double pantry. Altogether, this forms the 'working' kitchen area of the client's open-plan space, with everything within easy and accessible reach. Beyond this, the oak cabinetry extends to occupy full length of the space and into the lounge/TV area.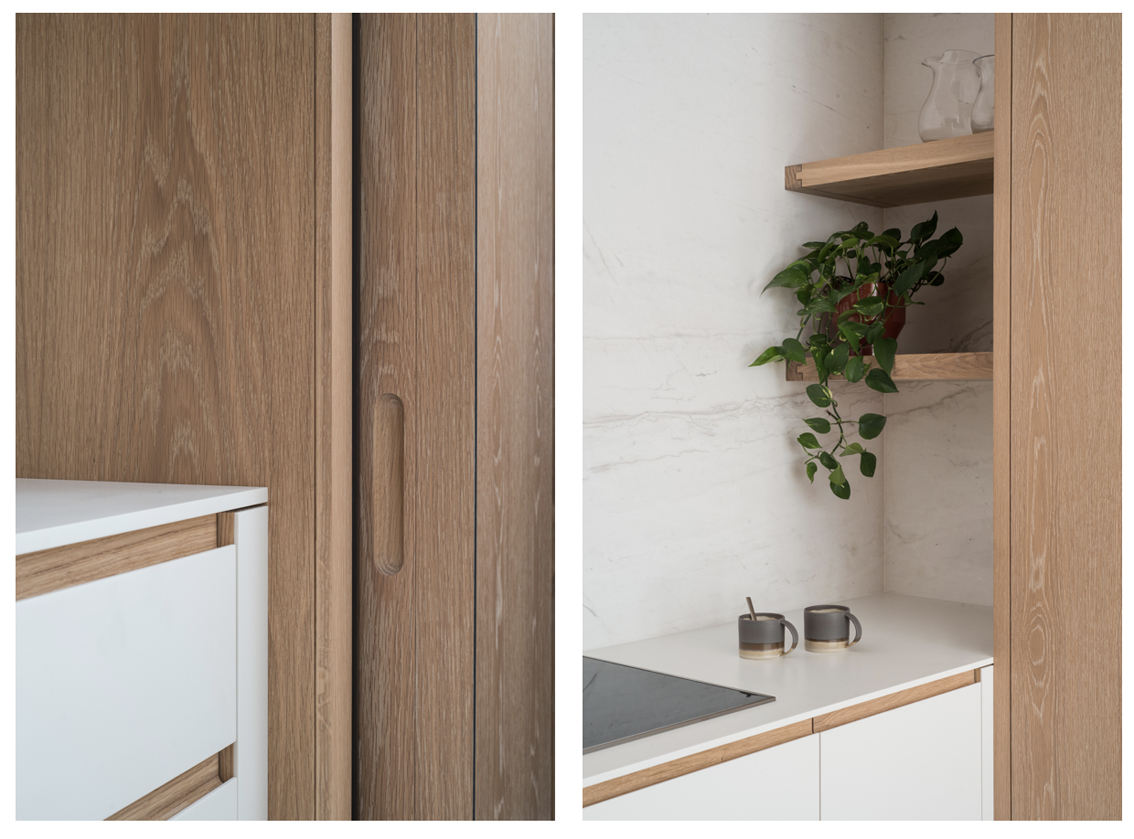 How would you describe the style of this kitchen?
As with all Jack Trench kitchens, our approach is to focus on good design and craftsmanship with contemporary detailing and use of interesting materials. This kitchen features a combination of two of our 'JT Designs'; the 'JT Classic' in Corian and 'JT Original' in European white oak.
Why was Miele selected for the appliances?   
We always recommend Miele appliances to our clients though in most cases our clients are already familiar with Miele and often tell us how amazingly their dishwasher or ovens have lasted over the years! For us, it is a combination of aesthetics and quality; we really like how Miele appliances integrate with our modern aesthetic and appreciate their understated design and build quality.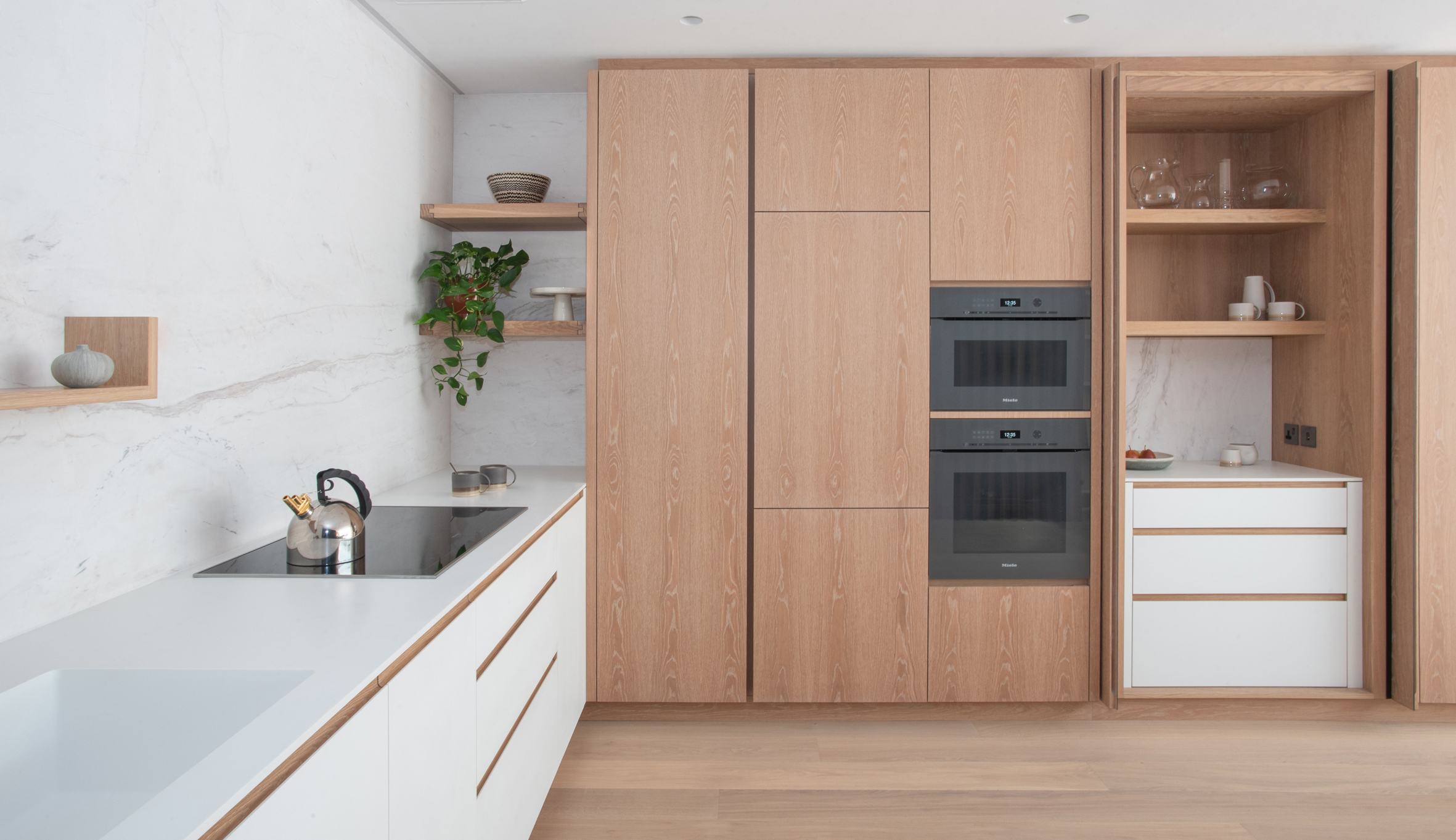 The main colour scheme for the kitchen is white and wood, why did you opt for graphite grey ovens?
Ever since the ArtLine handleless range was launched, we have loved to put it forward in our kitchen designs as they work so well with the contemporary detailing of our 'JT Designs'. In this instance, we opted for Graphite Grey to stay in keeping with the more discreet and pared back aesthetic of the kitchen and to reflect the subtle tones of the marble rather than introducing the heavier look of black or stainless steel into the colour palette. 
What does the rest of the home look like and how does that impact on the kitchen design?
The kitchen was part of a major refurbishment of our clients' home by their architects Vaidas Vileikis and Katerina Karachaliou. The rest of the property features oak timber floors, marble bathrooms and bespoke joinery and is finished to a very high specification. We worked closely with Vaidas and Katerina to ensure that our kitchen design was completely in keeping with the modern style of their clients' home.
What advice would your offer readers starting out on a kitchen journey?
Always consider the aspect of the room; what you first see of the kitchen when you initially enter the space will be key to a successful design so it's important to get this right at the outset. Alongside this, the kitchen layout in relation to the space is crucial; a great kitchen design is one where the joinery is ideally in proportion to the room. Once you have laid this foundation, then the specification of materials, finishes and appliances can follow accordingly. 
*All images from Alexandria Hall | A-H Photography