This week sees the official launch of Miele's incredible new Generation 7000 series of appliances. This is the biggest product launch in our Company's 120 year history! It has taken 72 months to develop, covers 15 separate product areas, involves 10 different factories and encompasses 353 models. It is the most holistic range of innovative kitchen appliances that Miele has ever produced.
If you are reading this because you are in the process of designing your dream kitchen, then you must be sure to visit one of our Experience Centres in either Abingdon or London to see our exciting new innovations and designs. Prepare to be amazed.
Neil Pooley, category manager for kitchens for Miele GB explains why Miele is so unlike any other appliance brand, "The Miele philosophy is to always be 'Immer Besser' – forever better. Everything we do is based on the premise that it will improve the lives of our customers. The new Miele Generation 7000 series sets new industry standards in terms of design, intuitive ease of use, accuracy and technology innovation to deliver outstanding performance."
"There are a number of reasons why Miele is different to other appliance brands. For example, the Company is family-owned and employees are passionate and proud of what they do. All Miele product designs are tested to work for 20 years equivalent use and appliances will maintain their high energy ratings for the duration of their lives, saving both money and the environment. Every oven is made with pride from start to finish by one person at the Company's factory in Gütersloh in Germany. Only appliances that have passed stringent quality control checks will be approved to leave – no inaccuracy or imperfection - no matter how small will be approved."
Let's take a closer look at some of the key highlights of Miele's new Generation 7000…
New Built-In Design
There are now four updated built-in design lines to choose from, each available at four price points depending on specification. New VitroLine is a striking new highlight available in a choice of three on trend colours; Graphite Grey, Obsidian Black and Brilliant White. The ovens feature an all glass front and a colour coded, ergonomic handle with a distinctive glass inlay design detail. Other design options include ArtLine, a super sleek handleless design which is the perfect complement to a contemporary handleless kitchen while both PureLine and ContourLine feature the ever timeless stainless steel elements.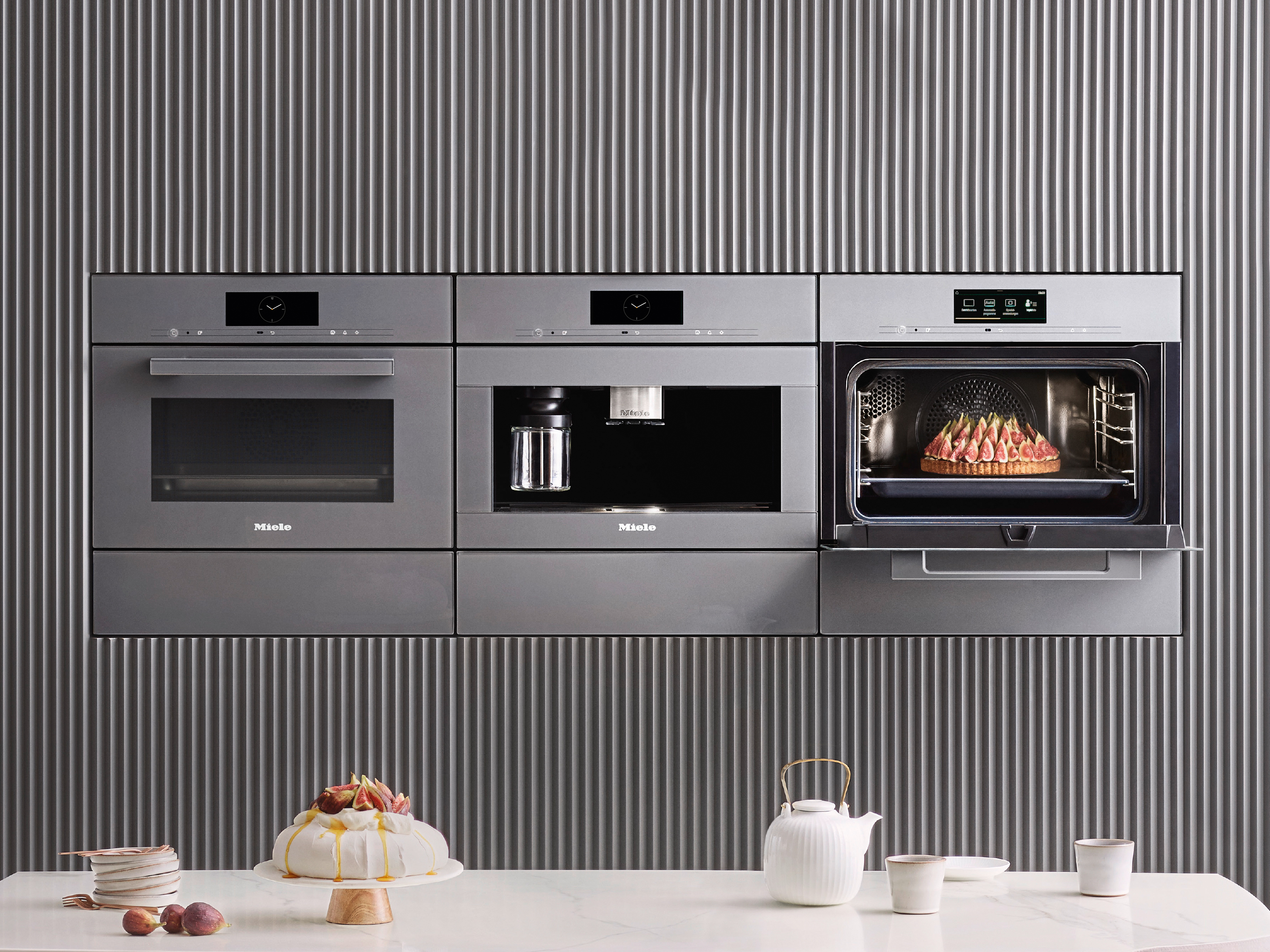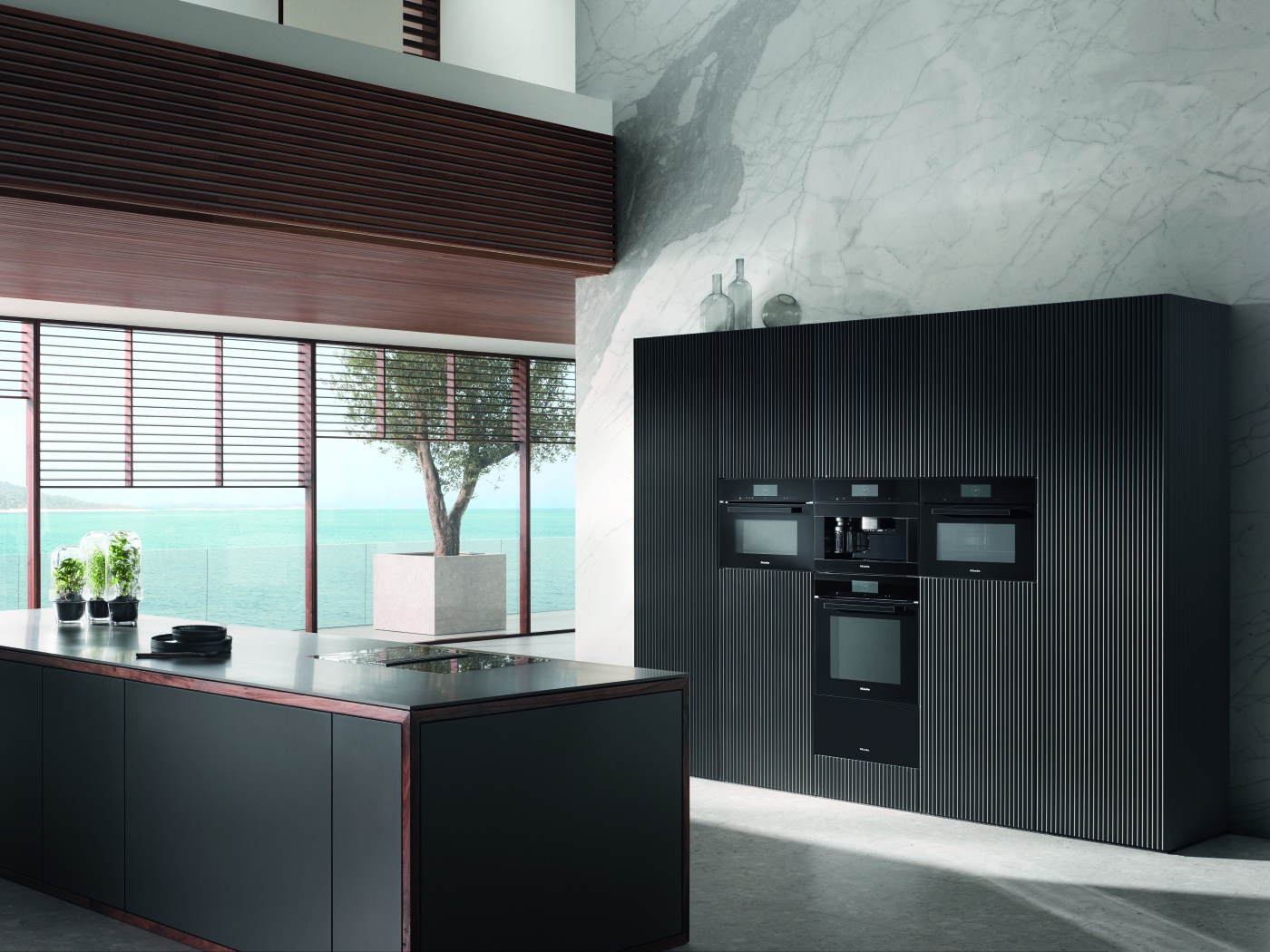 Innovative New Features in Ovens
The display panel is touch control across all models and intuitively guides the user through the cooking process with a wide choice of automatic programmes to eliminate guesswork. The cooking process can be adjusted, extended and stopped via the Miele@Mobile app on a mobile device or voice control using Alexa.
Other new features include MotionReact, where the appliance will activate automatically as the user approaches as well as turning off timers. And in a world's first for Pyrolytic ovens, top of the range models also feature FoodView. A HD camera within the oven allows a user to keep an eye on and manage their food while it cooks, from their mobile phone while they sit on the sofa or get ready for a dinner party. Ideal when cooking soufflés, cakes and breads which need regular attention.
TasteControl is another new innovation exclusive to Miele, allowing food to remain in the oven without overcooking. At the end of the cooking programme, the oven door automatically opens slightly and reduces the internal temperature very quickly. An additional KeepWarm option ensures food stays warm without drying out or over cooking, until it is ready to be served at its very best.
New Zoneless Hobs
New SmartSelect zoneless induction hobs with intelligent pan recognition have also been introduced enabling up to six pots and pans to be placed and moved anywhere without temperature adjustments needing to be made. These are designed to work in unison with compatible Miele extraction hoods using Miele's Con@ctivity technology, ensuring the right amount of extraction automatically and switching off when the hob is no longer in use to save energy. Available in widths of 60, 80 and 90cm, the frameless models can be combined with the Miele SmartLine Hob collection, which includes a wok, tepan yaki grill and a downdraught extractor for a personalised design.

New Improved Combination Steam Oven
Miele's best-selling Combination Steam Oven has also been improved to deliver enhanced usability with an increased capacity of 40L. New Dual Steam technology increases heat up times up by 10% and introduces steam at a higher pressure even when cooking at low temperatures. A Steam Oven with Microwave is also available to reduce cooking time by up to 48%.

New Recirculation Cooker Hood
The new Miele DA7078 Aura 3.0 is a distinctively designed recirculation cooker hood. Perfectly round and flat with a white gloss finish, the Aura is 70cm in diameter and is suspended by three ultra slim filigree cords which cleverly conceal the power supply.  The striking Aura offers adjustable LED illumination and is the perfect solution for use over an island within a modern kitchen design.  Rated A for energy, cooking odours and grease are efficiently filtered through a 10 layer stainless steel LongLife AirClean filter.  It has Miele Con@ctivity 3.0 built in which means it can work in unison with a compatible hob to ensure the right amount of extraction is delivered automatically.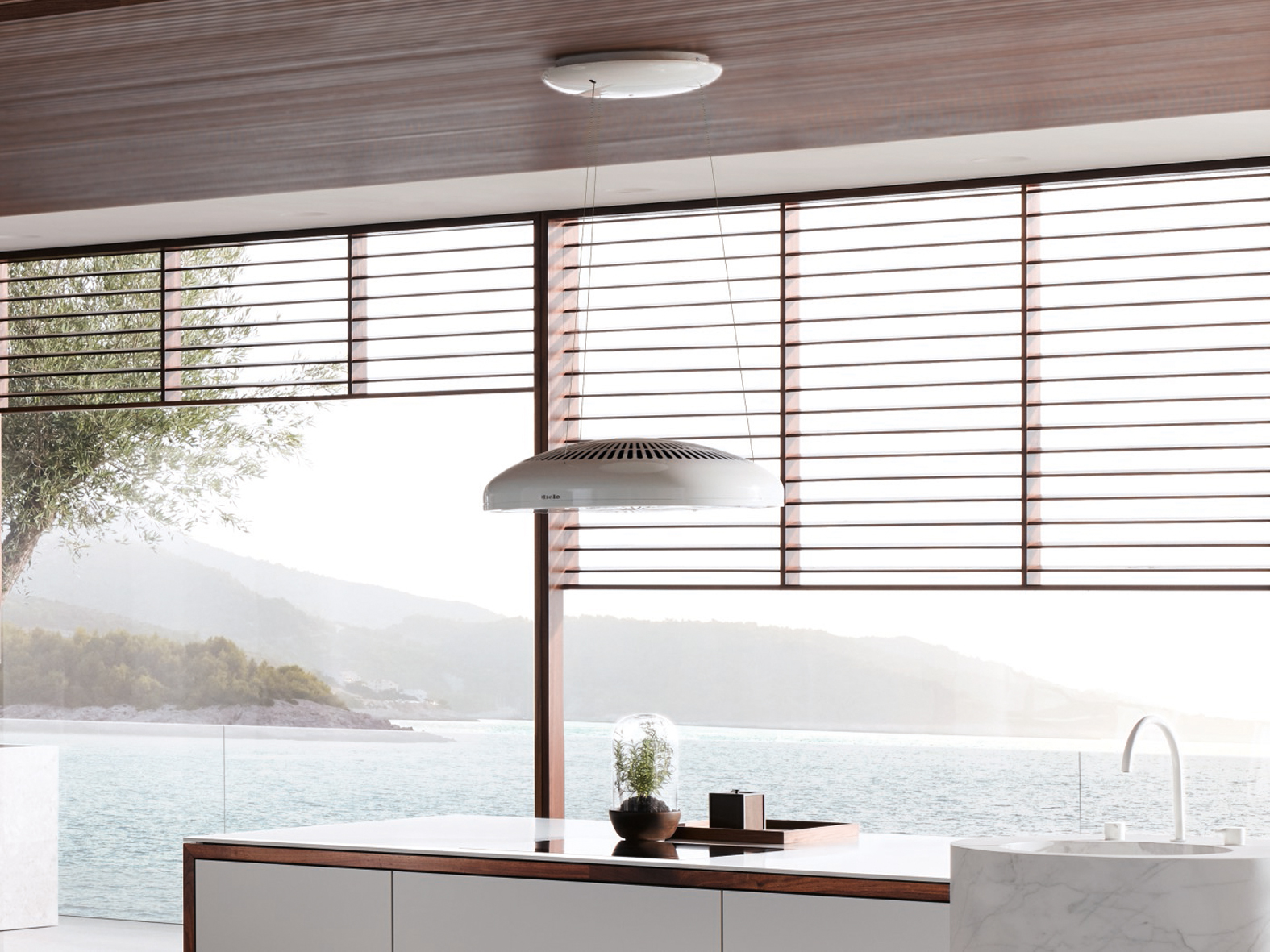 Remodelled Dishwashers
Almost every component in Miele's new G7000 dishwashers has also been completely remodelled. The result is increased capacity and flexibility and offers the opportunity to use Miele's exclusive Auto Dos technology with PowerDisk. This dispenses the optimum amount of advanced detergent completely automatically for up to 20 washes. In another world's first, users can also turn their machine on and off remotely at pre-set days and times, thanks to the Miele@mobile app.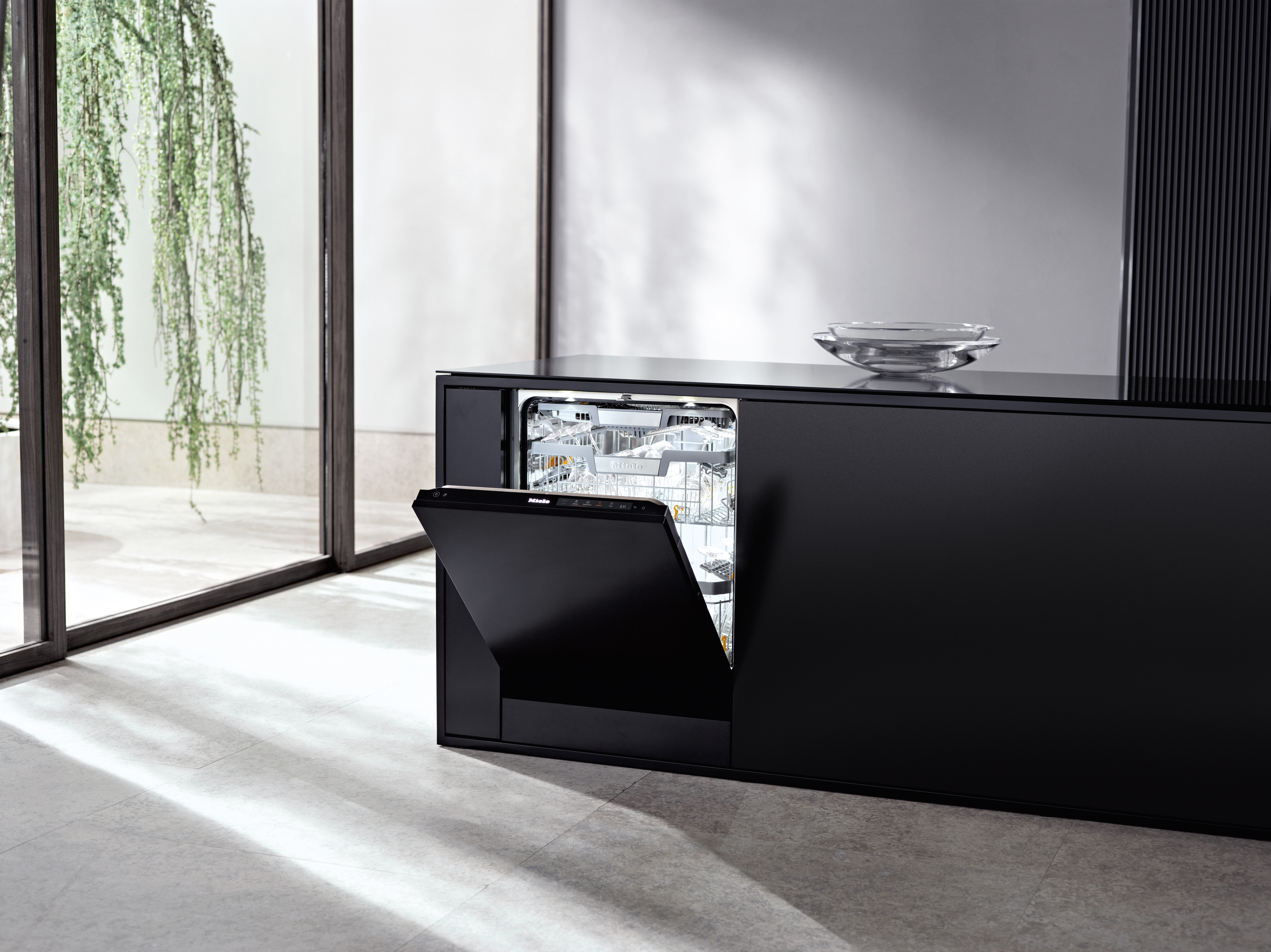 All New Redesigned Built-In Coffee Machines
Miele's famous built-in coffee machines have been completely redesigned on the inside to offer a choice of three types of coffee beans plus the machines have an integral Miele de-scaler cartridge and are now fully self-cleaning to make life easier. A wider range of coffee options is available plus the opportunity for individual pre-set preferences. For tea drinkers, a climate sensor and timer ensure teas are brewed at the correct temperature for the optimum amount of time.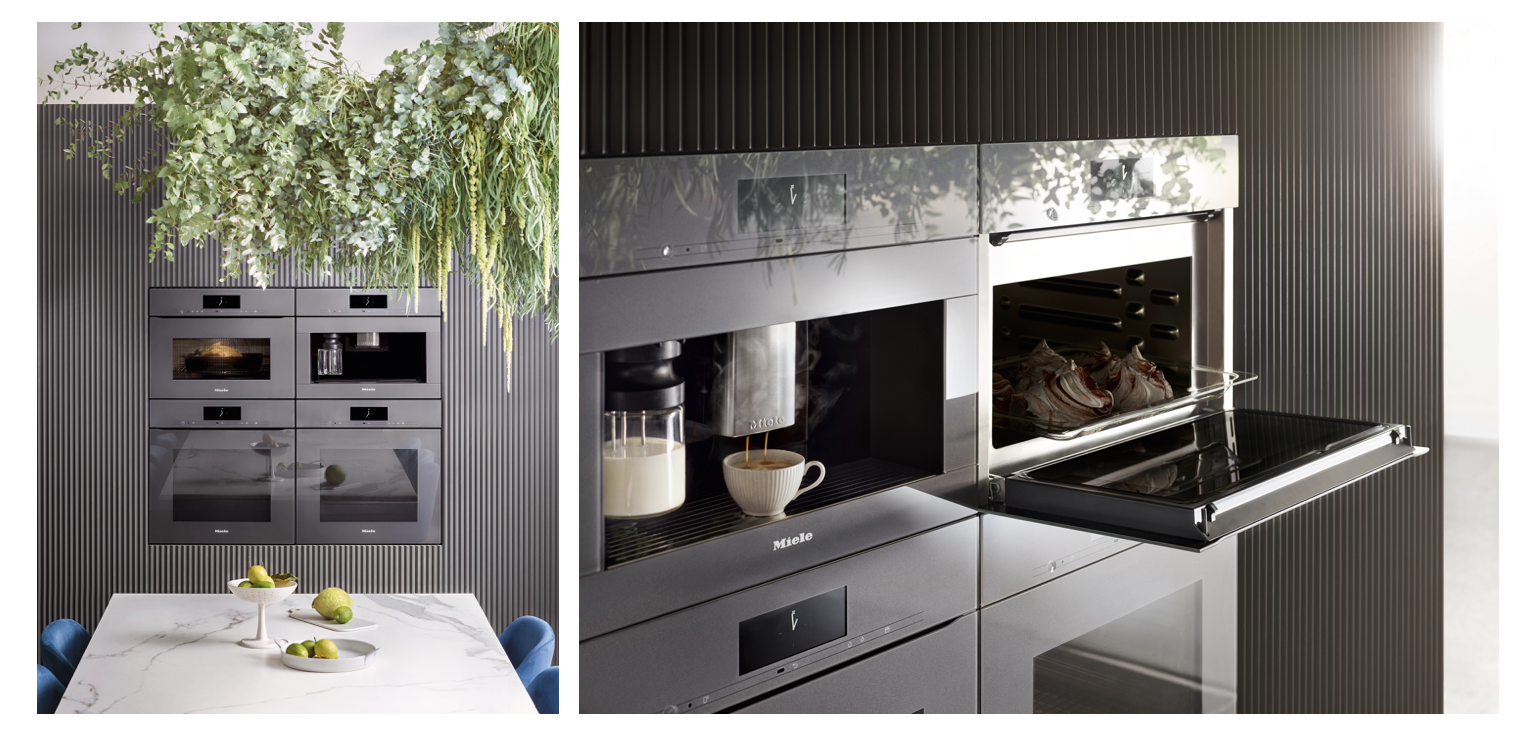 The best way to discover Miele is to experience it first-hand. You are invited to visit the Miele Experience Centres in Abingdon or central London to join a Taste For Design course. Miele home economists will guide you through the new Generation 7000 innovations while they prepare a delicious four course lunch for you to enjoy. Book Here