When it comes to kitchen planning, every single aspect is an art. The aim is to create a balanced and stylish living space, tailored to suit individual needs.  We were delighted to sit down with Sharan Johal, creative director of Vogue Kitchens to learn the secrets of creating an on-trend, open plan, monochrome look.
Who is the kitchen designed for? 
The kitchen was designed for a family of six as part of a large rear extension to a 20th century Art Deco home.  The family love to entertain but importantly, the design also had to have plenty of storage to reduce clutter.  This reflects the minimalist style throughout the rest of the house.
What advice do you have for readers who are wanting a similar monochrome colour scheme? 
I am always amazed at how two very opposite colours can create such impact in a room.  It doesn't matter whether your desired look is modern or traditional, pairing black and white tones will always create a statement, providing any kitchen with a sophisticated and timeless colour scheme.  The key is to keep it simple, with careful attention to details such as texture and materials, which will help to create a high end finish. In this space, we used matte Leicht units in Carbon Grey, which help the glossy quartz island pop.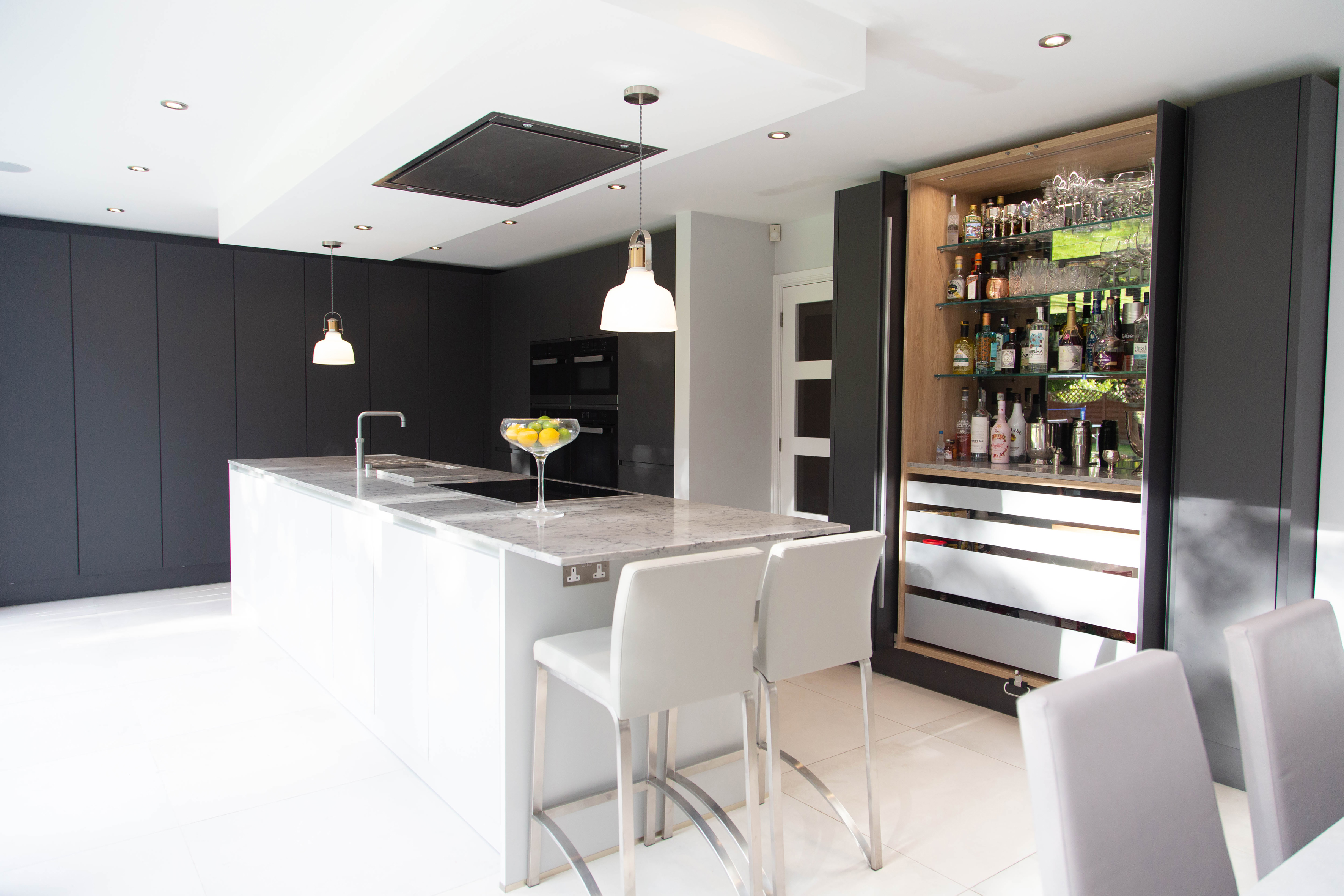 What is the best way to create a focus in a large space?
Without a doubt, an island.  We always add an island into the design when planning a large space and this becomes the central hub for cooking, food preparation and entertaining, as well as the focal point of the design.  Where there is space, we also often extend the work surface on one side to allow for seating, perfect for casual dining. Low hanging pendant lights over the island create symmetry whilst also providing essential task lighting for food preparation and dining.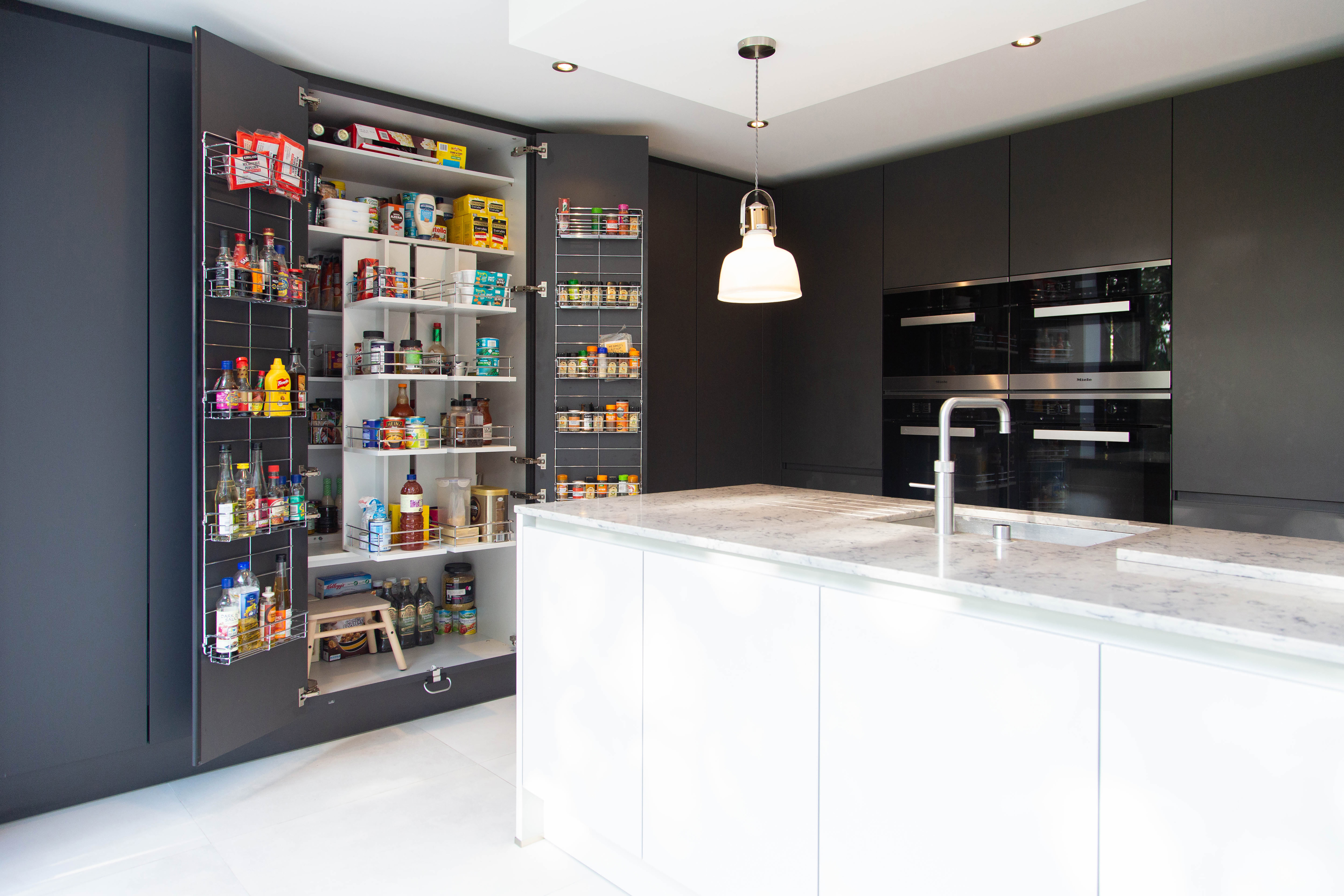 What needs to be considered when opting for an open plan kitchen? 
The closed off kitchen is becoming a thing of the past.  If it is possible to open out the room, doing so creates a true hub of the home, including kitchen, dining and living spaces.  Zoning is important. Having a kitchen island can represent the divide between the cooking and living areas.  Storage is another key factor. Keeping everything neat and tidy helps the kitchen to blend into the background when it is not being used.  Our client loves the various storage options we created for her in this design.  This included a swing pantry for all her dry goods, a cook centre with integrated blender and plenty of storage for pots and pans.  The glass-backed bar is a great touch for entertaining with real wow factor. Everything is accessible, easy to clean and low maintenance.  When not in use, all the pull out storage is completely concealed behind cupboard doors, making the kitchen clutter-free.
Another practical point for an open plan kitchen is to plan your ventilation with care.  You must have good extraction, whether by using a cooker hood with an external motor or a recirculation system. This ensures that cooking odours and grease don't hang around or filter into the living spaces.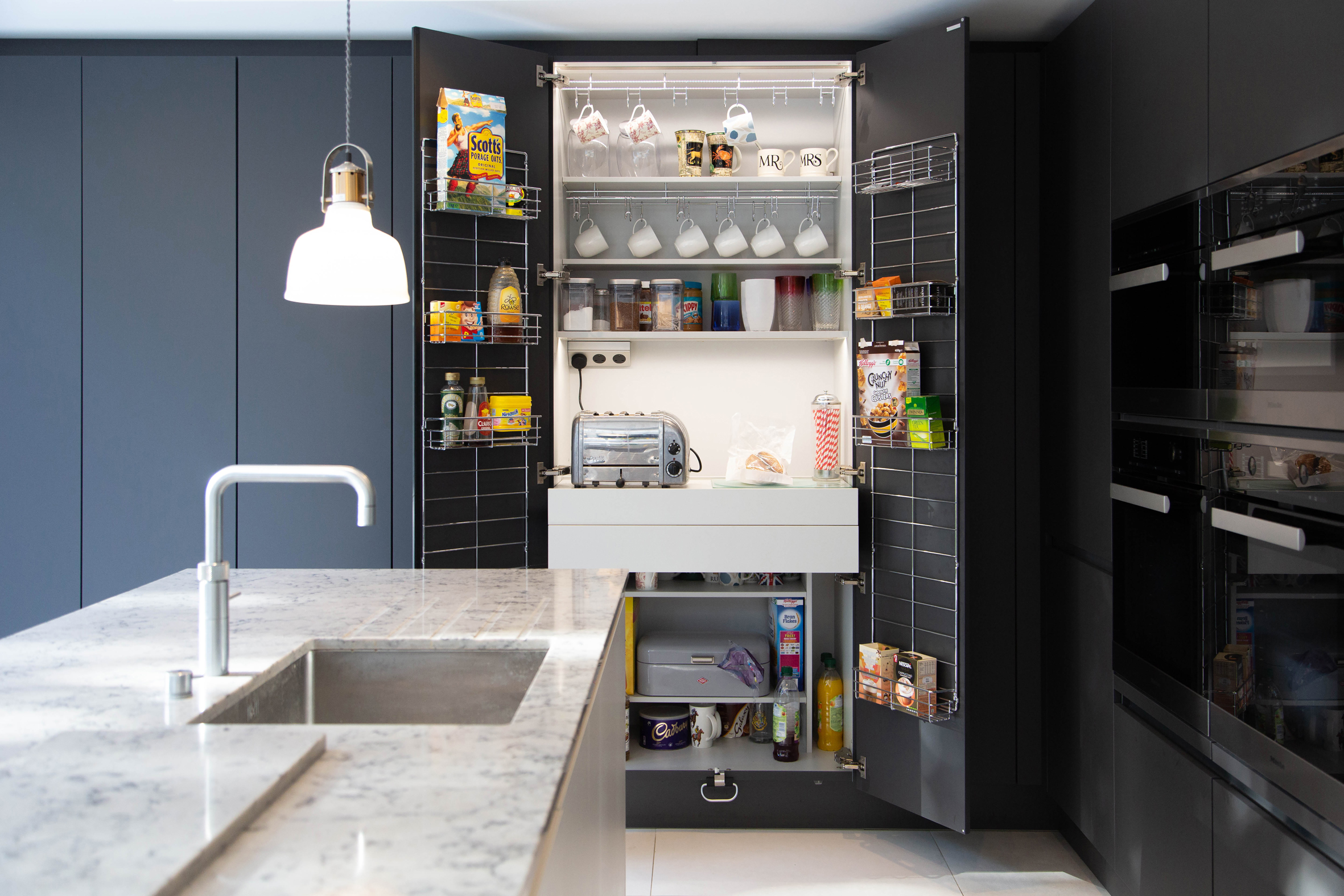 Why was Miele selected for the cooking appliances? 
We exhibited at the Ideal Home Show in London, which is where we met our client. She loved the concept of a bank of four Miele ovens we had on display, as she often cooks for her large family and entertains friends.  We discussed her needs and were able to recommend the Miele H6260BP Oven, with the added benefit of pyrolytic cleaning, as well as the DG6200 Steam Oven and M6260TC Microwave to provide her with the best possible cooking flexibility.
The Miele KM6366-1 Induction Hob was also a must have appliance as its sleek style matches the cabinetry. It is also easy to clean and has a twin booster for extra power when required. The PowerFlex option is also ideal when cooking for large numbers, as it provides an extra-large area for saucepans and casserole dishes.
Our client also specified the Miele G6660 SCVI Dishwasher after seeing it on our Ideal Home stand, as she admired its impressive 14 place setting capacity, which comes in very handy for a family of six!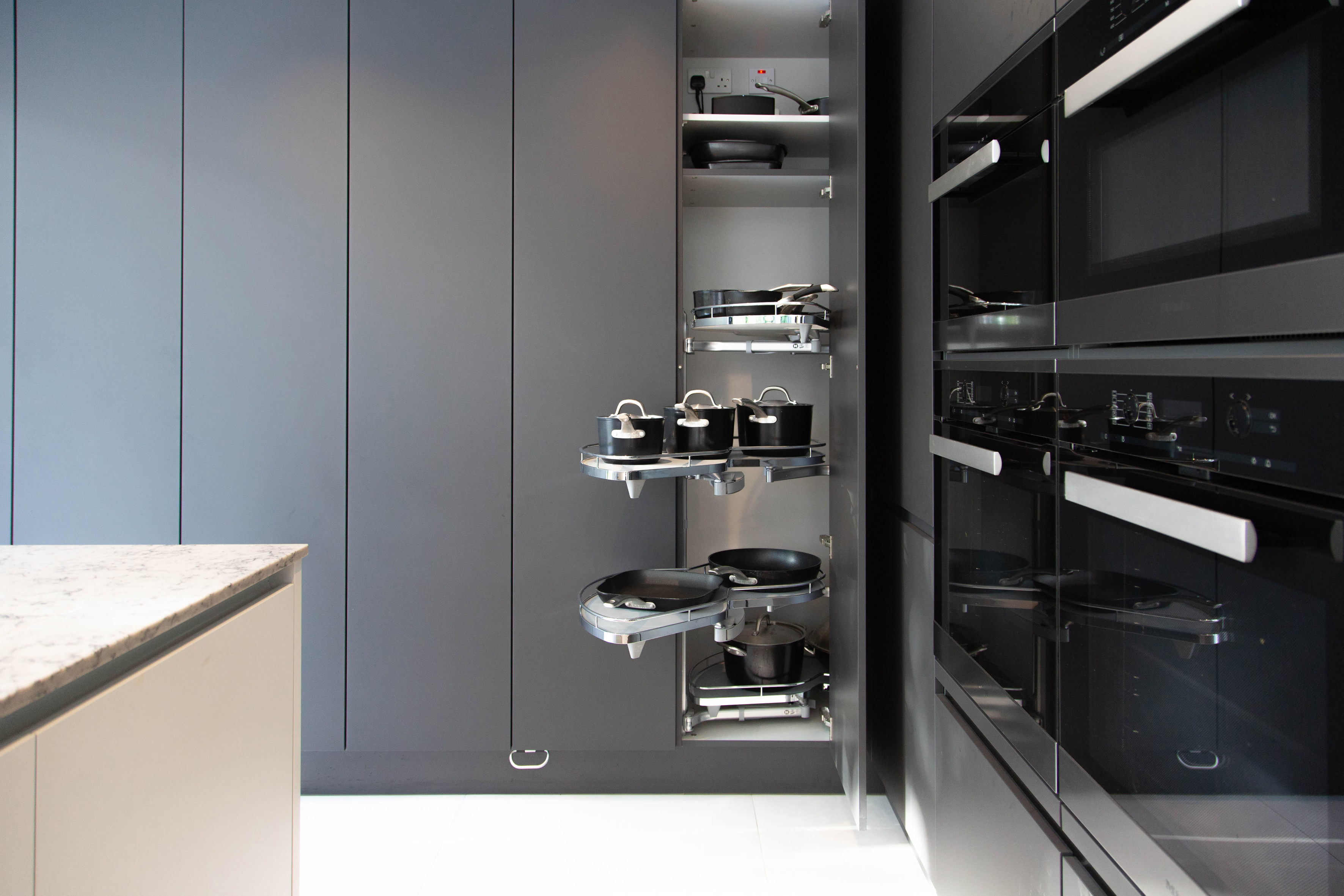 Are more of your customers opting for a bank of cooking appliances and if so why? 
For our clients with large kitchens, a bank of appliances creates a design statement and provides the option for varied cooking methods. 
By placing at least two, but usually four, ovens within tall cabinetry, this allows them to truly enjoy their cooking experience. Symmetry in the kitchen is another key trend, and banked appliances are great for this. We always demonstrate how the functions in each oven works, and the vast range of cooking benefits they offer.  These include steam cooking for preparing healthy dishes with Miele's total temperature control, while clever keep warm functions are great when catering for a busy family. We know that demonstrations work and they are a major talking point during each of our design consultations. We also advise all our clients to attend a Miele Taste for Design course. This allows them to experience and fully understand the benefits that their desired appliances can offer, before having them installed in their home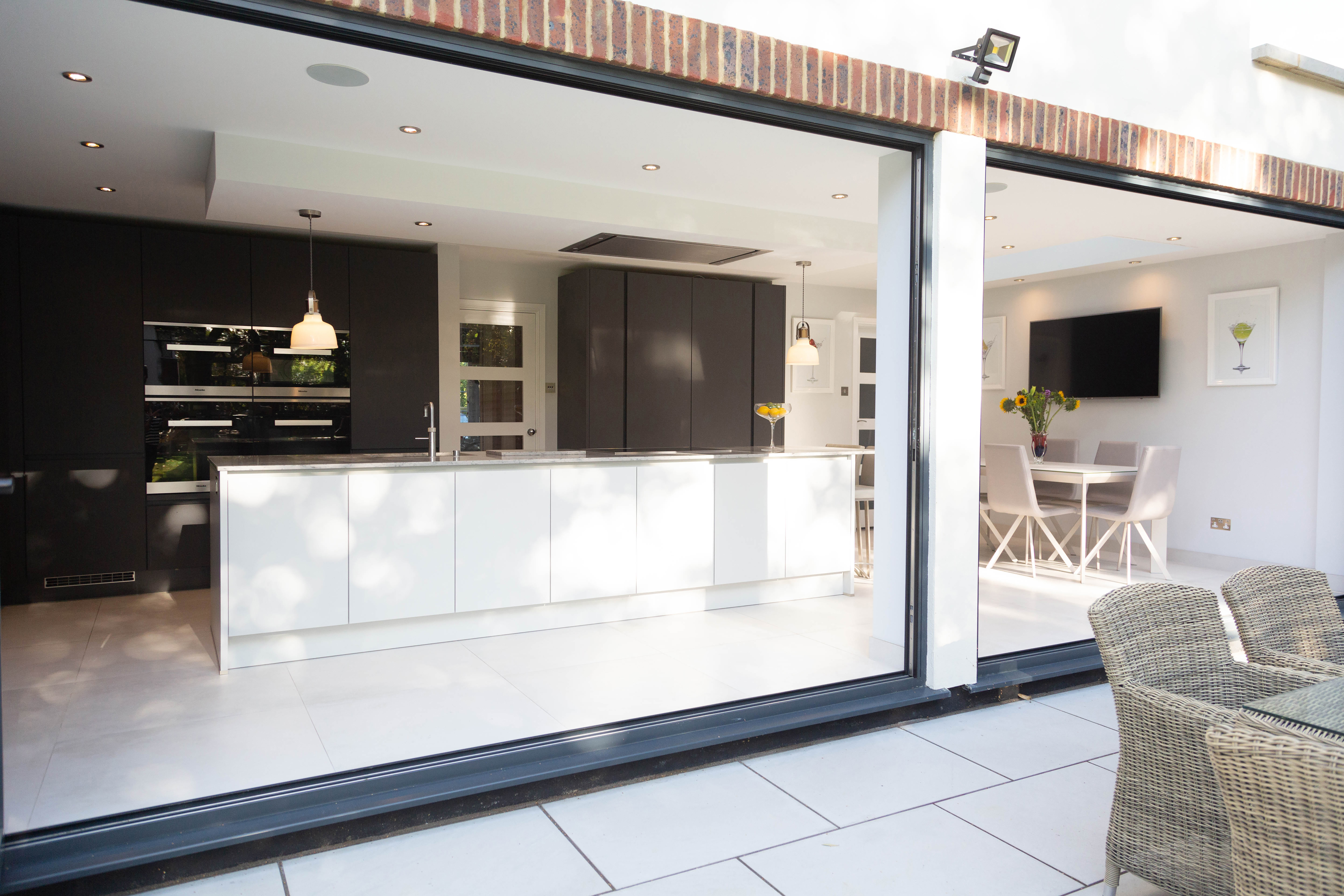 What is the benefit of a kitchen opening out onto a garden? 
There are so many benefits to having an indoor/ outdoor conservatory-style kitchen and this certainly is a trend. The ability to open out the kitchen via glass doors or panels makes the whole room become part of the garden, perfect for summer evenings and al fresco dining. When the weather is cooler, the doors are closed and the kitchen still remains the heart of the home.