I've been living in London for just over three years now. Originally from Sydney where the food scene continues to thrive, I wasn't really sure what to expect when I arrived. I obviously knew you could eat at incredible Michelin restaurants, have a killer Sunday roast and always be able to find a great English breakfast.. yet (terribly) that was as far as my limited knowledge on London food went.
Fast forward to now and I believe London is one of the most exciting cities in the world for food - you can find everything. From street food markets on the weekend such as Broadway Market in East London where I live, some of the best bars in the world scattered throughout the city, traditional fine dining, casual fine dining, top Michelin restaurants, Mexican, Japanese, Indian, Persian, French, Italian, Sichuan.. any cuisine you're looking for - you'll find it here.
My list of where to eat in London could go on and on. I wanted to share a few of my favourite spots to visit for breakfast, lunch and dinner, whether you're dining solo or with a group.
Breakfast: 
I only visited The Wolseley for the first time last week and it's clear to see why this is quite the London institution. Opened in 2003 (originally built in the 1920s as a car showroom) the venue still maintains a lot of its original architecture - the high ceilings and black and white marble throughout are a stand out. Head in for breakfast, order their English breakfast or signature pancakes and enjoy the show.
A café by day and wine bar by night, Milk Beach is located in Queen's Park, North West of central London. The owner Elliot (also from Sydney) brings Aussie brunch to the area. Some of my favourites include, smashed avocado on toast, eggs benedict with ham hock, spinach on sourdough and Elliot's family recipe for banana bread. Milk Beach also sources its coffee internationally while roasting it in small batches every week.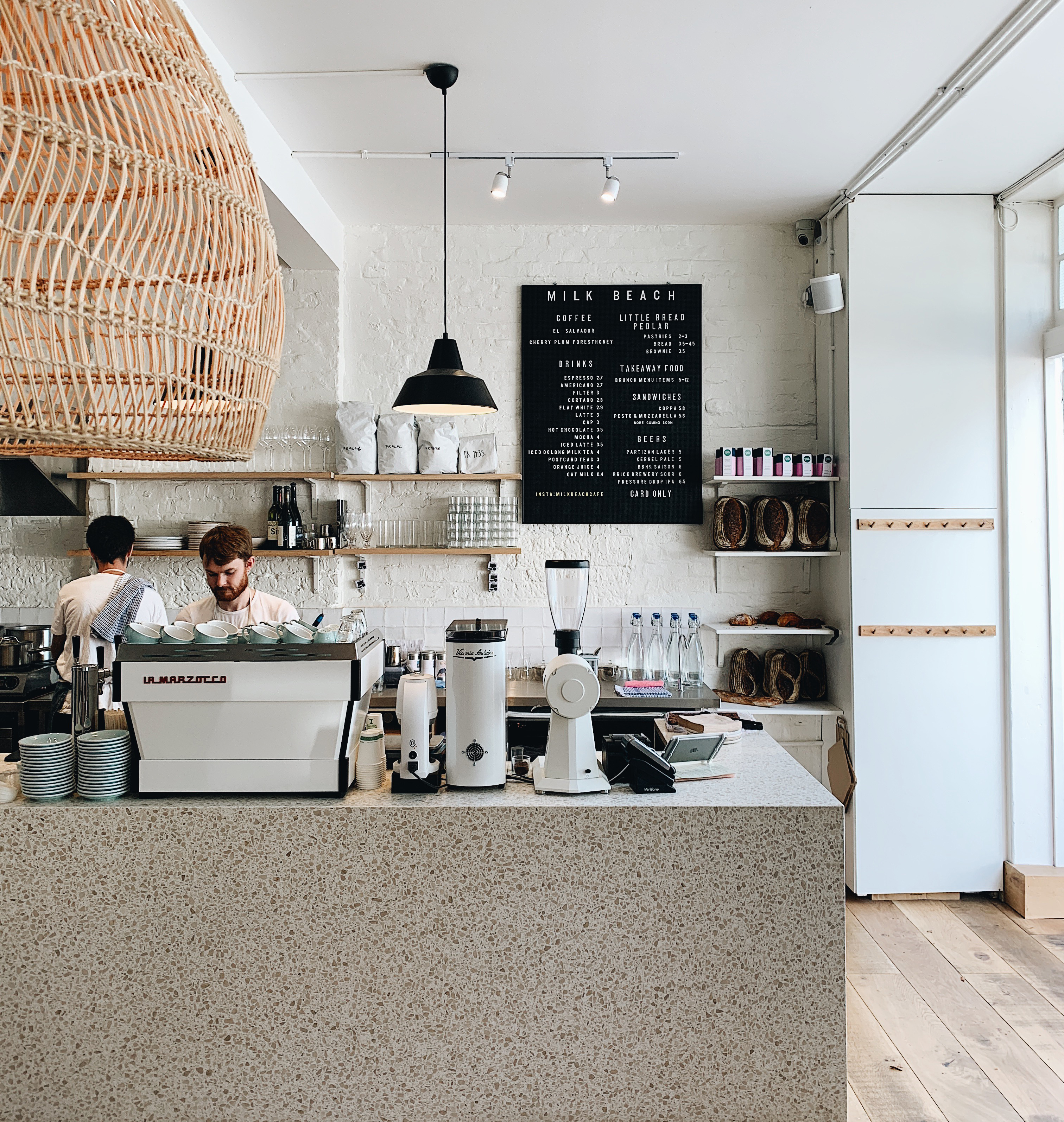 Lunch: 
This would have to be one of my favourite places in London. It's perfect for a long lunch in a stunning setting right in the middle of Shoreditch. Serving small plates as well as a lot of meat and seafood cooked over a wood fired grill. Make sure to try the smoked cod's roe, turbot, smoked potatoes and beef chop. If you're visiting London this is a must!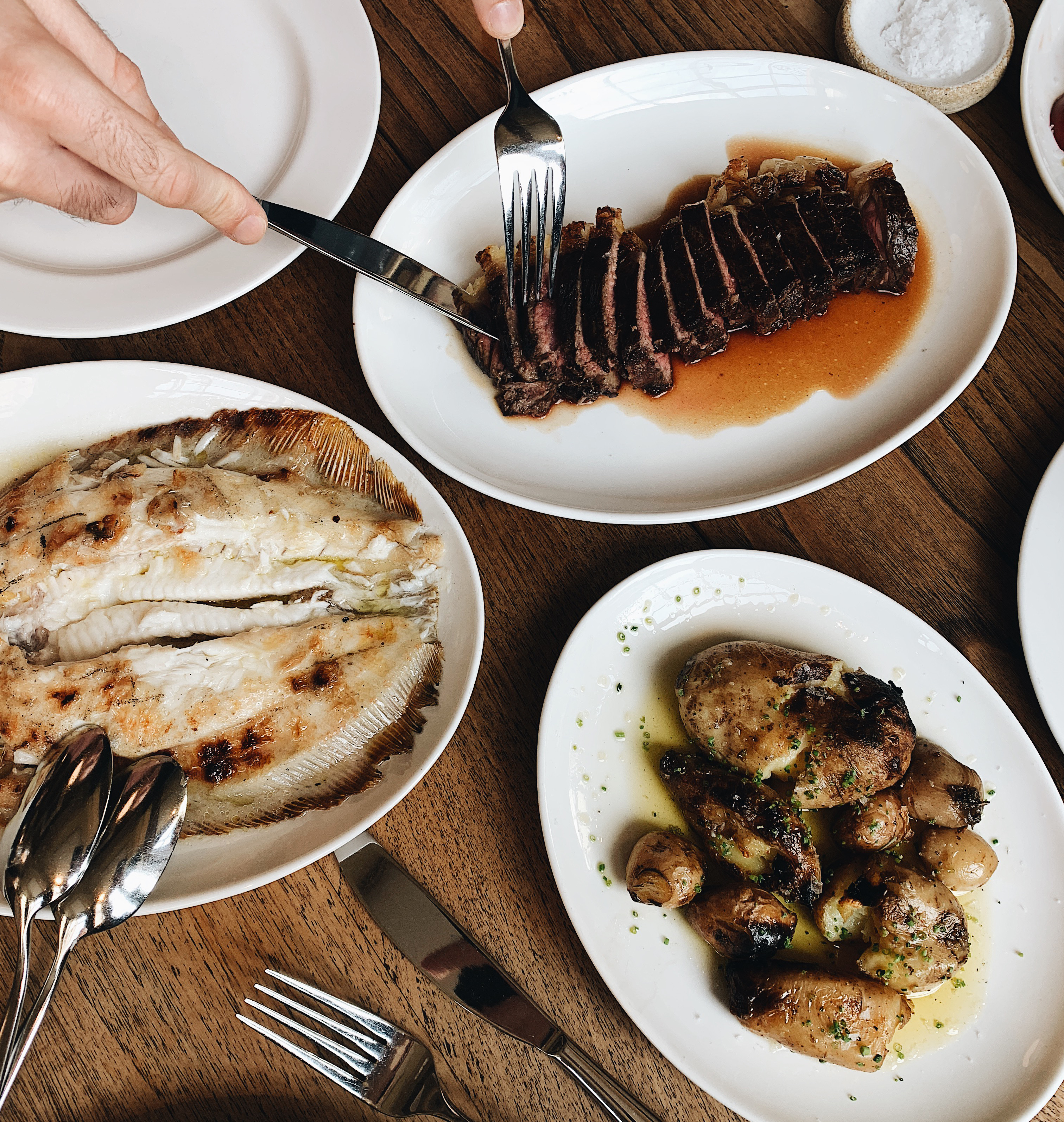 A place I have visited twice and can't wait to go back to. This Michelin starred Chinese restaurant is located in Pimlico just a short walk from Victoria Station. The first time I visited, I tried Andrew Wong's 'Taste of China' menu, a 13 course tasting menu that sends you on a journey around China. When I visited last week, I tried their interpretation of Dim Sum and it has to be one of the best lunches I've had in London!
Dinner: 
Bright has only been around for a year and definitely has made a name for itself. Situated by London Fields in East London, it's the ideal neighbourhood restaurant and bar - pouring incredible natural wines and offering share plates on an ever changing menu. It's great for dining solo or with a big group and their Katsu sandwich is a must to try!
Noble Rot is both a restaurant and wine bar located in Bloomsbury, Central London. The wine list is known to many as one of the best in the city. Sit at the wine bar at the front or find your way down the back in the beautiful restaurant serving a daily menu of seasonal dishes, such as confit Tamworth pork belly with mash and apple sauce, braised Cornish monkfish and spider crab bisque, snails, roast shallots and Alsace bacon. You can see why it's great for a long lunch or dinner.