If you are getting ready to embark on a new kitchen, our guest contributor and award winning interiors journalist and blogger, Kate Watson-Smyth of Mad About The House offers insightful advice on kitchen trends for 2018, covering everything from colour inspiration through to how to integrate appliances into a design, storage solutions and a new way to look at kitchen islands.
"The kitchen is the one room of the house that is slow to respond to trends. Perhaps it is the vast sums of money involved that means we are afraid to choose anything that isn't a well proven classic in case we go off it. So for years the most popular colours in the kitchen have been white. White is timeless, classic and appears hygienic and fresh. It is a very safe choice and just, well, a little bit boring. Of course if that is what you want, and there's nothing wrong if you do, then try to use lots of different materials to keep it warm and interesting – marble, painted wood, ceramic tiles etc.
But the trends they are a-slowly-changin'. One of the most noticeable that is starting to creep in is colour in the kitchen. Now it starts off at trade shows and then moves into the magazines. And once you have started to get used to it in print, then you start to ponder it in real life and so it gradually gathers momentum until you find yourself at the showroom on a Saturday morning pointing at something completely different from what you thought you were going to choose.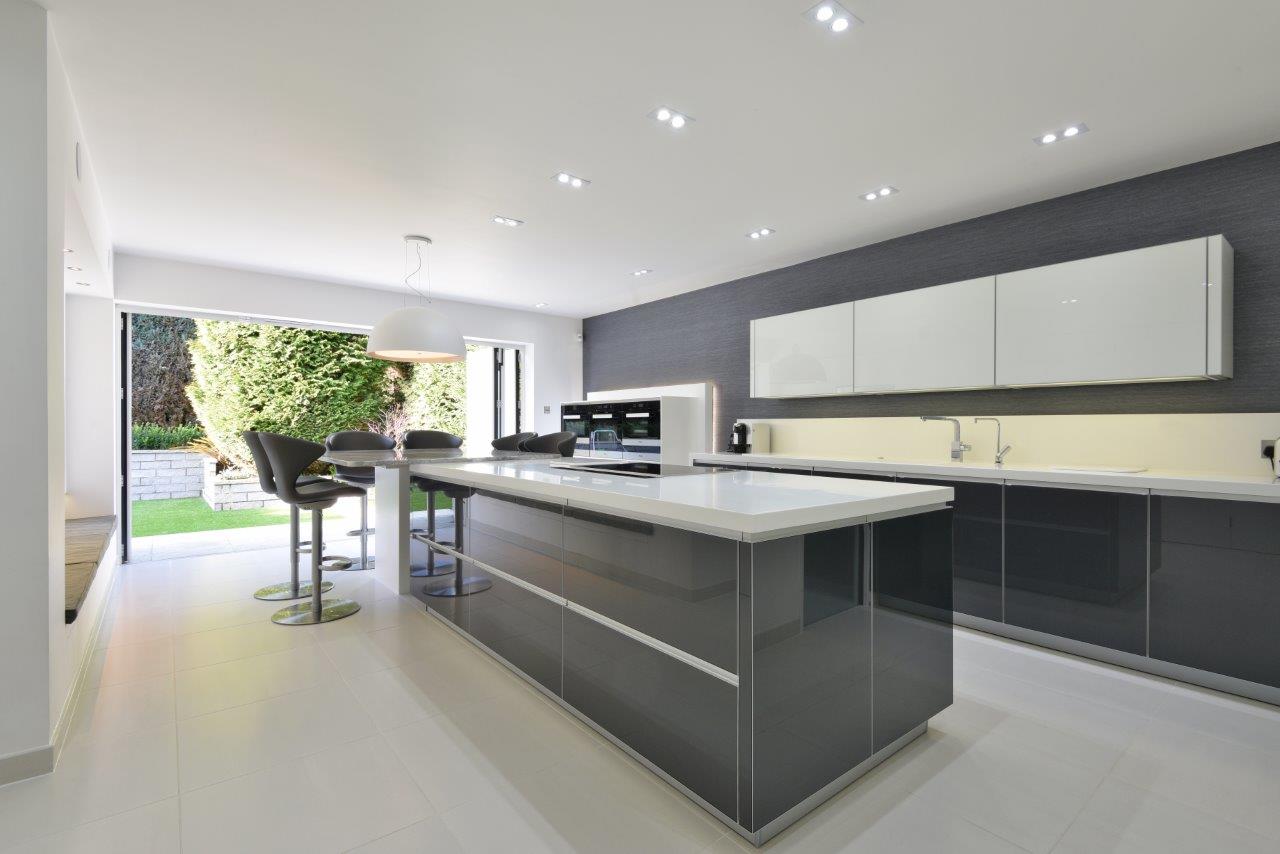 Photo Credit – Diane Berry Kitchens
Now there are a couple of ways to approach this because colour is actually the easiest part of a kitchen to change. Wooden doors can be painted or resprayed and the walls are easy to change as well. So the key to adopting this trend is keep the worktops and appliances simple and classic and have a little more fun with the colour elsewhere. Dark neutrals such as navy blue and green are really taking off at the moment and if you keep a dark colour low down then it is less heavy than if it is high on the walls. So install dark cabinets on the floor but keep the wall-mounted cabinetry a pale colour. Because that is the second trend – it doesn't have to match. Match your wall cupboards to your walls and go bold below.
One of the other trends that is emerging is a new way of storing things. I wrote a few months back about how the utility is the new ensuite but there is now a contender to be the new utility and that's the pantry, or larder if you will. Bespoke kitchen companies are increasingly creating pantry cupboards where you can keep all the baking ingredients, for example, and if you don't have a whole room to spare then a full length cupboard with double doors and perhaps some shelves that you can keep the mixer on are gaining in popularity. The other new direction that storage is taking, is a move away from cupboards towards deep drawers where you can see everything at a glance rather than having to bend down and rummage through a cupboard.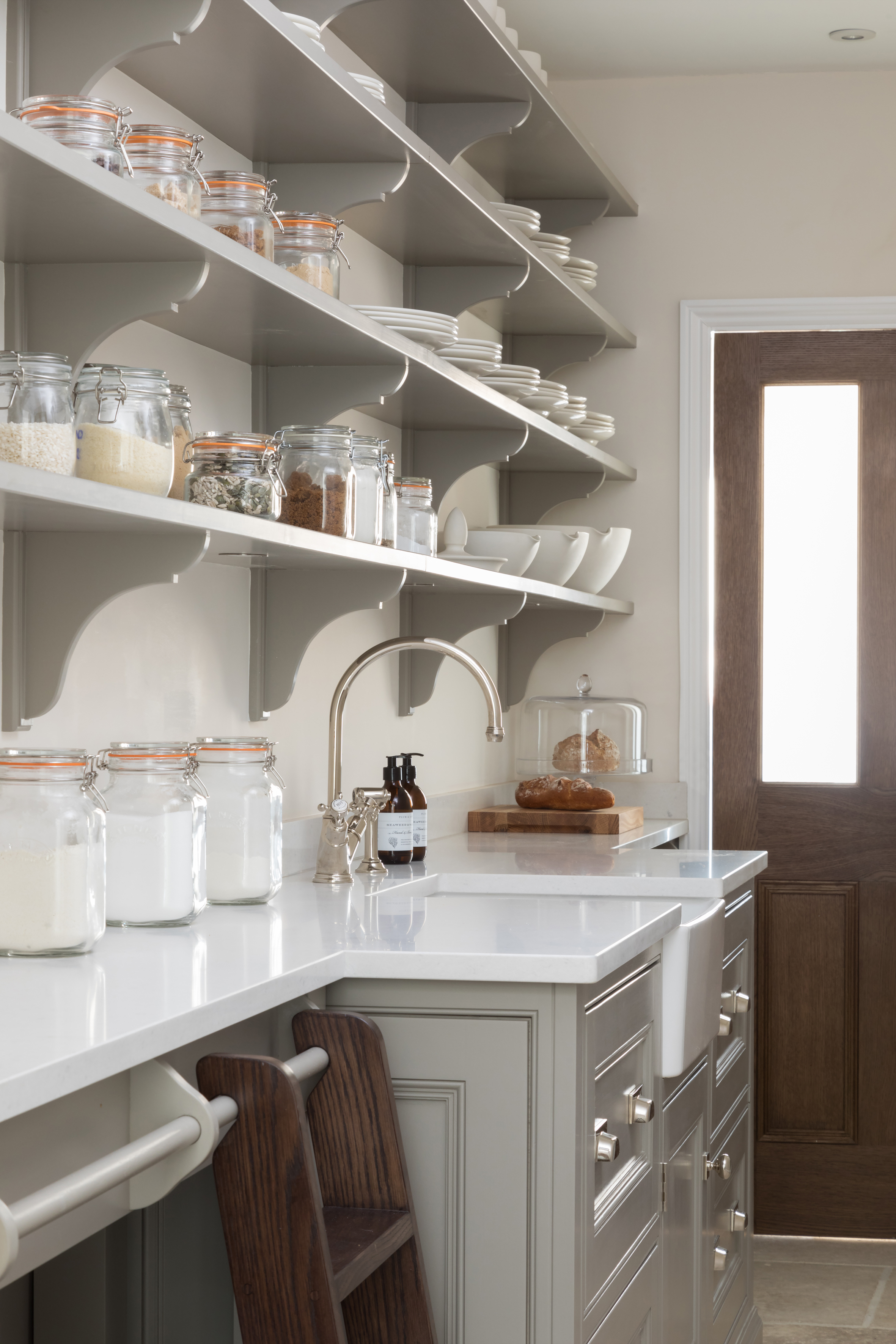 Photo Credit – Humphrey Munson Pantry from the Tudor Manor House Project
When it comes to layout open plan still rules. The kitchen remains the heart of the home and, if at all possible, we are still keen to squeeze in a table and/or island or peninsula around which we can gather with friends and family. But alongside this open plan living comes a desire to make the kitchen look like another room in the house and not just a purely functional space. So upper cabinets are disappearing to be replaced with open shelving which are, in turn, used to display pretty plates, collections of mugs and decorative storage jars. Handles are disappearing to keep a more streamlined look with clean lines and appliances are being hidden and integrated so that the kitchen has become a room in which we cook rather than a cooking space in which we can sit.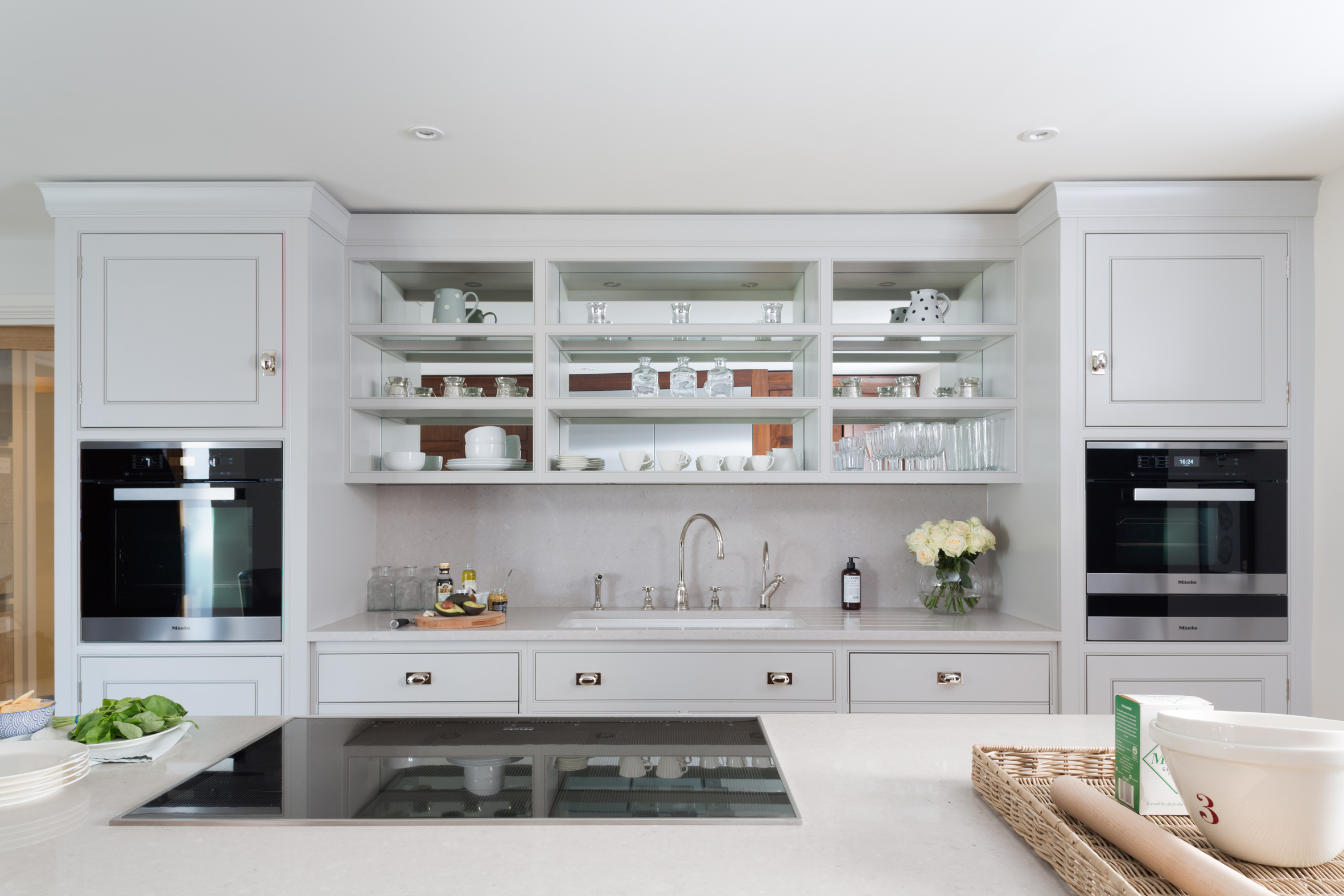 Photo Credit – Humphrey Munson Spenlow Kitchen
Alongside this desire to hide our appliances is the realisation that if they must be visible – ovens, hobs and extractors – they must be beautiful. So Miele has an extractor fan that hangs on almost invisible wires and appears to float above the hob. Induction hobs are also enormously popular now. They are great for small kitchens as they are fast and safe and, with their flat surfaces, almost disappear into a worktop when not in use, rather than the gas burners which stick up and ruin the line and electric rings that continue to pump out heat longer after the pasta has been drained and even eaten.
As appliances slim down and disappear, so the shapes in the kitchen are becoming thinner and more elegant. Worktops are no longer chunky slabs but have taken on a more refined shape. Cupboards are flat and without frills and fiddly carving. The overall direction is towards creating a functional space which complements the living area that runs alongside.
Kitchen islands that look like tables with open storage underneath are a new trend that will grow over the next few years. The open space and legs mean you can see more floor and the space around it so the room looks bigger, but it also means you can't hide unsightly pans and plastic muffin trays from view so they will continue to be the preserve of the larger room or the one with the utility or larder where the ugly, but necessary, stuff can be stored. And, since cooking continues to grow in popularity in the UK, we have more things that need storing as well as more need for highly functioning and beautiful kitchens whatever colour they are."
Keen to discover more kitchen design inspiration? Click here to see a range of articles by leading kitchen designers, architects, professional chefs and product experts.