There are so many things to consider when planning a new busy family kitchen. Here we ask guest designer, Jo Heavey from London-based kitchen studio, Cococucine to share her insights and advice inspired by this stunning kitchen project, designed by Jo to meet the demands of suburban family life.
Tell us a little about the design of the kitchen. What was your brief from the client? 
For a growing family, the client wanted a multi-functional space that would work on many levels as the hub of their home. Open plan spaces are all about bringing enjoyment to cooking without missing out on social interaction. The key here was to ensure the kitchen was always functional, well proportioned, stylish and easy to keep clean.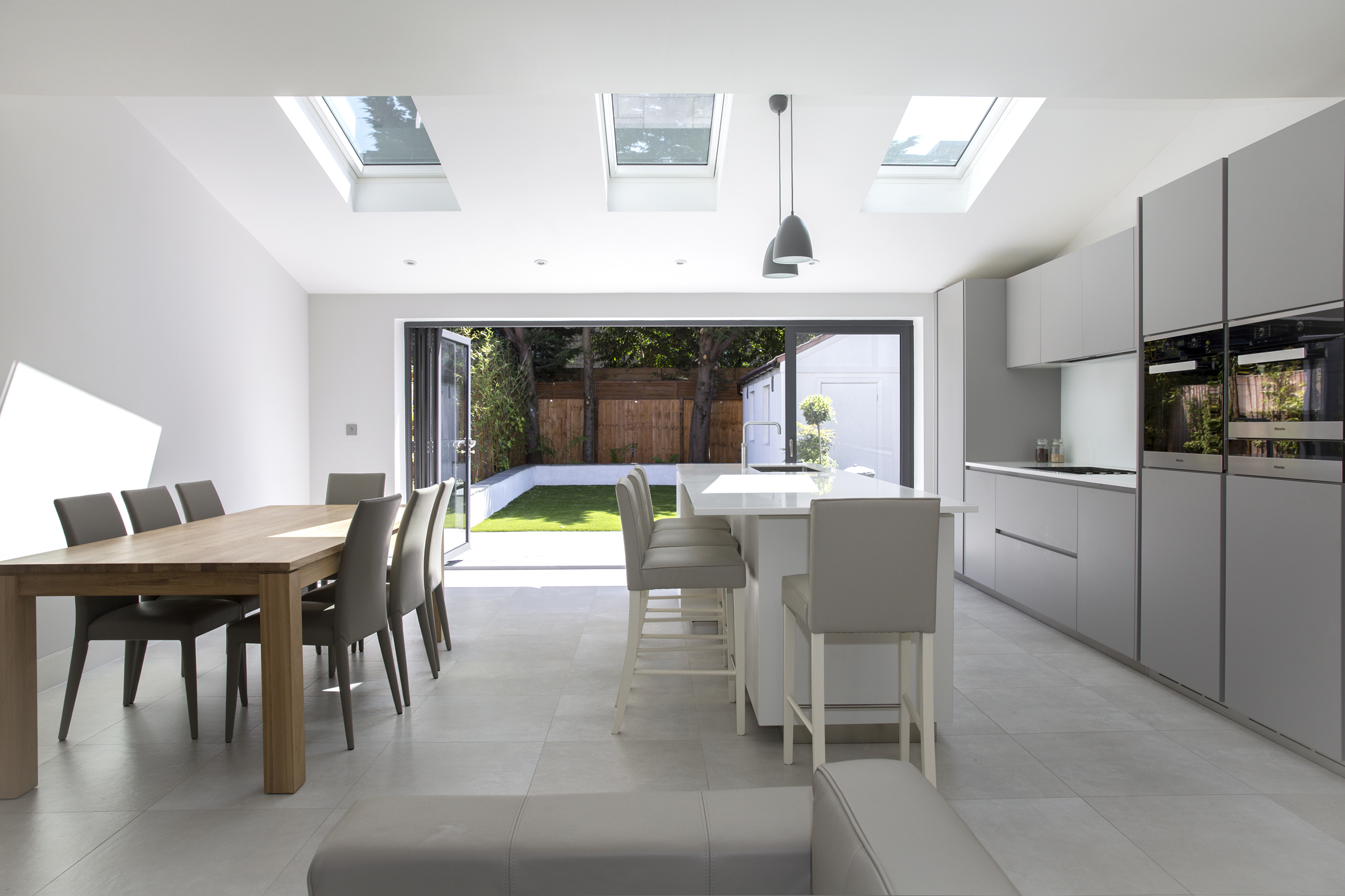 What are the main considerations when designing a kitchen for a family? 
It is a combination of good space planning and fun! A family kitchen needs to be one that everyone wishes to be in but the trick is to subtlety segregate key areas into zones so that you are not on top of each other. Zones being food preparation, cooking, refrigeration and on this island, bar seating, to encourage family or guests who are just observing to naturally sit down. With a growing young family, the finishes also need to be practical and easy to keep clean with sticky fingers abound!
We love how the kitchen and garden flows into one design; do you have any top tips on how to create this cohesion? 
The majority of clients will have bi-folding doors out to the garden with the flooring being in the same colour or material running through to the exterior at one uninterrupted level - this creates a seamless transition and the 'outside in' visual beautifully.
The kitchen includes dual seating on an island and a dining table - is this a popular request from clients? 
Absolutely. The combination of seating at dining and bar heights is fun, practical and creates the social hub the open plan concept is built on. Clients like to cook whilst helping their kids with homework or while chatting with friends with a glass of wine. Dual seating areas can do both!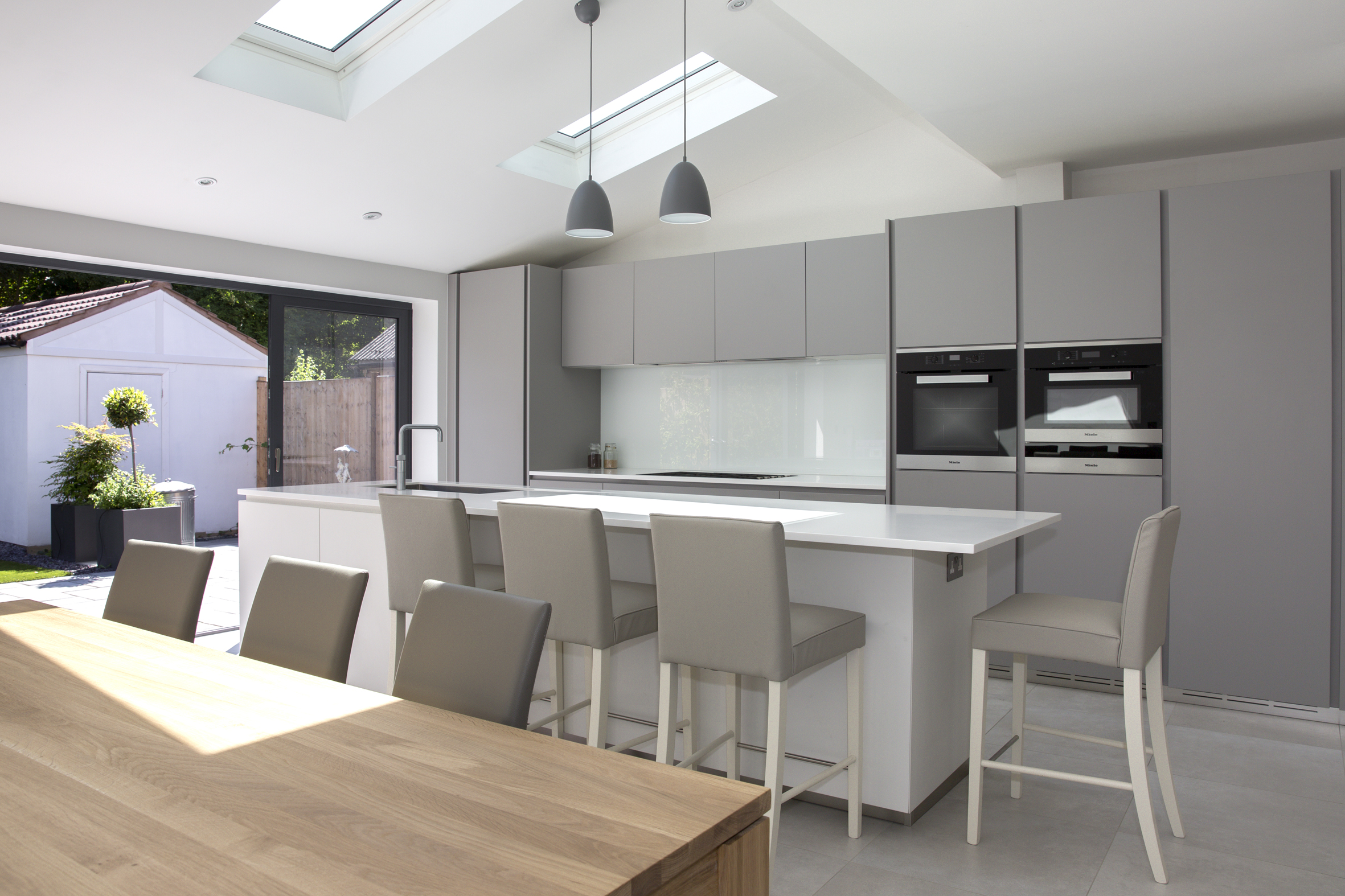 How did you create a kitchen that is high on style but also practical? 
It comes down to the concept of the 'devil is in the detail'. Everything from the finish of cabinetry (in this case matt lacquer), the style and brand of appliances, to the clever tricks in the space planning create that all-important designer look. The doors are handless all appliances are integrated and hidden away where possible to create a seamless and uncluttered design.
Did you have any challenges to overcome? 
In larger kitchens like this one, it is all about ensuring that areas like refrigeration, ovens, hobs and sinks are strategically positioned so the client is neither too close nor too far away from them all, all the while making sure every area of the kitchen has a role to play.
What is your favourite part of the design? 
The size of the island is fantastic, as it is both functional and sociable all in one. The colour combination works well too, as the cool white and grey contrasts with the warmth of the natural teak table. The kitchen is clean and simple yet super stylish and sophisticated.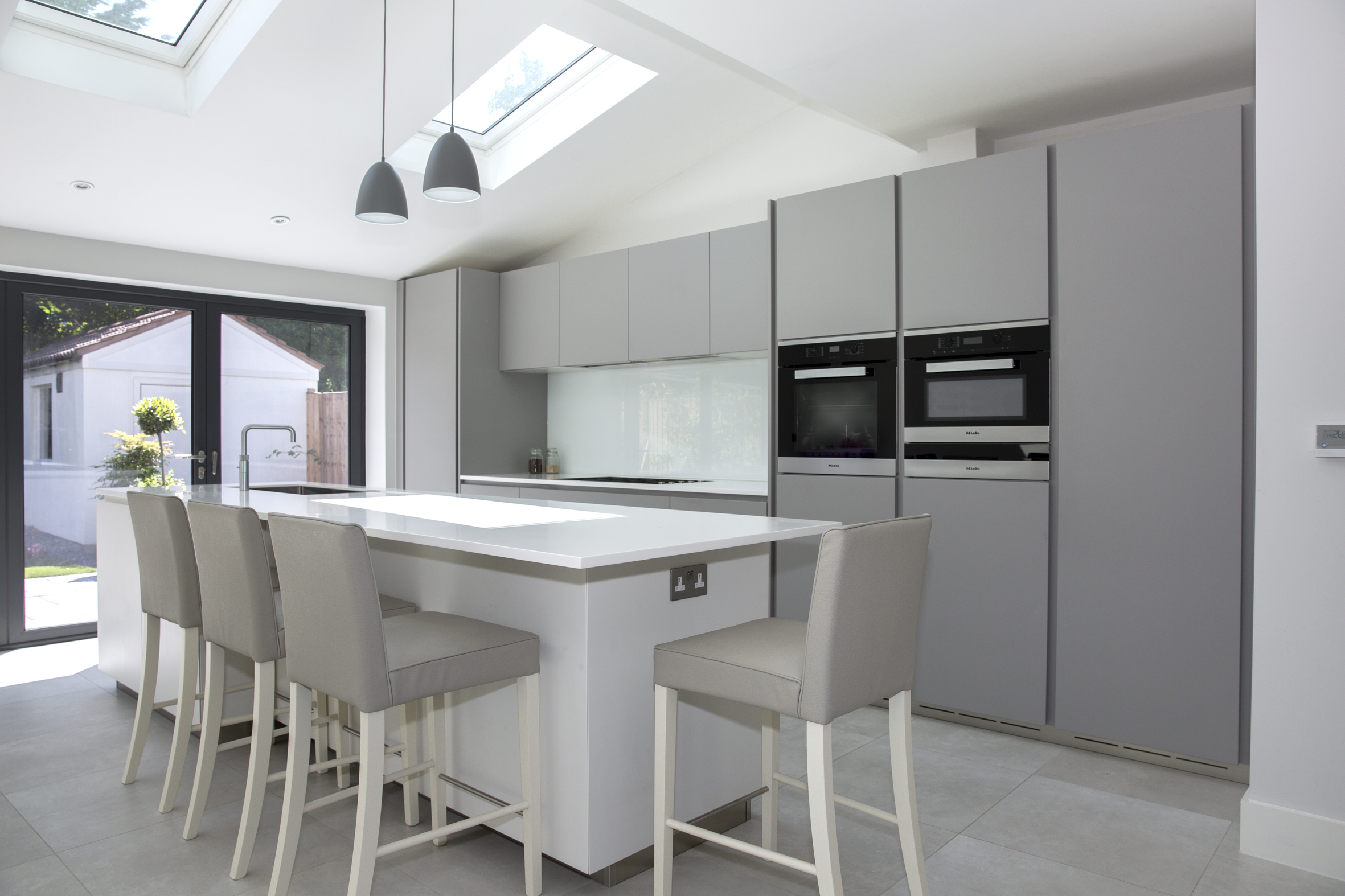 Why were Miele appliances selected for the kitchen? 
The client wanted Miele due to the brand's reputation in the market. It combines being both visually stunning with high performance functionality as this busy family loves to cook and entertain.
What advice would you give readers who are about to embark on a kitchen redesign?
Do your research so you are more knowledgeable as to what is on the market. This gives a better appreciation for what is available, what you do and don't like and a better understanding of potential costs. Collect pictures either from magazines or on-line of inspirational designs you like. Have a think about the number and type of appliances you want to be included in the design (think about attending a Miele Taste for Design Course in either London or Abingdon where Miele home economists will demonstrate using the latest appliances to create a delicious six-course taster menu to help you decide which appliances are right for you). Consider the type of worktop you would like – quartz continues to be hugely popular, but there is also granite, marble and natural wood. Also, look at lighting options – good lighting is essential to create the right atmosphere and a practical working environment. And think about whether you want accessories such as an Instant Hot Tap. A comprehensive brief for your kitchen designer will save time, prevent second-guessing and avoid unexpected cost surprises.