Behind every amazing innovation and brilliant product ever invented was a person. A visionary with an idea. Miele is a family business and we are incredibly proud to employ some of the finest minds and visionaries in our industry. Our team of highly talented designers work within the Miele ethos, set by our founder, Carl Miele in 1899 to always be Immer-Besser - forever better. They strive to develop products and features that will truly enhance the lives of our customers for many years. They create products that are fundamentally useful, intuitive to use and energy efficient while of course, delivering outstanding results and performance. They set new standards in the world of major domestic appliances. Andreas Enslin leads the Miele design team at our HQ in Gütersloh in Germany. Here, he shares some of the thoughts and insights that inspired the development of our new Generation 7000 range of appliances.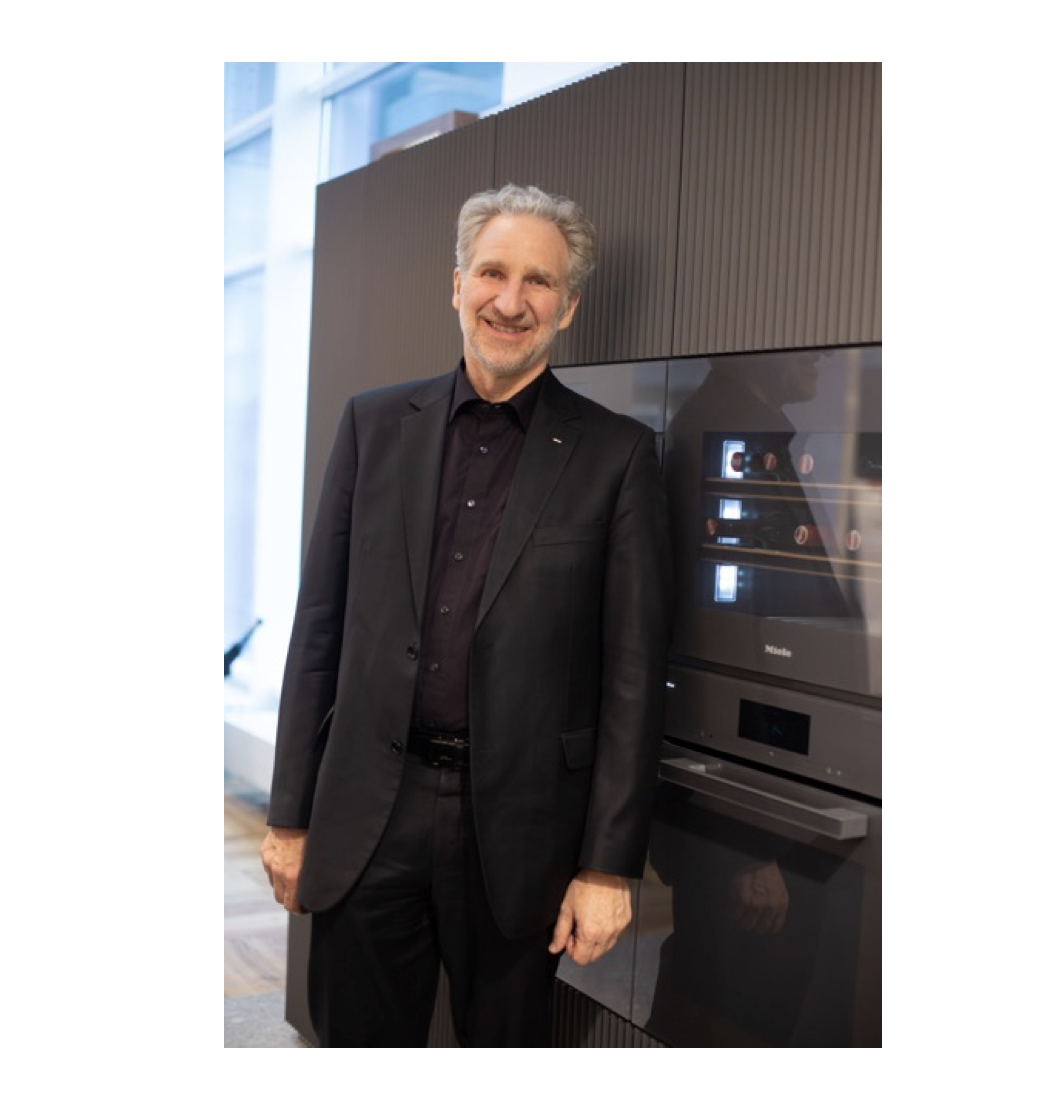 What does good design mean to you?
I concur with Dieter Rams who said in his 10 principles of design that 'good design is as little design as possible'. Unfortunately, omission is the difficult part. It is only when things are as simple as possible and no longer contain the superfluous and when each and every detail has been thought through and mastered that we become fascinated by the simplicity and elegance of a solution. But the act of omission requires great effort and this is the only way for things to acquire significance. There is simply too much that is loud and superfluous already.
Where are you most inspired?
I am repeatedly astonished by the solutions that nature spawns. The solutions are always immensely varied and always make sense. Nature wastes nothing. Recycling, for instance, was not discovered by mankind. And there's still a lot we can learn from nature.
Intuitive design – how does Miele develop and test this?
Several years ago, I set out to understand what is 'intuitive' and what is not. It was interesting to learn that there is no tenable definition of what intuitive is. For me, intuitive, in the sense of an intuitive user interface, means the following:
'A user interface is intuitive if, based on experiences, skills and the willingness to get to grips with a product without assistance, a person can use it satisfactorily'.
This shows that an intuitive interface can be something highly personal. This definition underlines why there can be no 'one size fits all' interface which works the same for all. We therefore allow redundancy in the sense that we permit multiple, parallel ways of using a machine. In this respect, future trends are important as development work requires time. And these new approaches can be trialed together with customers in the form of prototypes and test samples. And we have plenty of experience in doing that.
How did design trends impact on the development of Generation 7000?
If a trend already has a name, it is too late for design to react to it. As we need several years for our R&D work, we are hardly affected by trends. What is more important are the long-term developments in the construction industry and changes in values in society. For example, Smart or Connected appliances that are internet-enabled can work together and be controlled remotely via an app on a mobile device. This technology was written into the remit of Generation 7000 from the outset. We only realised the opportunities it offered once we embarked on the project. Design, together with new interfaces, interaction concepts, colours and materials, all contribute massively to the perceived quality of an appliance.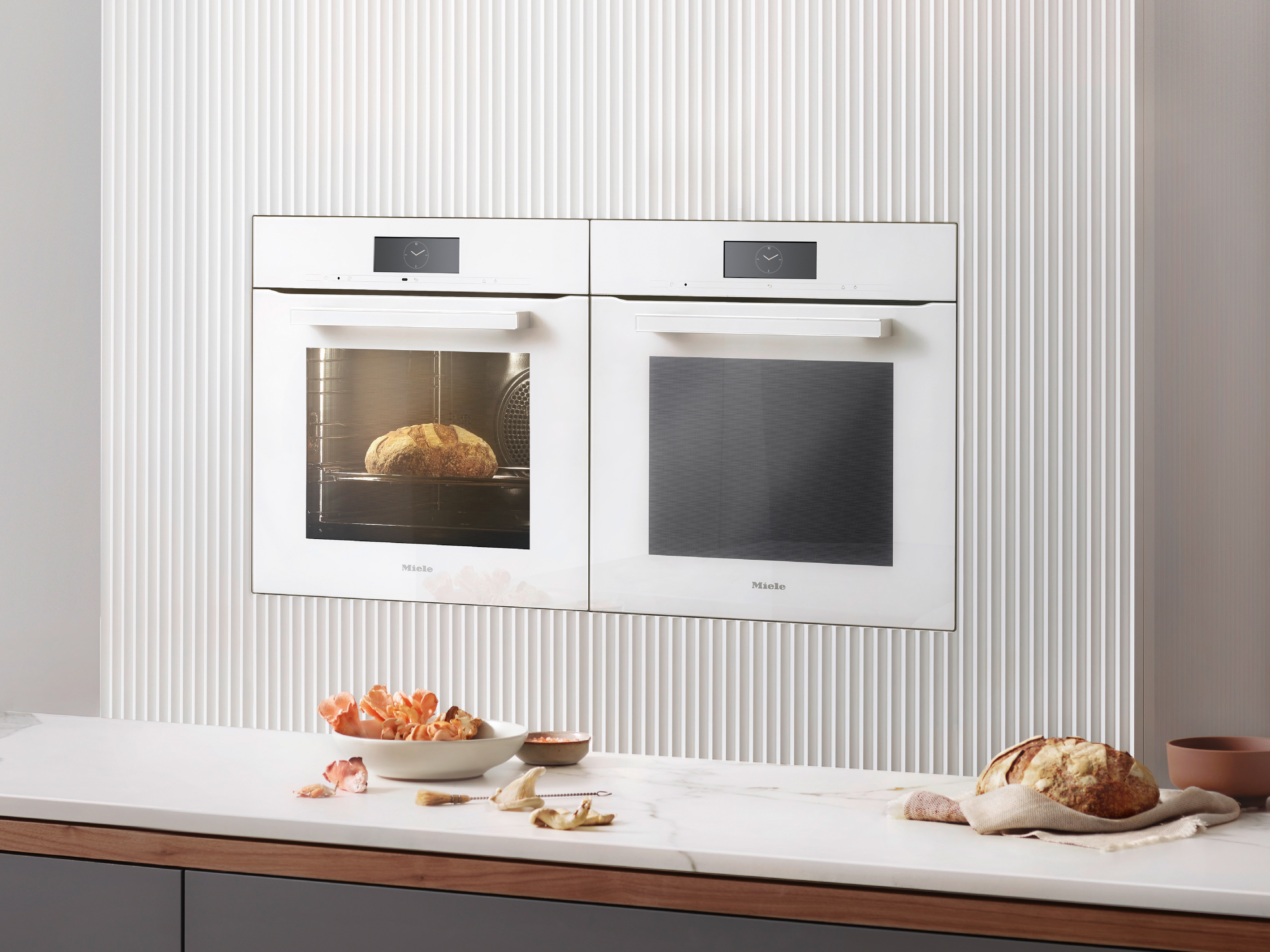 Why are Miele cooking appliances available in white, black and grey – is there any research into these colours that you can share with us?
In design, we ran scenario projects and conducted trend analyses, discussing the future of the kitchen, amongst others, with architects and kitchen cabinet manufacturers. The results indicated that glass would prevail in open-plan kitchens – and not, as widely believed, the non-colours white, grey and black. The development of colours and processes still takes a while, though. After all is said and done, all appliances should match to give an ensemble, even if they are not purchased at the same time or made by the same production plant.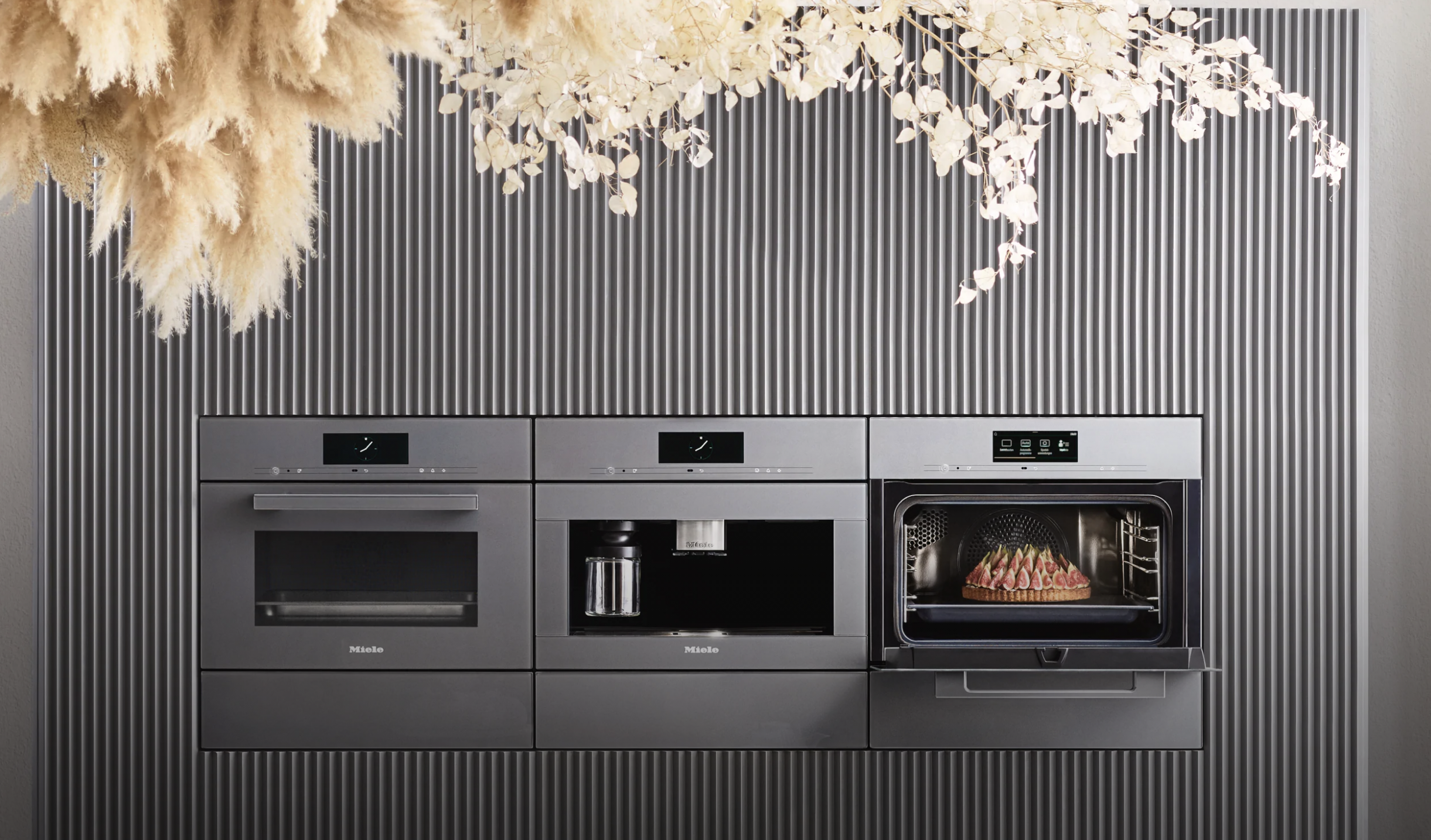 With the increasing popularity of handleless kitchens why did you opt for the VitroLine design?
It is true to say that handleless kitchens are popular, but still not all kitchens are without handles. And even in handleless kitchens, there will still be individual appliances with handles. That has much to do with habits. And handles offer an opportunity for customisation. From 'almost invisible' (shade on shade – the use of one colour) through to a striking contrast (for example a handle with wood inset), we offer our customers plenty of room to pursue their own designs. That is obviously not possible without handles.
The new designs feature a greater proportion of glass, why is this?
Our response to the rise in the number of open-plan kitchens is to reduce the proportion of stainless steel in appliances frontages. Stainless steel is often associated with commercial kitchens, the world of work and ruggedness – not aspects which are uppermost in the minds of residential customers. We have placed greater focus on natural-looking and elegant materials and surfaces. Cooking, in particular, is for many people a pleasure rather than a chore and so the cooking environment should reflect this.
How do you see the role of the kitchen in today's homes and how has this contributed to the design of Generation 7000?
In Europe, almost half of people live alone in flats in towns. In some cities like Stockholm it is even the overwhelming majority. Urbanisation represents a noticeable change in social structures. In towns, food is available almost everywhere which means a kitchen is no longer essential. Despite that, or perhaps even because of that, food quality is growing in significance. Alongside quality, coming together to cook and dine increases the opportunity for social interaction. Cooking is also a very subtle statement about belonging to certain social classes. What I decide to afford and what I cook says a lot about my social status.
With the new functions afforded by the Generation 7000 series, we are offering even more opportunities to increase not only quality but also a wealth of experiences. Fast cool down (TasteControl) and an integrated camera (FoodView) are very good examples of this. TasteControl is just one new innovation exclusive to Miele, allowing food to remain in the oven without overcooking. At the end of the cooking programme, the oven door automatically opens slightly and reduces the internal temperature very quickly. FoodView uses an HD camera within the oven to allow a user to keep an eye on and manage their food while it cooks, from their mobile phone while they sit on the sofa or get ready for a dinner party. Ideal when cooking soufflés, cakes and breads which need regular attention.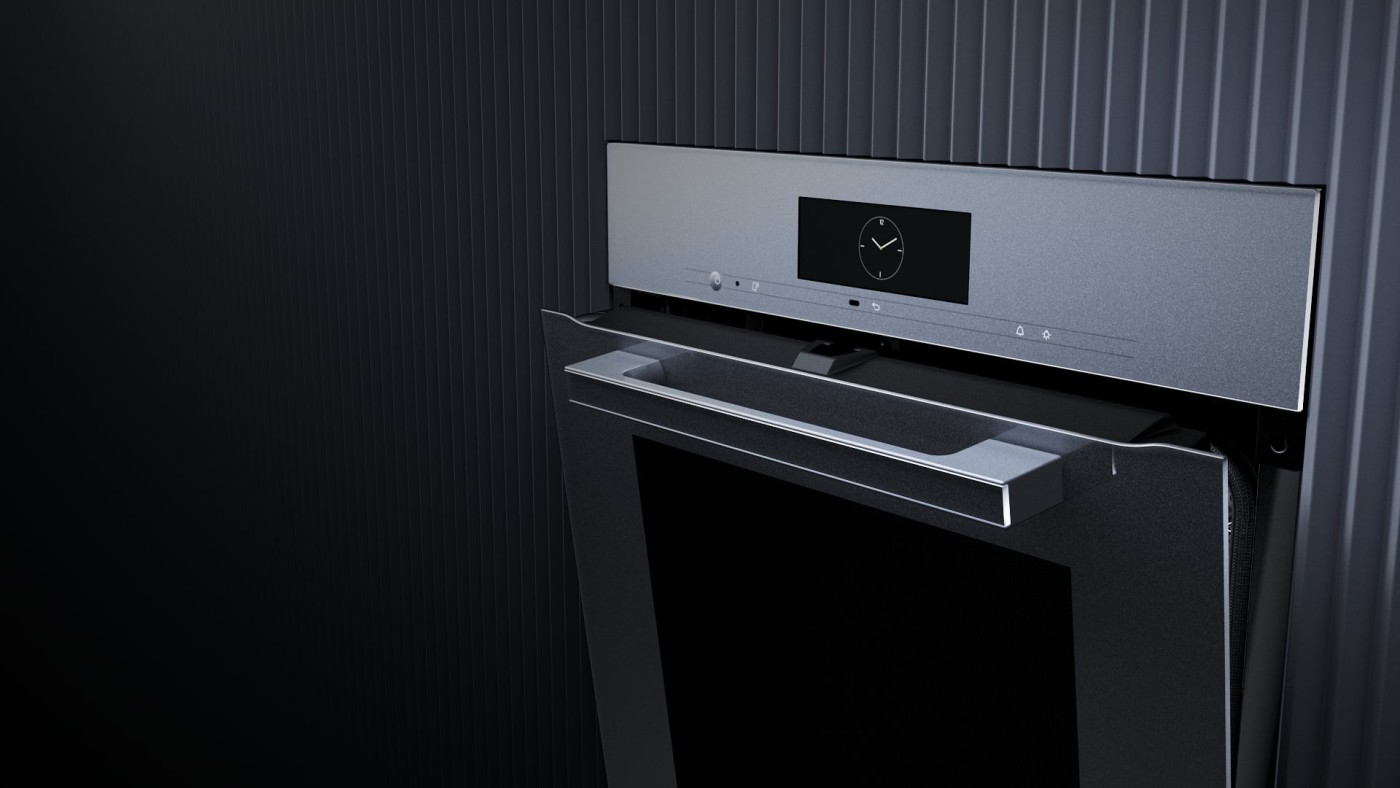 How do you see smart technology further evolving and integrating into the kitchen/home of the future?
In the future, technology will no longer be visible. It will be absorbed so to speak into walls and furniture. We will see surfaces which become displays when an interface is required. We will have to adjust to talking with machines in the same way we do with people. There will be rooms whose character will be transformed according to what is needed and desired. But – we humans remain analogue in the way we operate, and so if technology is incomprehensible and is no longer fun to use, we simply will not accept it. So designers are hardly likely to run out of work, even if technology in the future no longer requires a designer box around the product and is entirely invisible.
Dr Miele was quoted in an article saying, "Firstly, we have to think about design, and our design department has had to really think about what the world is going to look like in two, three or five years' time." Can you expand on this please?
The Design Centre must define the objectives to be met at the outset of development work. First of all is the question as to what customers will expect of Miele in future. But it is not possible today to poll customers – they do not yet know what they want. It really only works well using future scenarios and persona models based on a forecast period of 10 years. Product development requires around five years to create a new generation of appliances, and yet what has to be set in concrete right from the very beginning is the design! Similarly, we in design provide support to all the modifications and improvements throughout the course of a project.
What were the main challenges with Generation 7000 and how did you overcome them?
One challenge was to develop ideas and solutions which are affordable, particularly in view of networked (Connected Smart) appliances. At the end of the day, everything must fit together nicely, including the timing. Admittedly, each area faced its own challenges, but one task had to be mastered by all: - that all machines within a generation of products have to be ready at the same time in preparation for the launch. With the new Generation 7000, it spanned around 3000 model versions, 15 product groups and 10 Miele production plants which all had to be coordinated. There is no other brand that this applies to.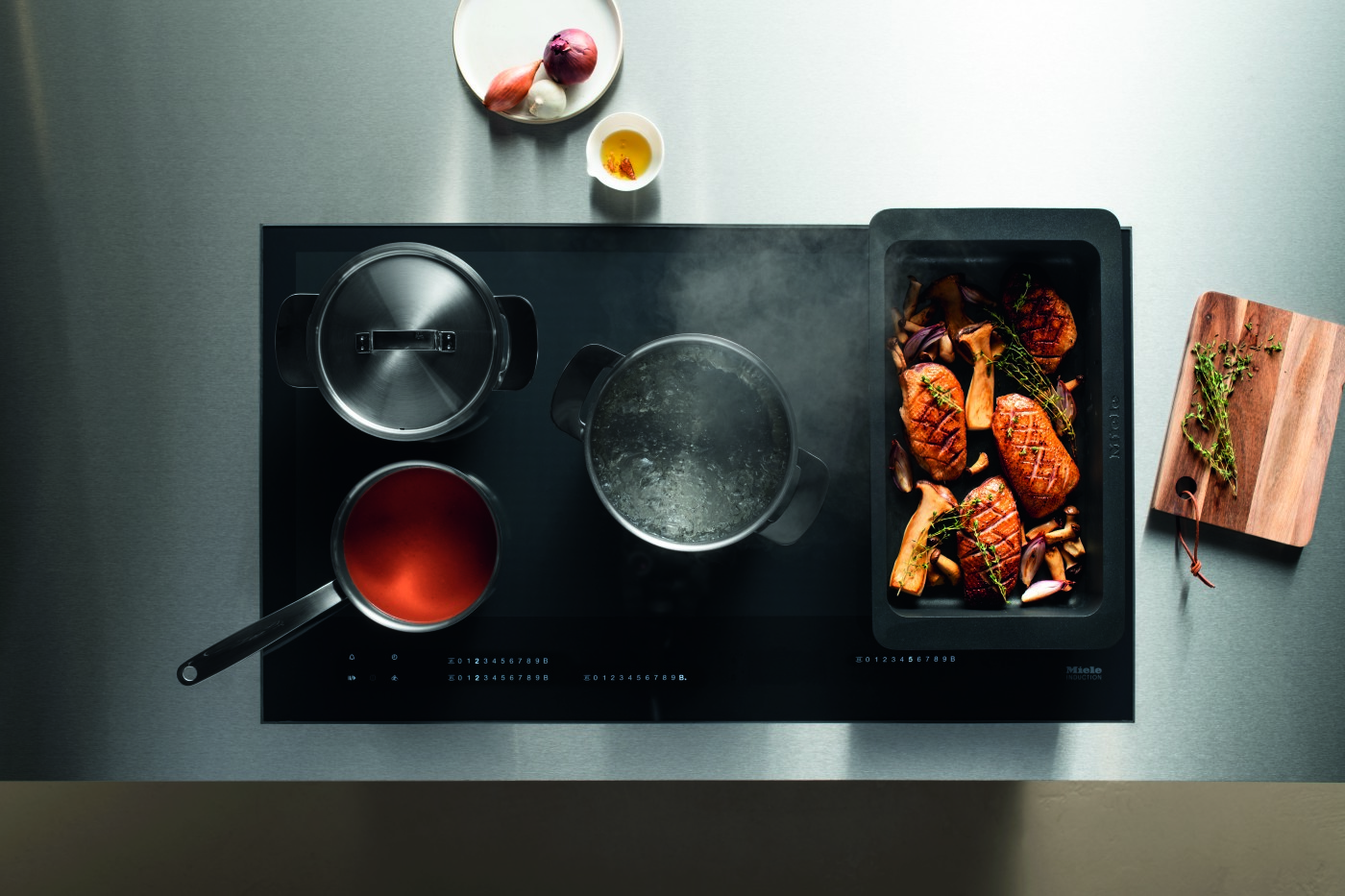 We understand that 200 test homes trialed the new Generation 7000 appliances – can you tell us a little more about this process. Did anything surprise you about the feedback?
I count among those households. We rarely encounter big surprises once appliances are sent to test households. Functions and processes have already been confirmed previously in many user tests. But in practical use, there are unexpected aspects which need addressing before the products go to market. Our employees first test out the machines in their homes as units are easy to replace and no-one is disappointed if things don't work as planned in the beginning. This way, we have often been able to eradicate mistakes which went unnoticed in the laboratory.
How many versions of Generation 7000 did you develop before being happy with the final design?
I never counted the ideas, but I am sure there were several dozen of them! It is a sort of competition among our designers – to come up with the best idea. There is a lot of experimenting. In the end, things sort themselves out and two or perhaps three alternatives remain. Often the costs are prohibitive, or there are too many model versions, or technical problems remain unsolved when we opt for a specific design. If we are enthusiastic about the results, it is worth investing lots of effort and solving any problems that arise. My observation is that once enthusiasm for a given solution is there, many problems often resolve themselves. And yes, Generation 7000 has turned out extremely well.
What three words would you use to describe the concept of Generation 7000? 
Integration
Individuality
Intuition
The best way to discover Miele Generation 70000 is to experience it first-hand. You are warmly invited to visit the Miele Experience Centres in Abingdon or central London to join one of our Taste For Design courses. Our specialist Miele home economists will guide you through the incrdible new Generation 7000 innovations, while they prepare a delicious four course lunch for you to enjoy. Book Here