Designing a kitchen for an open plan extension often entails finding a delicate balance between incorporating practical, high-performance features and creating a liveable multi-function environment that seamlessly blends from one zone to the next. Addressing this challenge was a top priority for the design team at Connaught Kitchens on a recent project; an open plan kitchen for keen chefs that 'melted' into the rest of the living space. We spoke to Phillip Ozorio at Connaught Kitchens about the challenges the team faced and to garner advice for others wanting to achieve a similar style.
What was your brief from the client?
The project was in a refurbished Notting Hill property, and the owners were very clear from the offset about what they wanted. One was a serious cook who coveted a space to truly enjoy their passion, benefitting from all the latest appliance developments, however the desired overall look and feel was for a contemporary space that blended subtly with the rest of the room. This was achieved by not using wall cupboards and by having a shallow run of units on one side of the kitchen allowing for a larger island.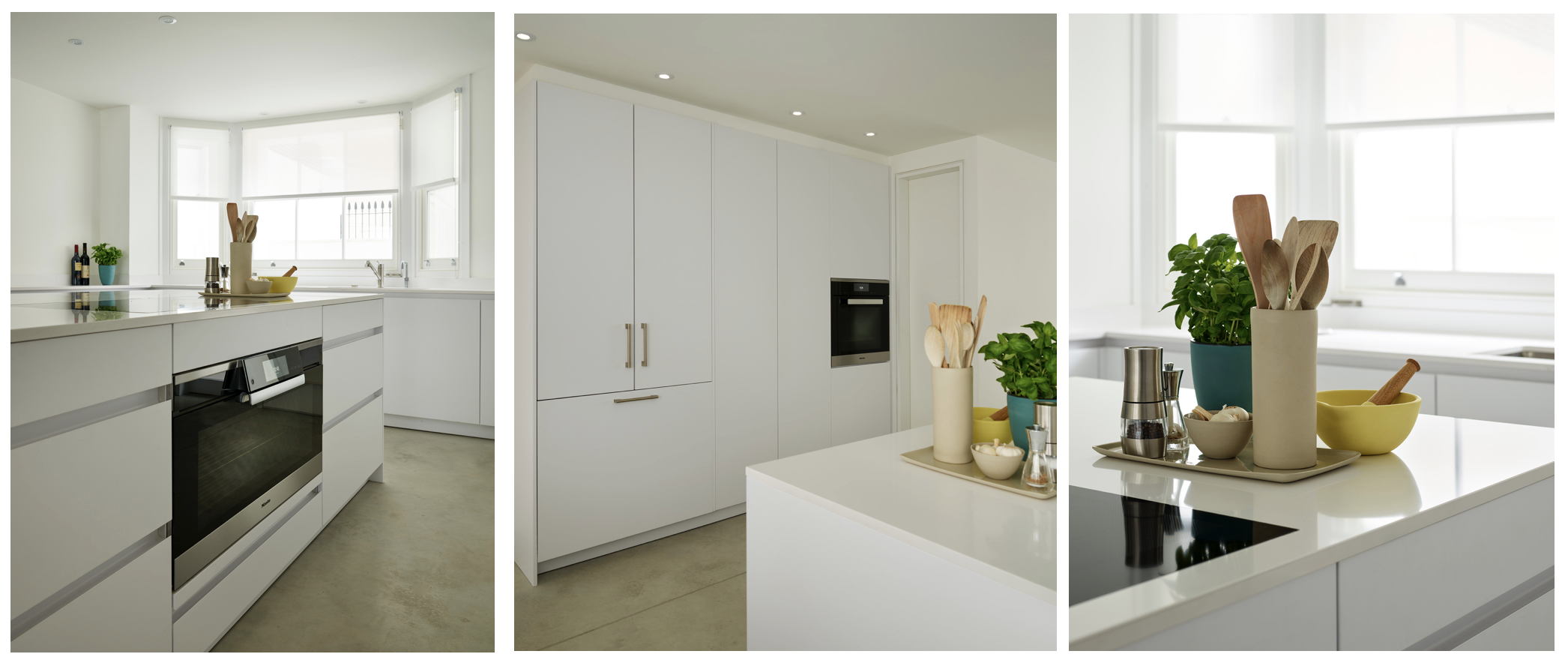 Why were Miele appliances chosen?
Choosing long-lasting and high-quality elements was important to the client throughout the design process, and Miele immediately stood out as the clear appliance choice because it is an internationally recognised brand and is associated with excellence – both in performance and in after care.
Is it becoming more popular for customers to choose to have multiple ovens?
Yes – multiple ovens offer both flexibility and convenience. The 900mm wide oven will deal with the largest of roasts and a full steam combination oven reduces the need for a microwave, as well as offering the chance for additional creativity in the kitchen.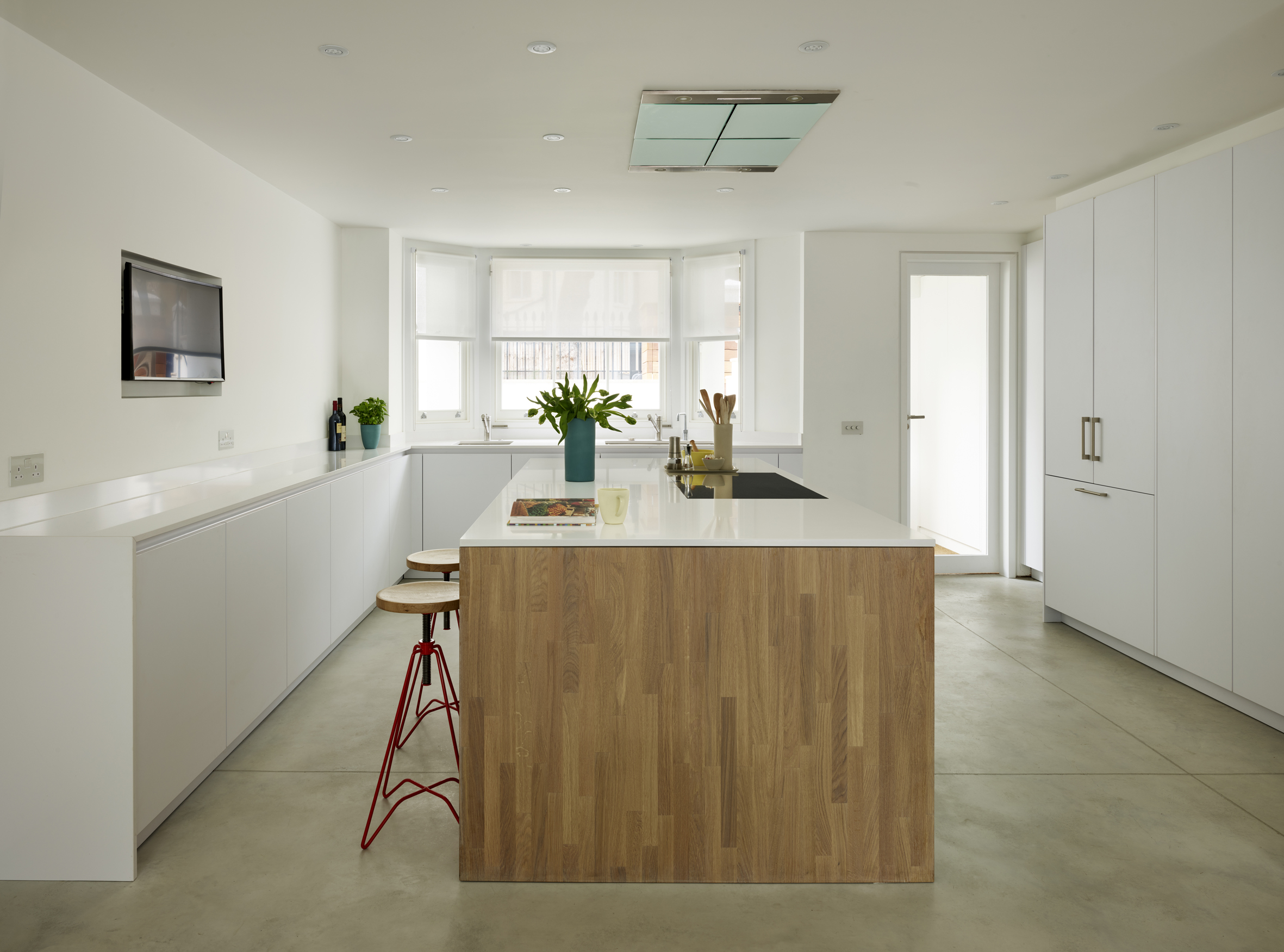 What was the biggest challenge?
The client wanted good extraction, necessary for any open plan space such as this, with an external motor on the outside of the building. External motors reduce the noise of extraction and it's easier to pull air along a duct than to push it. We used our custom steel fabricators to make a shallow but extra wide steel duct which fitted in between the joists.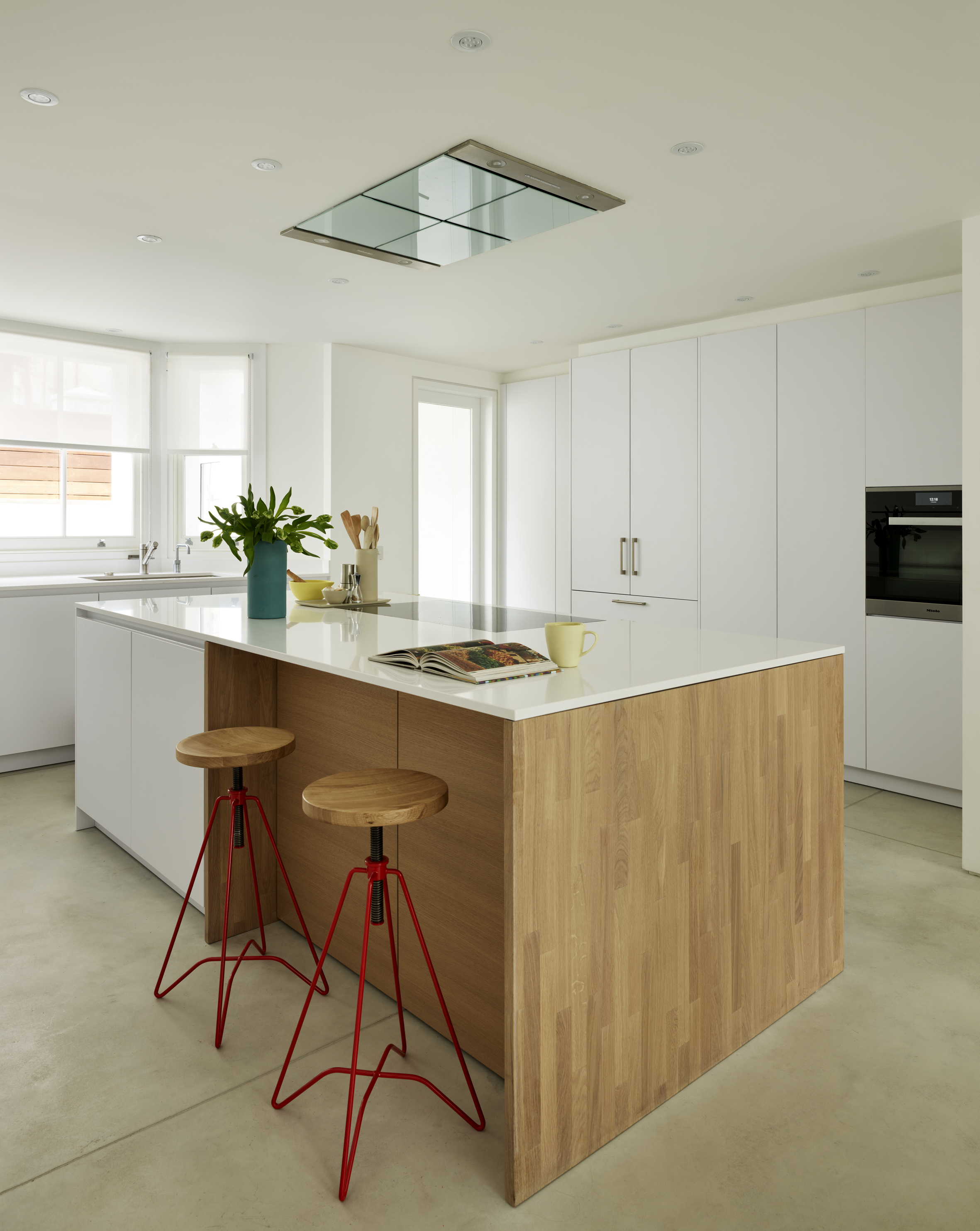 Do you have a favourite part of the design?
It has to be the island with the luxury white oiled solid wood section which softens the whole design – it adds a feeling of warmth and forms a link between the cooking and dining areas.
What are the main points to consider when designing a kitchen for open-plan living?
If you want the kitchen to merge and blend in with the dining and living areas then choose muted colour palettes such as soft whites for the kitchen furniture and complementary light finishes for the worktops, as seen in this project. Alternatively, strong dark colours can also be used with great effect, the key is just to maintain a consistent colour palette throughout – it comes down to personal choice. Using floor and tall cupboards with no wall units gives a less 'kitcheny' look if you can afford to forego the storage or make it up elsewhere. Overall, I would emphasise that it's really important to get professional design advice for the final finishes. A kitchen as a product is a major expense, so it warrants an investment in design too.