We were delighted to chat with author, food writer and cook, Anna Barnett on her recent home renovation and hear why, once again, she chose Miele for her new kitchen. Discover why the Miele Steam Combination Oven is Anna's favourite appliance, how our SmartLine hob set up offers greater cooking flexibility and how a larger fridge and freezer space has helped with batch cooking and reducing food waste by keeping ingredients fresher for longer.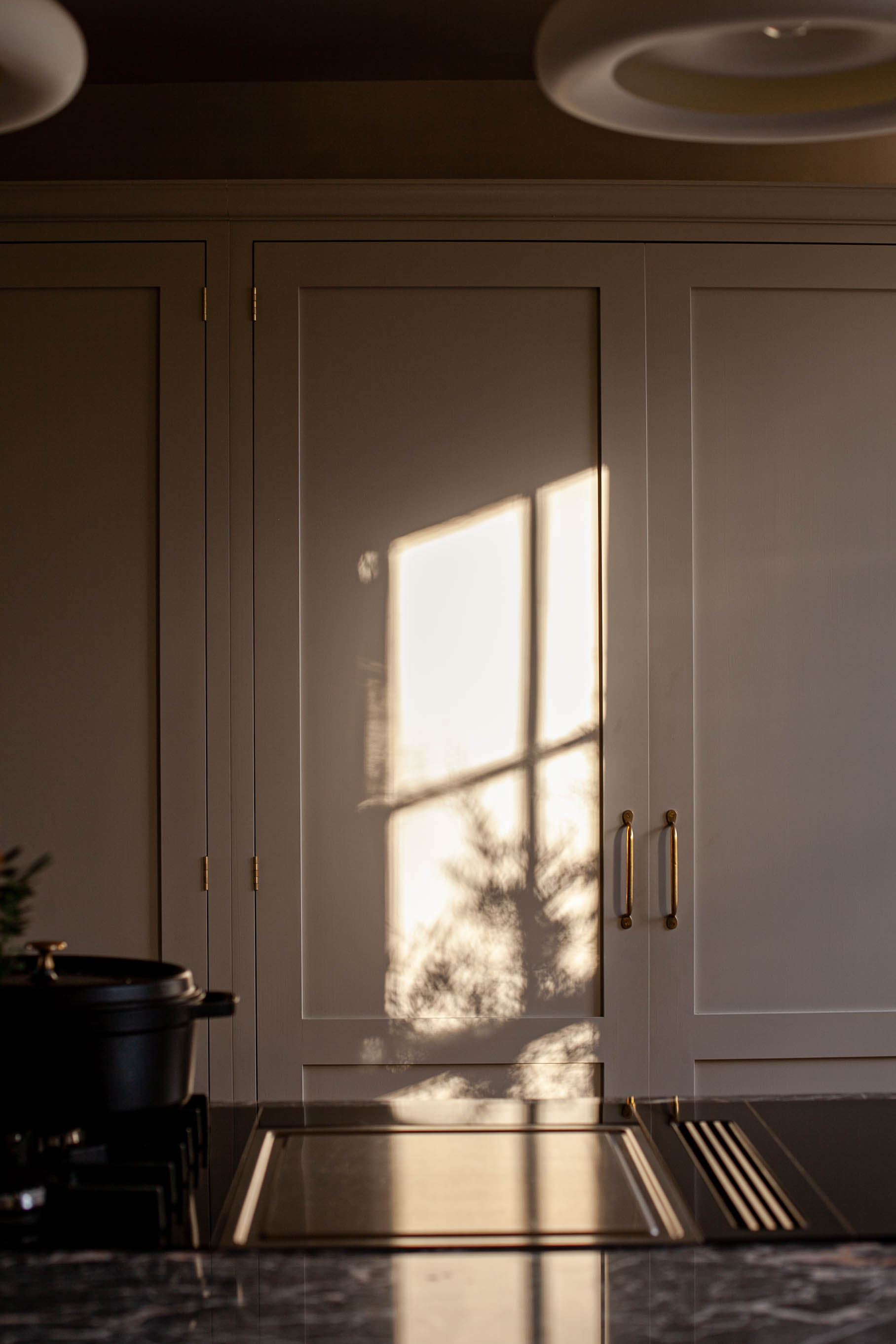 This is the second time you have opted for Miele cooking appliances, why is that? I'm a huge fan of both the aesthetic and performance of Miele appliances. Being able to combine gas, induction and Tepan Yaki makes sense for me in terms of how I use my kitchen for work. The Miele Combination Steam Oven is genius in terms of its versatility and is pivotal across so much of my work. Pre-set options allow for fool proof proving of doughs, baking cakes and roasting with added moisture. It delivers a consistent and reliably brilliant dish every time.

Do you have a favourite Miele cooking appliance and if so, why? The Steam Combination Oven really does feel like a versatile appliance. It has many automatic functions, but my favourite is being able to prove doughs and then bake them at an intensely high heat giving a professional result. The flexibility that comes with this product delivers across the board. The combi function is also used frequently, meaning dishes have crunch and texture but with the added benefit of moisture. This also frequently brings down cooking times too.

How often do you use your steam combination oven? All the time, most days in fact! I'm a huge fan of having that flexibility and love that it challenges the way I cook and improves the dishes I prepare.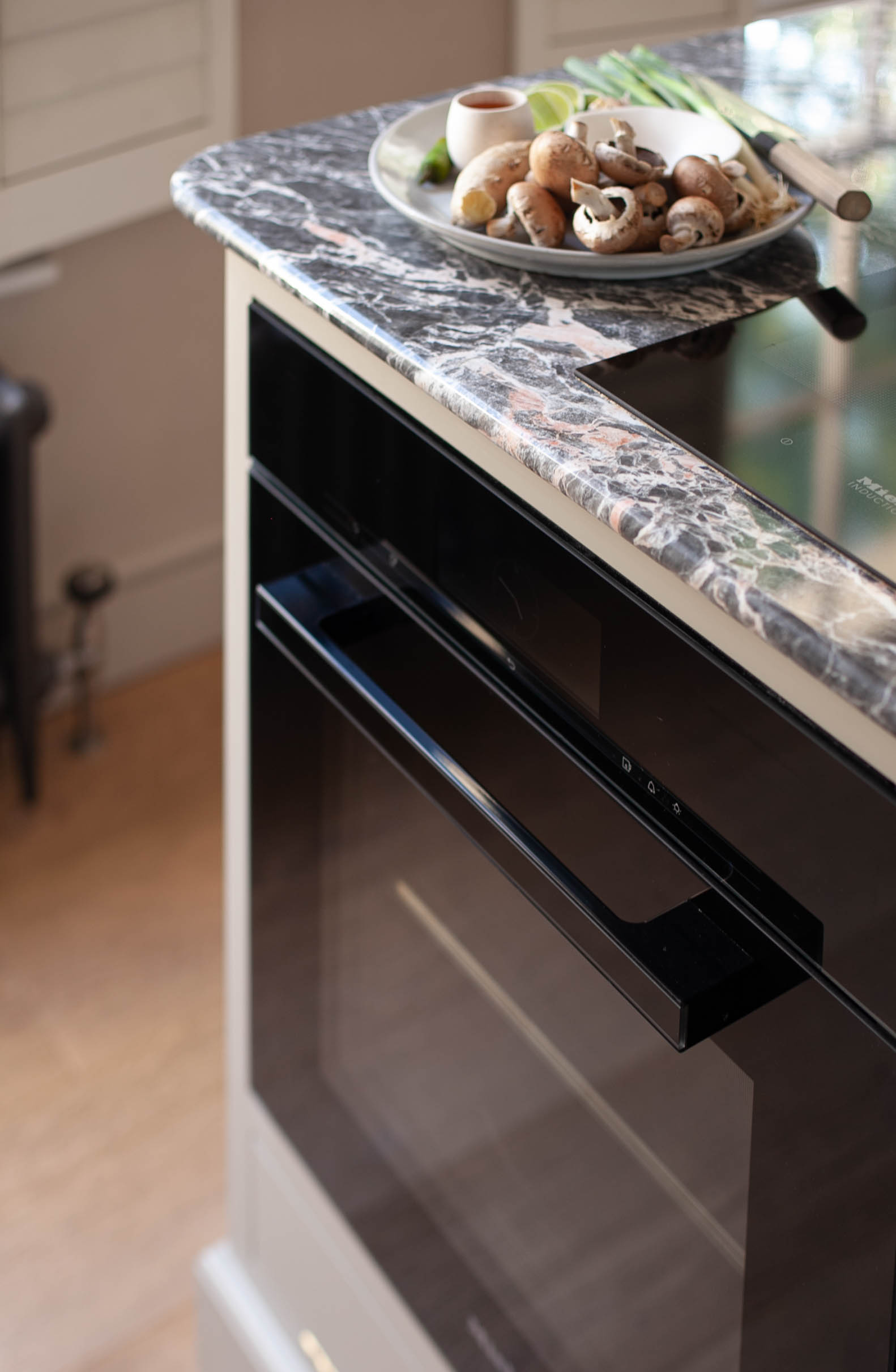 What would you say to people who think a steam oven is just for fish and vegetables? That there's so many more ways that this function can improve your cooking. That hit of steam when baking sourdough ensures the crunchiest of crusts. When cooking meats, they're soft and succulent. There's even a Sous Vide option for perfecting meat cookery to a restaurant standard.

Why did you opt for gas and induction? I love the flexibility the option of using both brings to my cooking. Whilst for the most part we use the induction hob to be more eco-friendly, I still find that there are occasions when I like to char vegetables directly over the gas flame. Cooking aubergines, onions, and peppers this way really does create that outdoor, almost woodfired flavour. A deep smokiness that just isn't quite achieved through grilling or baking. I also love having that connection to the heat and how I'm using it to cook.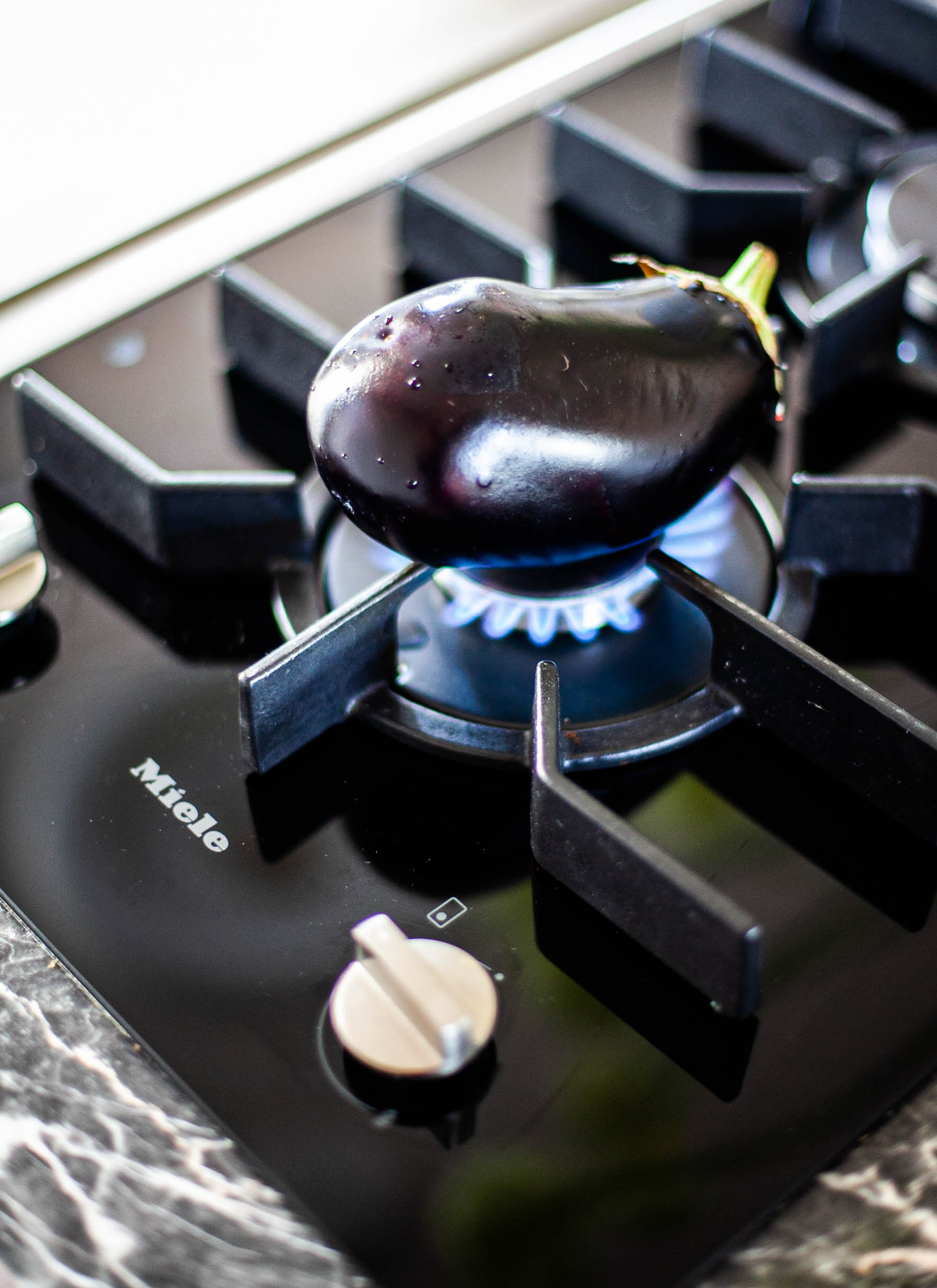 What do you feel is the benefit of induction? Induction is brilliant for speed and precise temperature control. Boiling water is a dream and I am sure it's quicker than the kettle! It's great for larger pans and evenly distributed heat.

Why did you choose Miele's SmartLine Hob collection? It fits perfectly alongside the sense of calm and nod to minimalism we were going for. The range offers clean, sleek lines and subtly fits into the kitchen space. The island is the centre of our kitchen and it felt important to host all our key appliances here.

What is the benefit of your hob set up? It's central to our kitchen space and island which means I can easily shoot recipes, give demonstrations and cook with the space I need around me. The worktop extractor also means that we avoid any distractions above the cooking area. We have quite low ceilings in the kitchen, so this absolutely made sense for the space. I'm also a fan of cooking en-masse so to have space for an extensive range of pots and pans bubbling away was a must.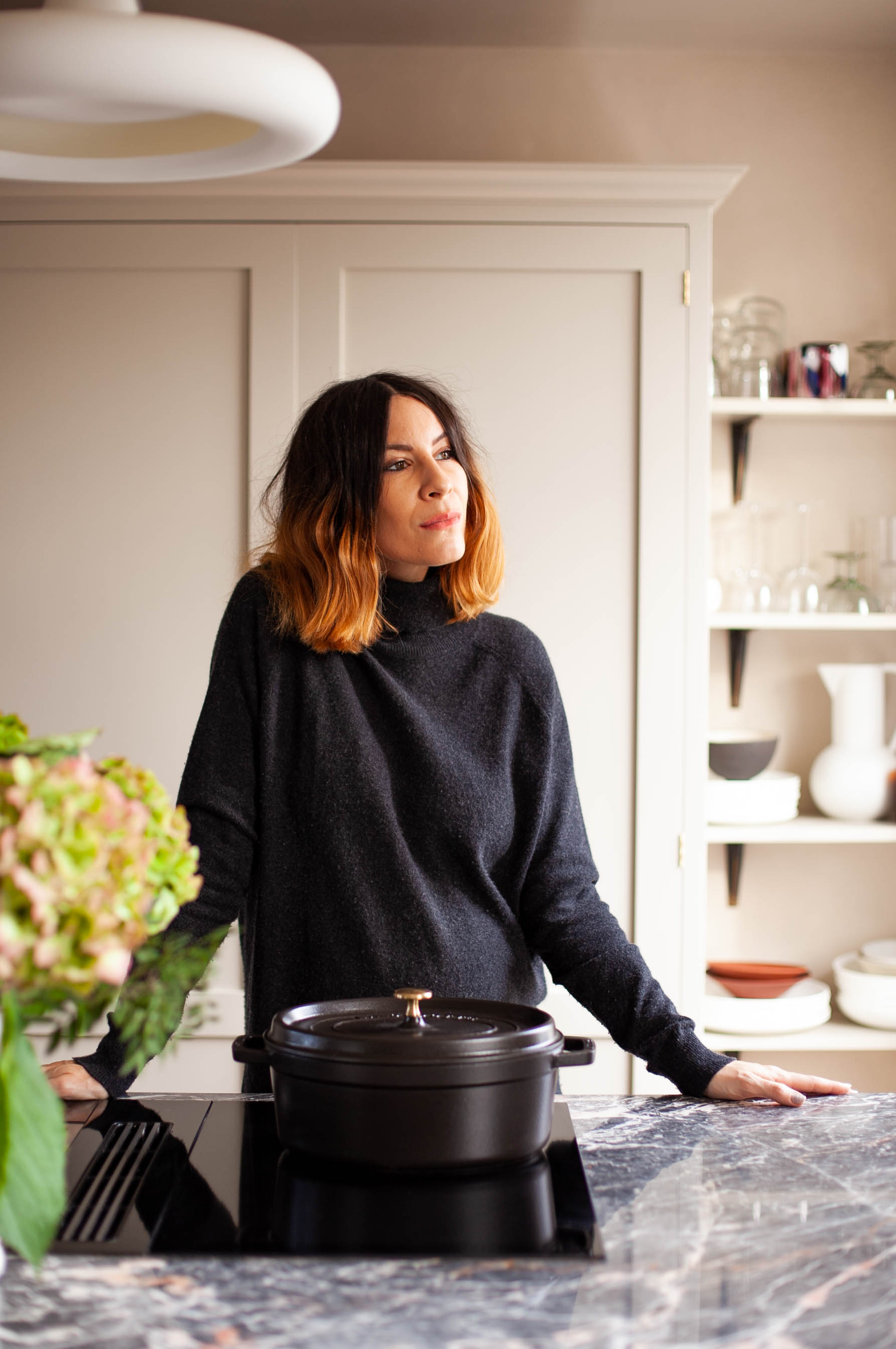 What cookware do you use on your hob? I'm a big fan of STAUB cast iron cookware. I've opted for a complete black set which ages really nicely and will last a lifetime.

Your hob and ovens are positioned on your kitchen island, would you recommend this? Absolutely, I love that the kitchen has this social element, and that you're still very much part of what's going on even when cooking. I think it really defines the space and lets you immediately know it's all about the food!

How do you find the integrated extractor? I'm always really impressed by how effective it is. It works and that's paramount.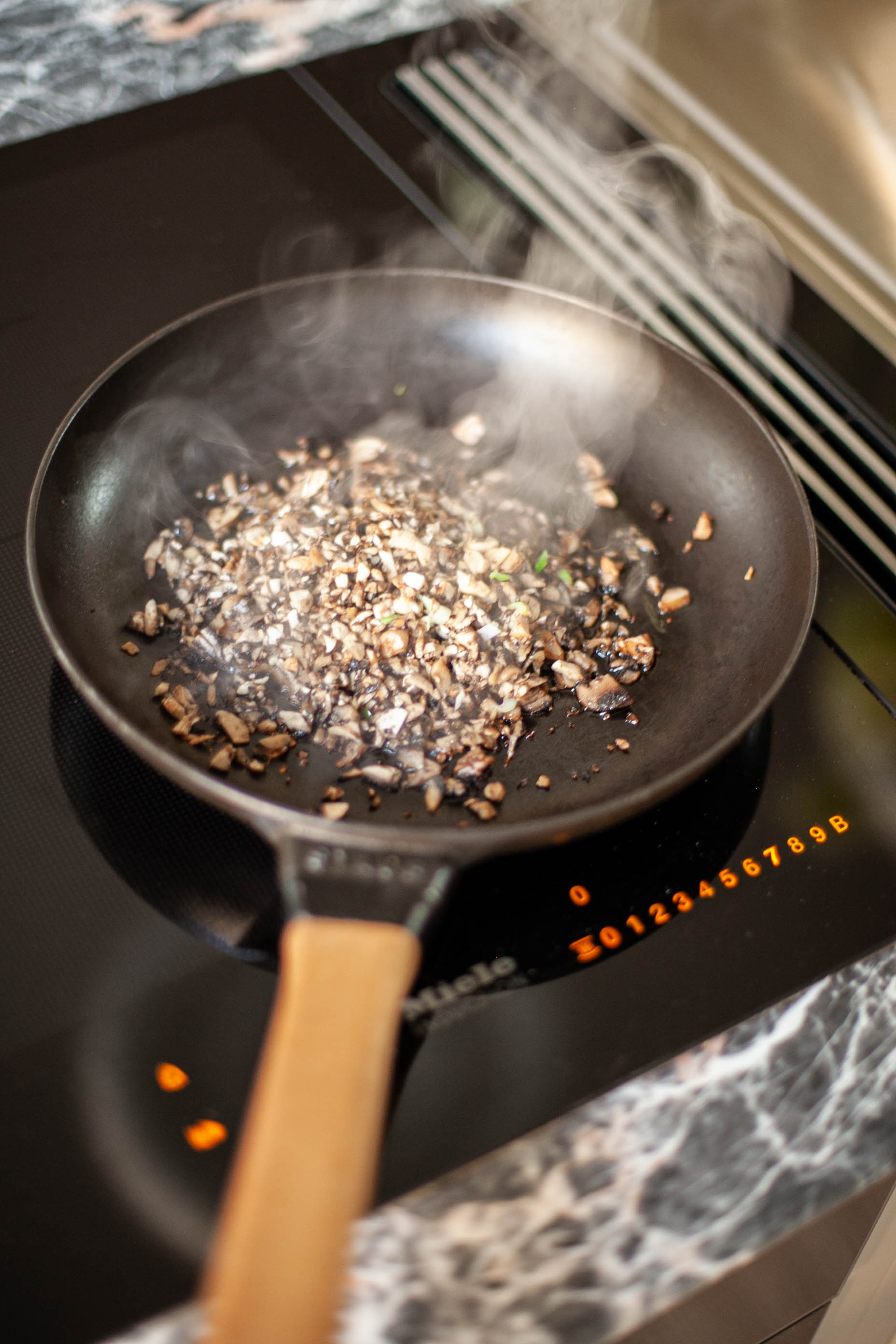 Tell us about your recent kitchen renovation? Our recent renovation felt like a very different challenge to our last project, which had wildly high ceilings and huge windows. We were a little more dictated by the space this time and with the windows being at that end of the room we had to approach the design a little differently. The house is Georgian, so this too impacted the decisions we made, we wanted to be sensitive to the integrity of the property so there's a coming together of traditional style cabinets alongside pared back but heavily veined marble. The walls are finished in a plaster so there's a combining of textures too.

How do you use your kitchen? Since the moment the kitchen was completed, we've not been out of it. I work from the kitchen, testing and writing recipes. I've also just recently completed a bread course which I've loved every minute of. I'm really getting to put the space through its paces. We moved the kitchen up from the lower ground level as the ground floor area gets the most amazing light all year round. It's a pleasure to spend time there.

Does your new kitchen influence the dishes you cook? I think I've always been someone that likes to experiment and deepen my knowledge across the board when it comes to different cuisines. Having a space where I can do this only encourages me to do that more. The greater fridge and freezer space we have opted for has been hugely beneficial both in terms of saving food waste but also for batch cooking. Our fruit and veg really does stay fresh and crisp for so much longer in our Miele fridge and I love the level of organisation having the extra space affords you.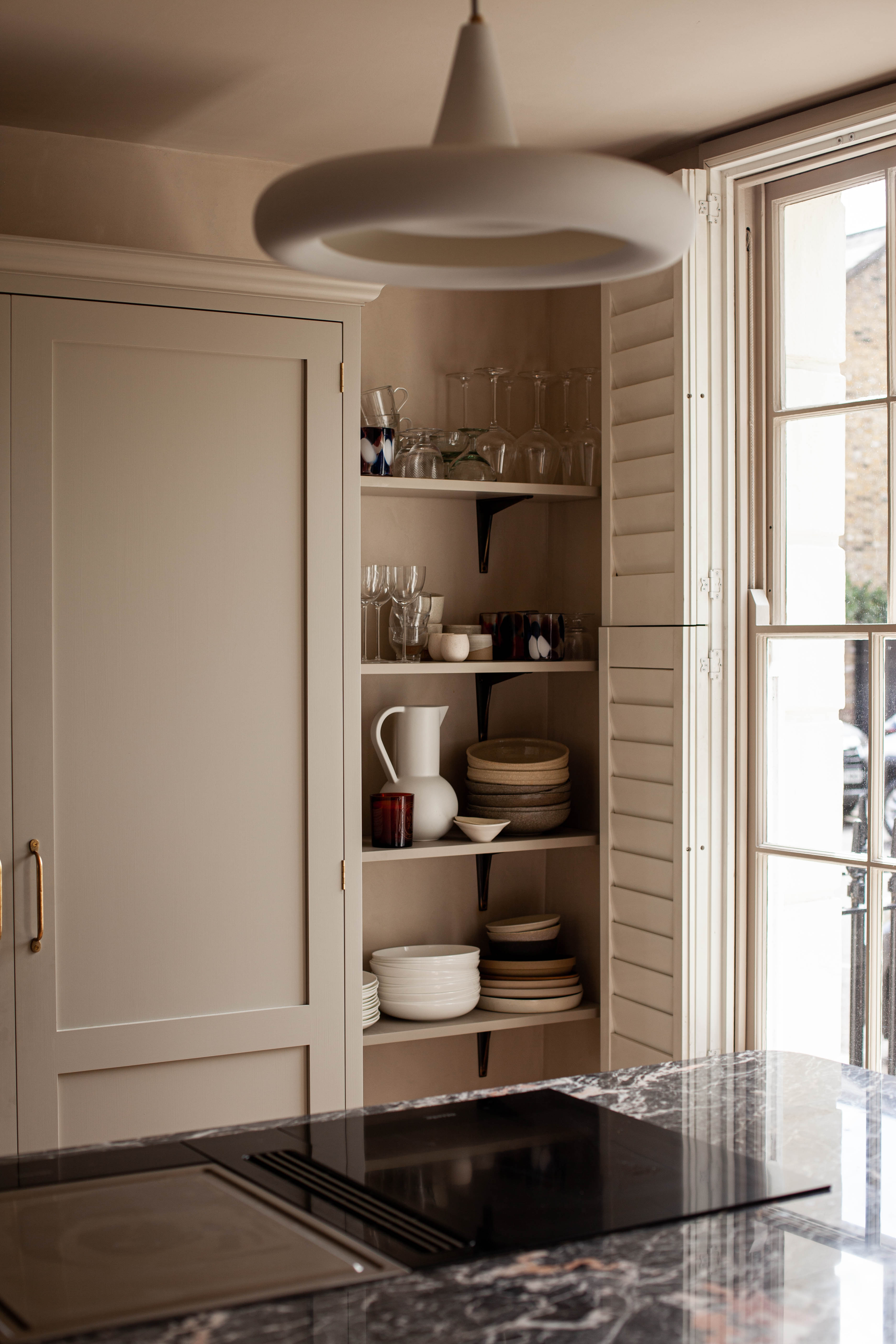 What advice would you give to people who are about to embark on a renovation? Planning is everything. Be as organised as possible, research what you want to create and sit with that mood board for a good while so that you're not rushing into things. Spend time in your property ahead of renovating so you know where the best light is. Experiment with how you use that space.

What are you working on at the moment? Plotting Season Three of my podcast, The Filling and I am finishing up the renovations on our home…almost there!

How have you incorporated sustainability into the design? I think we ended up being quite safe in our choices across our renovations to allow for us to grow with the space. Much of the design is pared back and made up from a neutral palette with the hope that it will last longer and feel a little more timeless. We also tried to avoid getting sucked into too many trends and sat with concepts for a good while before investing in them with the hope they'll stand the test of time.

What does sustainability mean to you? Being conscious about the impact of what you invest in and the longevity of what you endorse. From the products and materials you use and the brands you support or buy into. It's about understanding the footprint that goes with that and navigating better, more responsible options where you can.