With the rise in open plan kitchens, the desire for a separate utility room to keep a household running smoothly is becoming increasingly important. We are delighted to share with you this guest post from interior stylist and Nordic design influencer, Hege Morris who has recently completed a new laundry room. Read on to discover advice on what you need to consider when planning the space and how to make it your own.
A laundry room might feel like a luxury when space is at a premium, but if you have the option to create one, it can actually be life-changing. Until we decided to carve out a room what was part of the garage, getting the washing and ironing done was a cramped experience. Three months into using the new utility room, I could almost go so far as to say it's a pleasure - it's easy and I actually enjoy it!  To be able to do the laundry in a room designed for that purpose which feels like an extension of the rest of our home has taken the chore out of the whole experience. Wet laundry no longer clutters up the kitchen and I am not tripping over baskets as it's all kept out of sight.
Having a dedicated room for washing, ironing and all the associated lotions and potions that go with it frees up space in the kitchen and gives you a clearer head to get the job done. For a good utility room to work well, there are four main things you need to consider when planning it.
Choosing Your Appliances
When choosing your appliances, be sure to research and compare to get the best option for your needs. Consider the type of machine you're looking for. Is it a machine that can take big loads? Do you need a model that's great for hand washing? Something more compact or that has a quick wash option? Make a list and do your homework first. It's an investment that will last you a long time, so you want to get it right. I also recommend measuring and marking out the footprint of the appliances too so that you can see how it will fit (or not) into the space.
In our laundry room, we have the Miele WED325 Washing Machine and the Miele TCA220 Tumble Dryer. Together they are simply perfect. All Miele machines have Intelligent Automatic Load recognition which cleverly analyses each load, using the appropriate amount of water and electricity per cycle. The 1400 spin means I am not left with sopping wet mounds of washing to dry as was standard for our old machine. Having never owned a dryer before, the Heat Pump Tumble Dryer has been a revelation. Its PerfectDry technology detects the mineral content of the water and modifies the drying process. This means that the washing is always perfectly dry and I barely need to use the iron. Amazing, don't you think?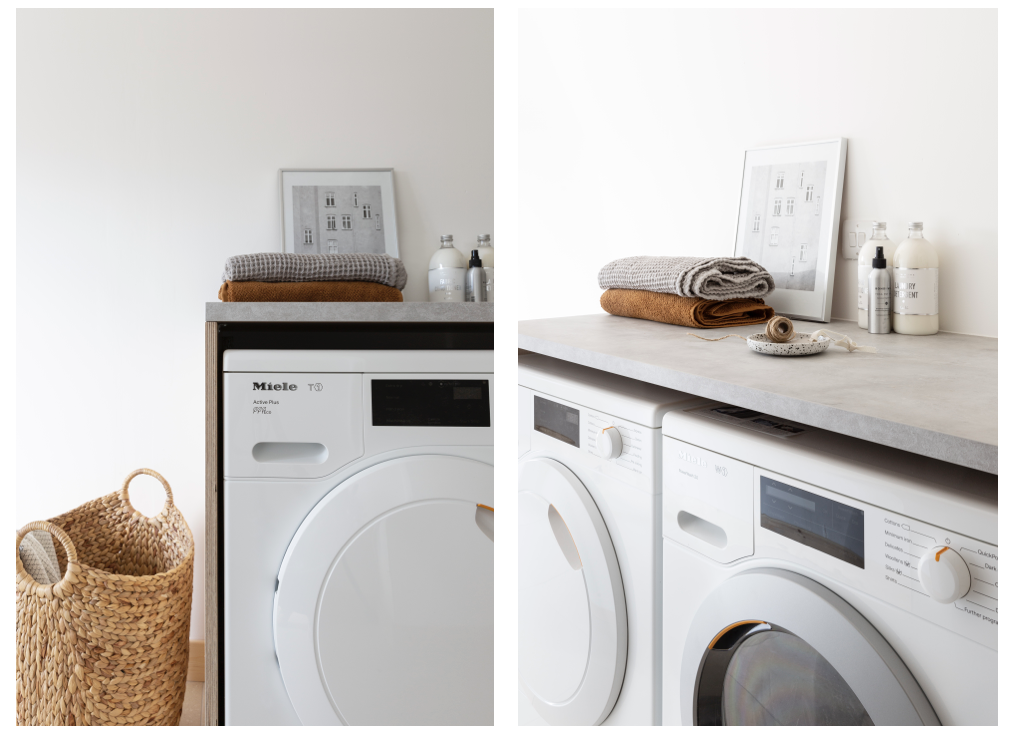 I no longer have to do the washing every day. There's no washing drying away in the kitchen. The school uniforms are all washed and dried on a Friday afternoon and put away for Monday. Like I said it's no longer a chore. The brilliant appliances do it all for me.
Storage and Functionality
This space needs to work for you, so make a list of what you want to use the laundry room for. Our space is narrow and the washing machine was on the short wall before we renovated. I'm so glad we decided to add a sink and a tap and move everything to the other wall. It makes so much sense and it's made the laundry so much easier to do.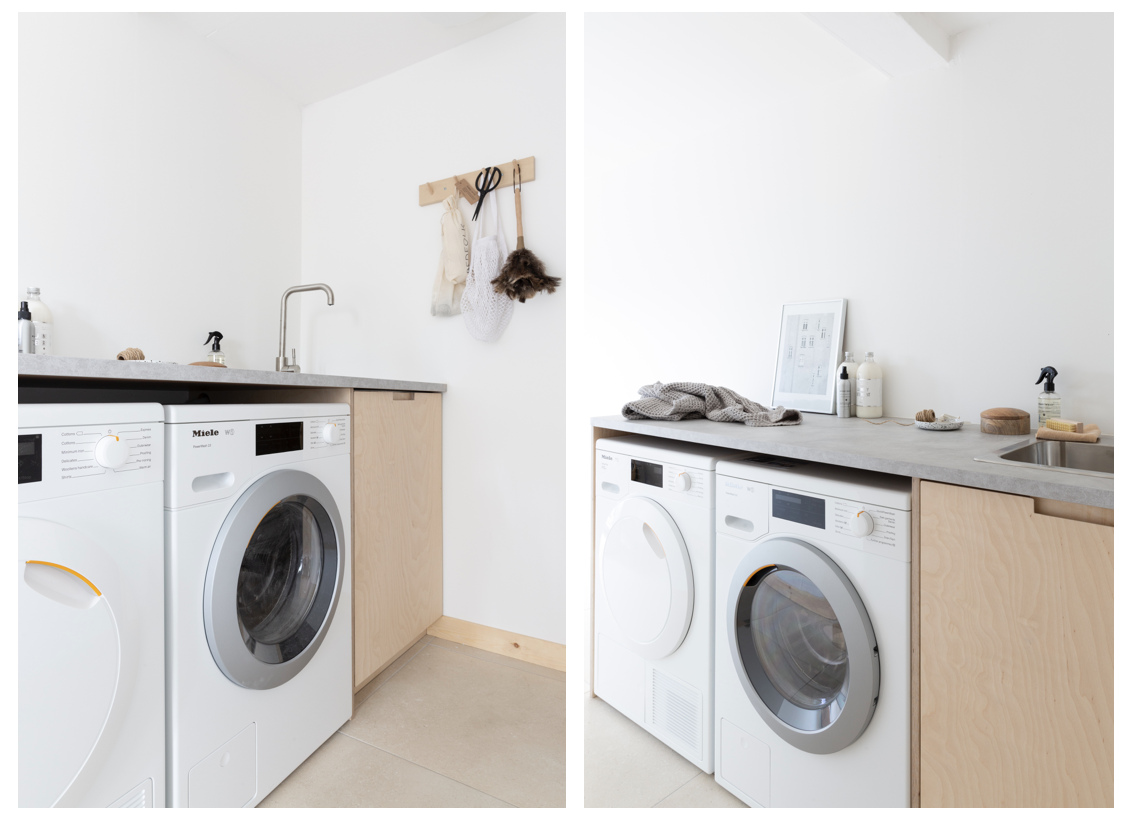 Storage is paramount to stay on top of clutter. Plan your layout carefully and it'll make all the difference when you fit it out. If you need to make the space work harder for you, stacking your appliances can give you back some extra elbow room. Do you need worktop space for folding away? How about a sink for cleaning off wellies and gardening equipment? Make use of every available space, utilising underneath the worktop and on the wall too.
Think about a mix of cabinetry to hide away the bulkier, less attractive items - perhaps a floor to ceiling cupboard for housing the ironing board, broom and muddy welly boots. We've got a unit for all the washing liquids, general house cleaning and the iron. It's great to be able to hide it away. Open shelves are a stylish option for displaying things you need to hand too.
Materials Fit For Purpose
It pays to pay attention to the materials you use from a practical point of view. Hardwearing solutions will be easier to maintain and won't look tired after a few years of use. Don't be afraid to pull inspiration from magazines, Pinterest and places you visit to help you gain a sense of how you want it to look and feel. You'll find a pattern emerge from the images you're drawn to which will in turn guide you towards the materials and fittings.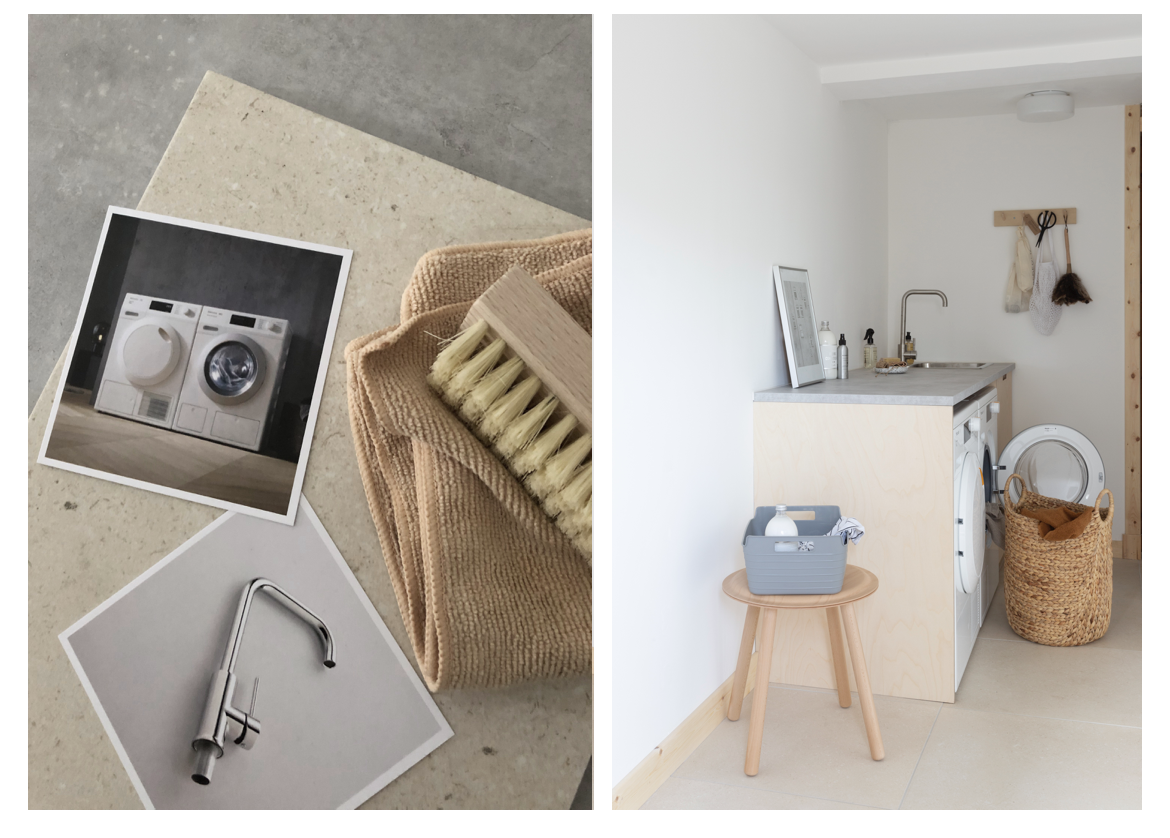 To make our utility room blend with the rest of the house, we went for a minimal look with white walls. It's brightened up the space enormously and fits in well with our Nordic style home. The units boast clean lines and fuss-free details in the door pulls, made from sustainable plywood here in the UK. We chose easy to clean porcelain tiles for the floor in a warm tone and concrete effect worktops for a contemporary, Scandinavian feel.  There are so many clever solutions for kitchen units these days, so make sure to do your research well.
Style It Your Way
Just because you're using the room for the purposes of cleaning, it doesn't mean it has to feel disconnected from the rest of your home. Laundry doesn't have to be all about laundry after all. Make it feel like home and display items you love. I've added simple decor such as a framed print and a minimal hanging peg for tools to soften the edges. Choose some stylish hand wash or scented ironing water to display next to the sink or on open shelves if you have them. I like to use Aesop or La Bruket, products which are environmentally friendly. Potted plants help bring life and vibrancy into the room too and I recommend accessories made from natural, sustainable materials - think wooden brushes and woven reed baskets for a softer aesthetic. It's kinder on the environment too.