The trend for pared back industrial style kitchens continues. But what are the design elements and features that must be incorporated to achieve the look? Nick Clisby of London-based NJC Kitchens explains.
Do you think industrial design is here to stay?  
Yes, I do. Industrial design is all about integrity and authenticity. It accentuates the structure of the materials used and has an honesty that I think people will always love. 
What makes an industrial style kitchen?
For me, it's all about the choice of materials and making sure their nature is exposed. These need to be considered in the context of the appliances in the kitchen. Our client chose the Miele HR 1936 Range Cooker, which has the lines and presence of an oven that you might find in any high end restaurant kitchen. They love to cook and entertain and so wanted the oven capacity and quality that this Miele range offers. There is nothing that matches this appliance on the market in terms of precision cooking and quality of build. We reflected this premium nature with our choice of materials, which hold their own beside this well-crafted beast.
How do you decide on the materials and colours? 
The Miele Range Cooker has a bold industrial feel and we chose to accompany this with cool greys, whites and steel sink and taps. We used the Hacker Callacatta white marble door finish with matching Callacatta Neolith worktop. The Neolith surface is ceramic and has a high heat and scratch resistance. It is also resin free and made from natural materials so less harmful for the environment. 
The wall unit shelving and tall units are all in Hacker Silver Oak Pore Structure finish. The wood grain gives the door a sense of warmth, depth and authenticity and is one of our most popular veneered doors.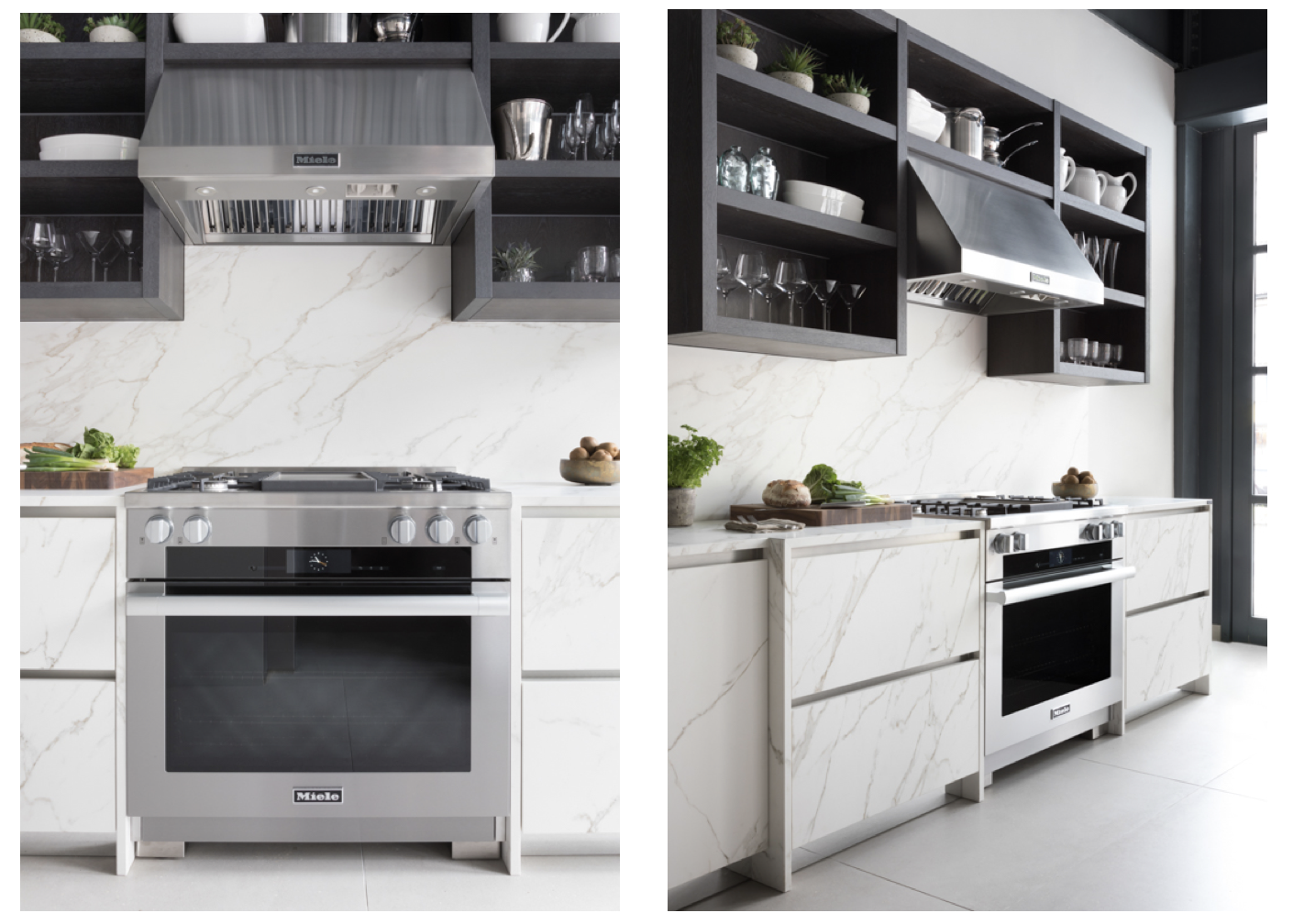 Image credit - Paul Craig Photography
What are the main considerations when integrating a range cooker into a kitchen design? 
The biggest challenges are extraction and the depth of the appliance. We had to decide whether it was possible to use ducted extraction to vent the fumes from the Range Cooker or whether we needed to recirculate and filter the air. We would always prefer if possible to vent the air out of the building which means positioning the appliance against an outside wall. The Miele Range Cooker is 693mm deep and this meant that we needed to make sure we could accommodate the worktops at the same depth. In this case we stepped the cabinets forward either side of the range.  How can you make an industrial kitchen homely? 
I think there are lots of ways to warm up an industrial design. In this case, we used texture in the tactile veneered Silver Oak Pore Structured doors by Hacker. A wooden chopping block supplied with the Kohler Stages Under-mount sink also helps to add warmth to the space and offers a contrast to the monolithic Callacatta surfaces. Lighting is key in industrial look spaces. Here, exposed vintage style lightbulbs complete the look and also add a warm glow.
Storage is a crucial part of a kitchen design; can you tell us about the solutions that have been incorporated into this design?
In this design, we positioned large pan drawers either side of the range cooker, with internal utensil drawers to provide easy access to everything needed whilst cooking. The open shelving units are a bold statement and offer a space to show off some favourite crockery and glassware. We have incorporated a larder with pocket doors that slide out of the way when the larder is in use. This is a great design feature perfect for hiding small appliances, or kitchen chaos when guests arrive!
The fridge freezer is an integrated Miele KF 180 Vi Master Cool and is not only cavernous but full of all the technology that makes Miele our number one choice when specifying kitchen appliances. It really does ensure food lasts for longer, helping to prevent waste.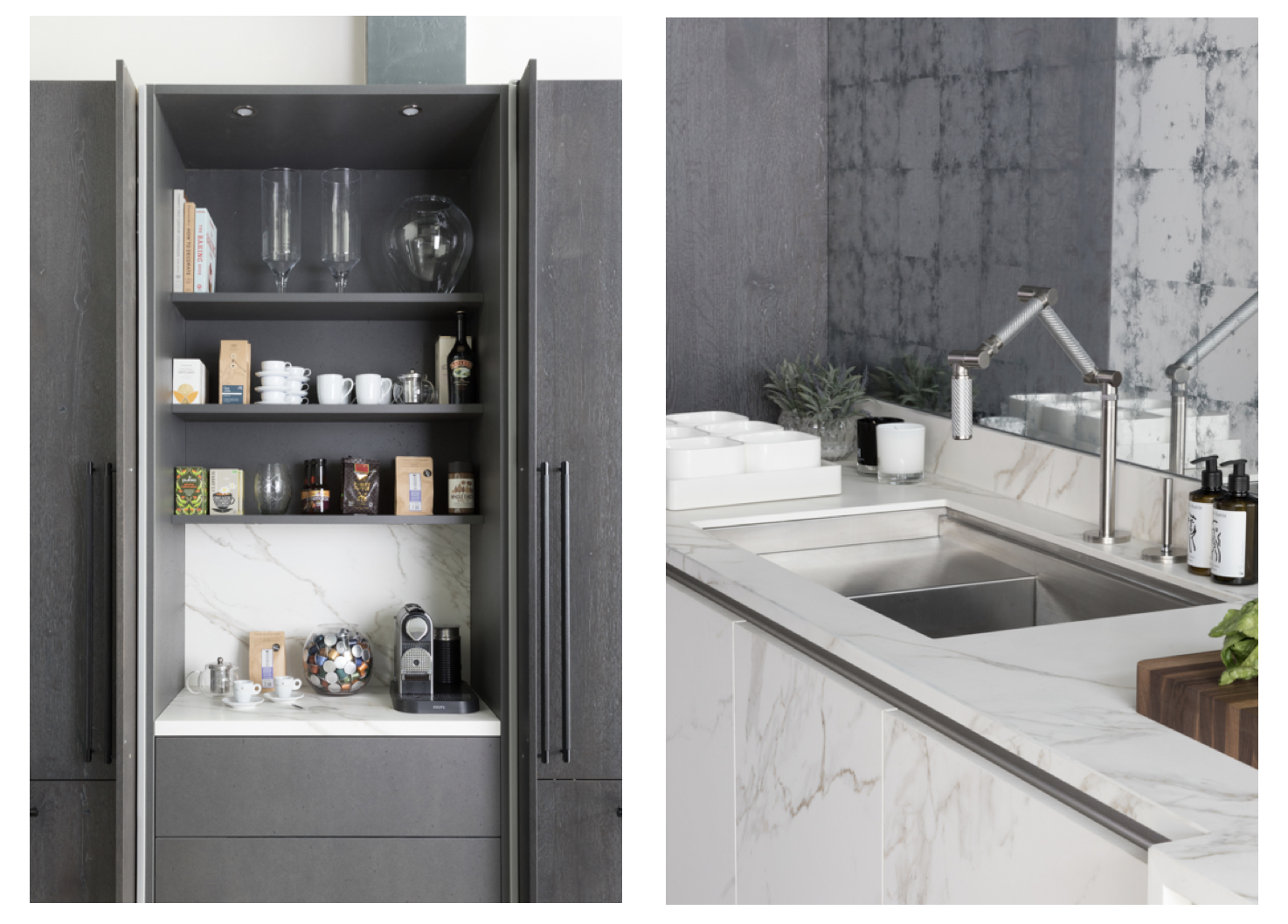 Image credit - Paul Craig Photography
What are your most requested design features? 
In the last few years we have seen an increase in requests for French door fridge freezers. They are the same size as a typical American fridge freezer, however the top section is all fridge space that is accessed by two equal doors, and the bottom section is a freezer drawer. We have also seen a marked increase in the number of clients asking for two dishwashers. 
How are kitchen designs evolving? 
Colour wise we are seeing a trend towards copper and green. We are also seeing more interest in veneered and Shaker style doors but with a modern twist. But stark whites and cold greys remain popular.  
What advice would you offer readers who are about to embark on a kitchen journey? 
Form Follows Function. Begin with functionality, try to make sure your space is designed in such a way that it is ergonomically optimised. Your new kitchen is there to make your life easy and enhance your cooking experience. Put in the leg work, visit at least three design studios, keep going until you find a designer and product that fit.
Your kitchen is the room you will probably spend the most time in, so take the time to get it right. Give yourself at least two months if not more for the design period. We can, and have designed kitchens in a matter of days. However, you will have a better outcome if you remove the time pressure, so that you have time to consider any changes, and enjoy the design process.  
Always check out appliances before you buy. The Miele Experience Centres offer Taste For Design Courses that are fantastic at helping clients choose the appliances that are right for them including a four course lunch!  
Image credit Paul Craig Photography