Generally speaking, the two most iconic timeless kitchen design styles are Shaker and handleless. Here, Allison Lynch from Roundhouse Design talks about how she met her clients' brief to design a contemporary style kitchen for a Victorian town house that would stand the test of time. Almost completely handleless with a touch of brass, this cool blue kitchen has been designed to maximise storage, seating and be as functional as possible for this family home.
What was the starting point for the design?
To create a sociable kitchen which opened up to the garden and also had comfortable seating.  
We understand the kitchen is located in a new lower ground level extension; did this present any challenges for the design? 
Not really other than the extraction for the island hob, which couldn't be a ceiling mounted extractor, which we would normally recommend. However, the skylights above the island created a much brighter space. We therefore opted for a downdraft extractor with the ducting fitted under the floors and then up behind the fridge through the ceiling. Ducting is always a challenge, but it still worked out with this design.
Did the kitchen opening out onto the garden impact on the design? 
It meant we needed to put the tall units all along one wall for the kitchen and keep the other wall for dining seating. So, we were limited for space, but I came up with a layout that fitted all the appliances in and still kept it functional.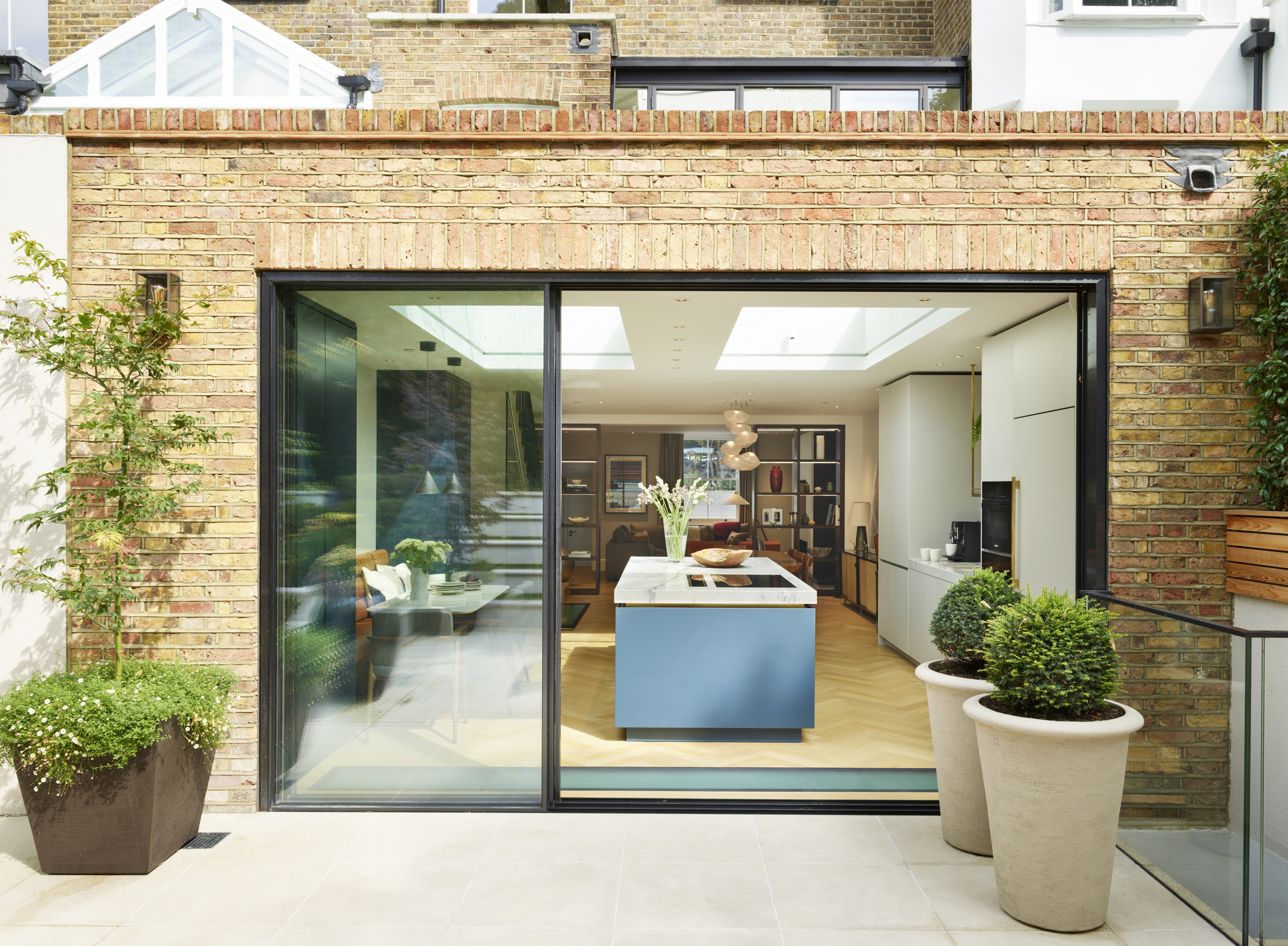 Why was Miele selected for the cooking appliances?
The owners are complete foodies and love to cook and entertain. They wanted appliances that would give restaurant quality results yet would also seamlessly fit into the handleless design. Miele's ArtLine design in Obsidian Black glass is completely handleless and was the perfect complement to the brass accents featured throughout the kitchen. The other requirement was the extra tall dishwasher that wouldn't ordinarily work in our URBO range as it's too tall to fit below our handleless rail. However, the Miele dishwasher we chose had a 'knock to open' function so there was no problem raising the door front to suit the dishwasher and putting our touch latches on the sink cabinet door, and the bins on an electric tip-on Blumotion which doesn't require a handle. The clients chose an induction hob, combination steam oven, traditional oven and a warming drawer which can also be used for low temperature cooking.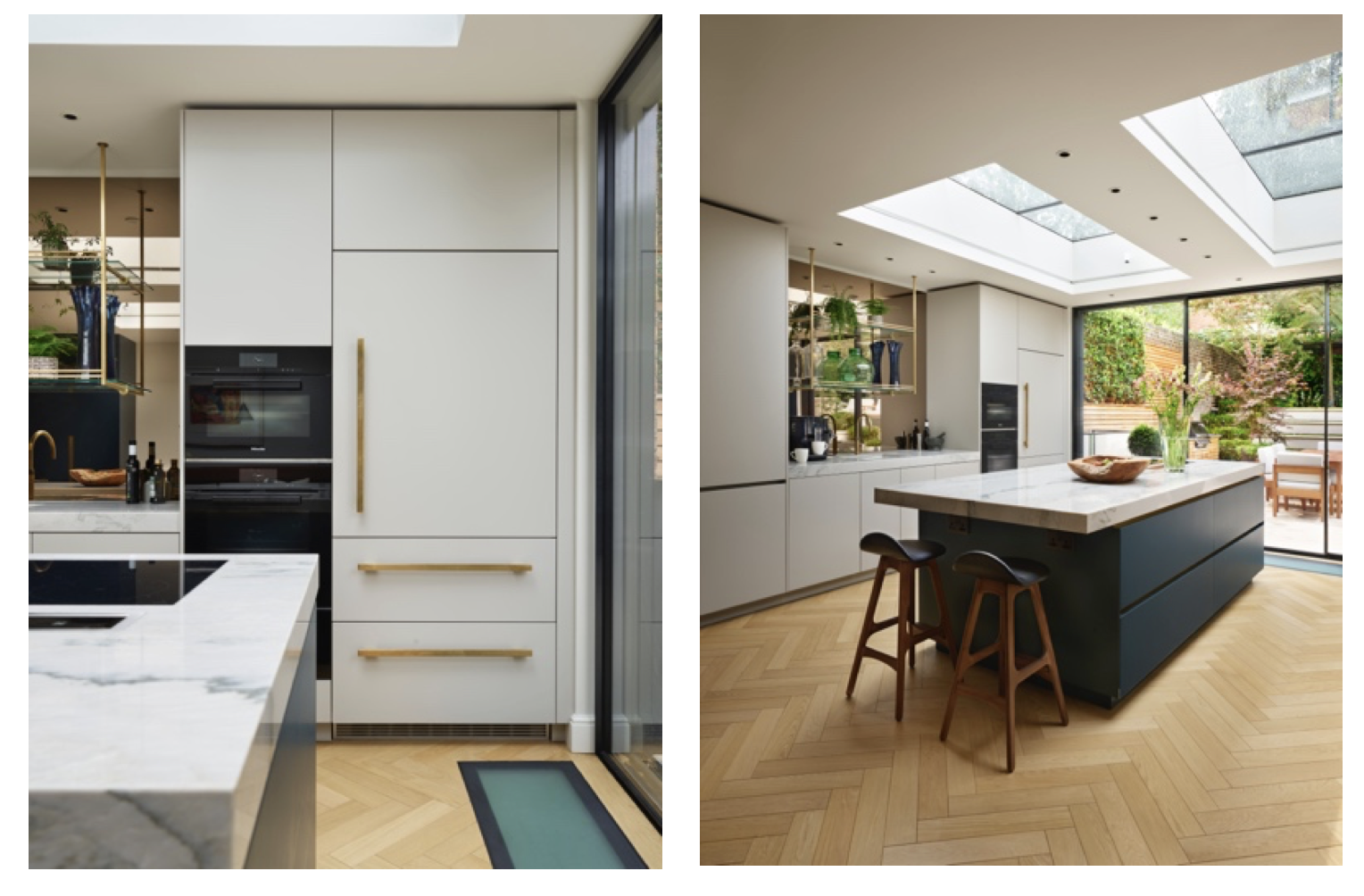 We love the colour scheme with flashes of brass, can you tell us more about this? 
Brass is very on trend and brings a touch of luxury to a design. I use it a lot in high end kitchens, not least because it can be easily carried through to other furnishings. I used it on our handleless rails in the island and the handles on the fridge, as well as the bespoke brass shelf.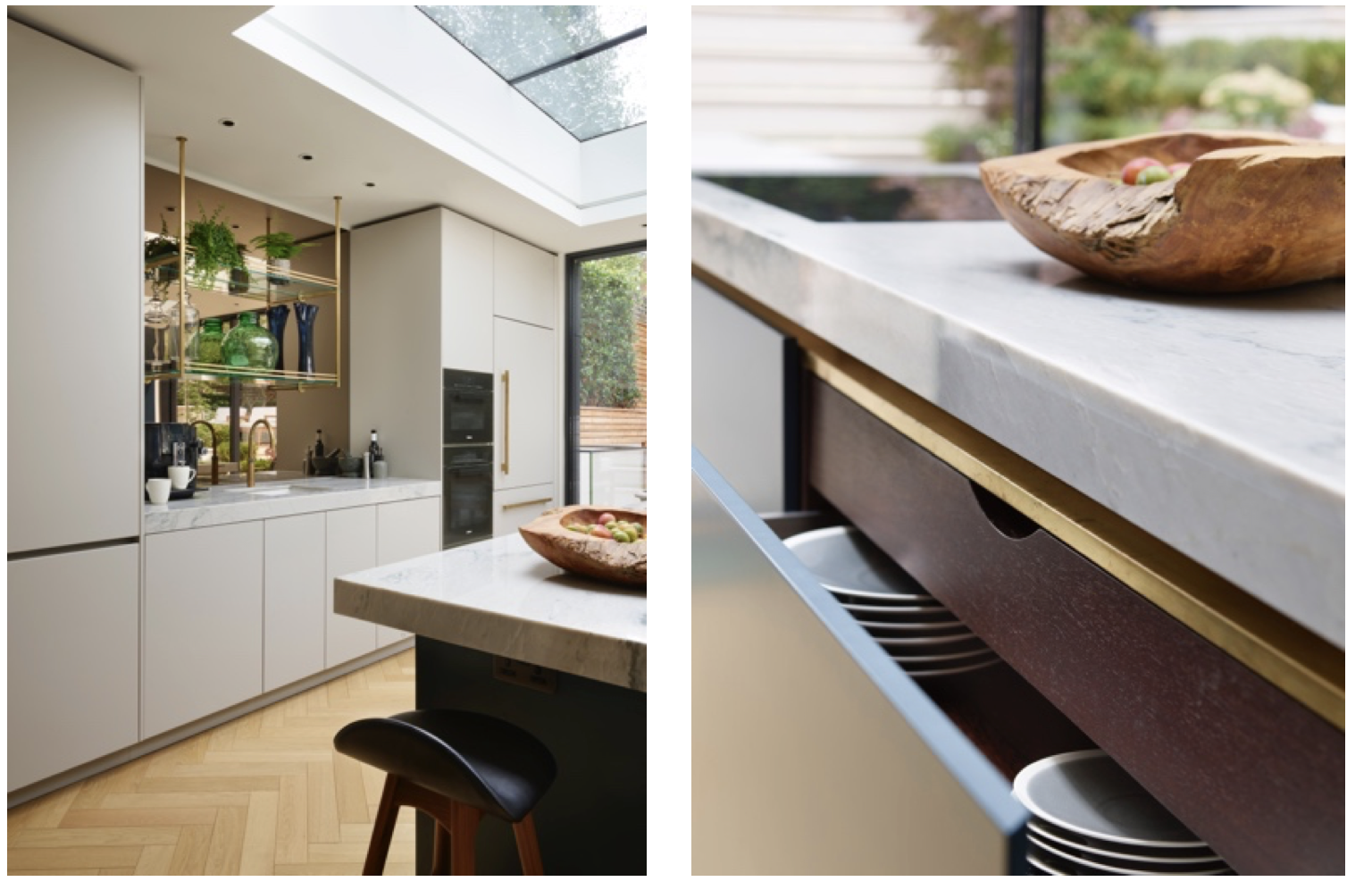 The open plan kitchen and dining area features three seating areas as well as an outdoor seating arrangement, how have you defined these and is this now the norm? 
With more kitchens nowadays being open plan and dining areas being less formal, this arrangement worked well as the space is tight for a free-standing table and chairs. The built-in bench allows the table to be pushed further to the walls and look cosy and inviting. It offers additional storage too.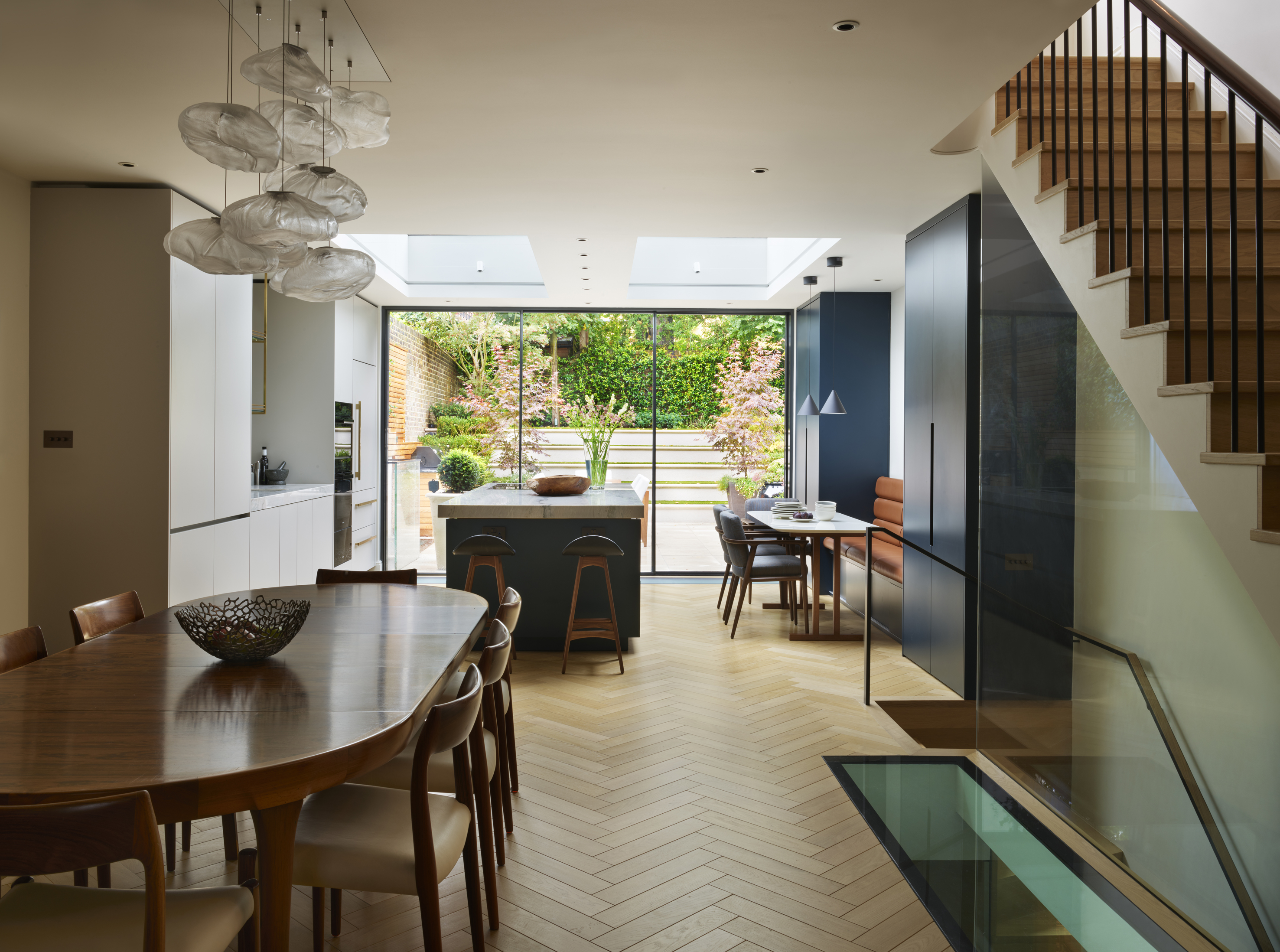 What are the key considerations when designing a kitchen for a large open plan space such as this?  Key considerations are the appliances, this defines the layout and then you work on the basis of an island or peninsula and if having seating in the kitchen, what sort of seating and to seat how many. The hob or sink being on the island is also an important factor and will have a knock-on effect for where everything will go. Worktop space is key, as well as storage for essentials, making the kitchen easier to work within. Also, the number of people that will be using the kitchen is something to factor in too.
Can you tell us about the island design?
The handleless rail was to be used in the island to bring in the brass detail, which worked well against the dark painted door fronts. The island was designed to also offer a lot of the storage, given that the back wall was to be fully used for the appliances; tall eye level ovens, which take up less space. Additionally, opting for drawers offered lots of storage and ease of access.
Are more of your customers opting for a bank of cooking appliances and if so, why is this? 
Customers are opting for more than just one oven, so they look to the ease of the housings to stack the oven, combi, steam, warming drawers etc. Also, they take up less space and are easy to reach - no one wants to bend down to open their ovens. Miele appliances are designed to work together in any combination and the handleless ArtLine design is particularly sleek.
Storage is a crucial part of a kitchen design; can you tell us about the solutions that have been incorporated into this design
Our Fulham Pantry is useful for food storage, but also has a worktop within to house free-standing appliances like a toaster that can be hidden out of the way. It also worked around a nib in the wall, which being bespoke, we can do, as we build our carcasses to suit a room. This one has spice racks on the inside of the doors and easy access to all dry goods. The space below and above the ovens was also useful and the clients wanted to build the bench into the dining area with tall larders either side of the seating to house their crockery.  The drawers around the downdraft extractor have been modified to suit the motor yet still utilise the space which may otherwise be lost with modular cabinets.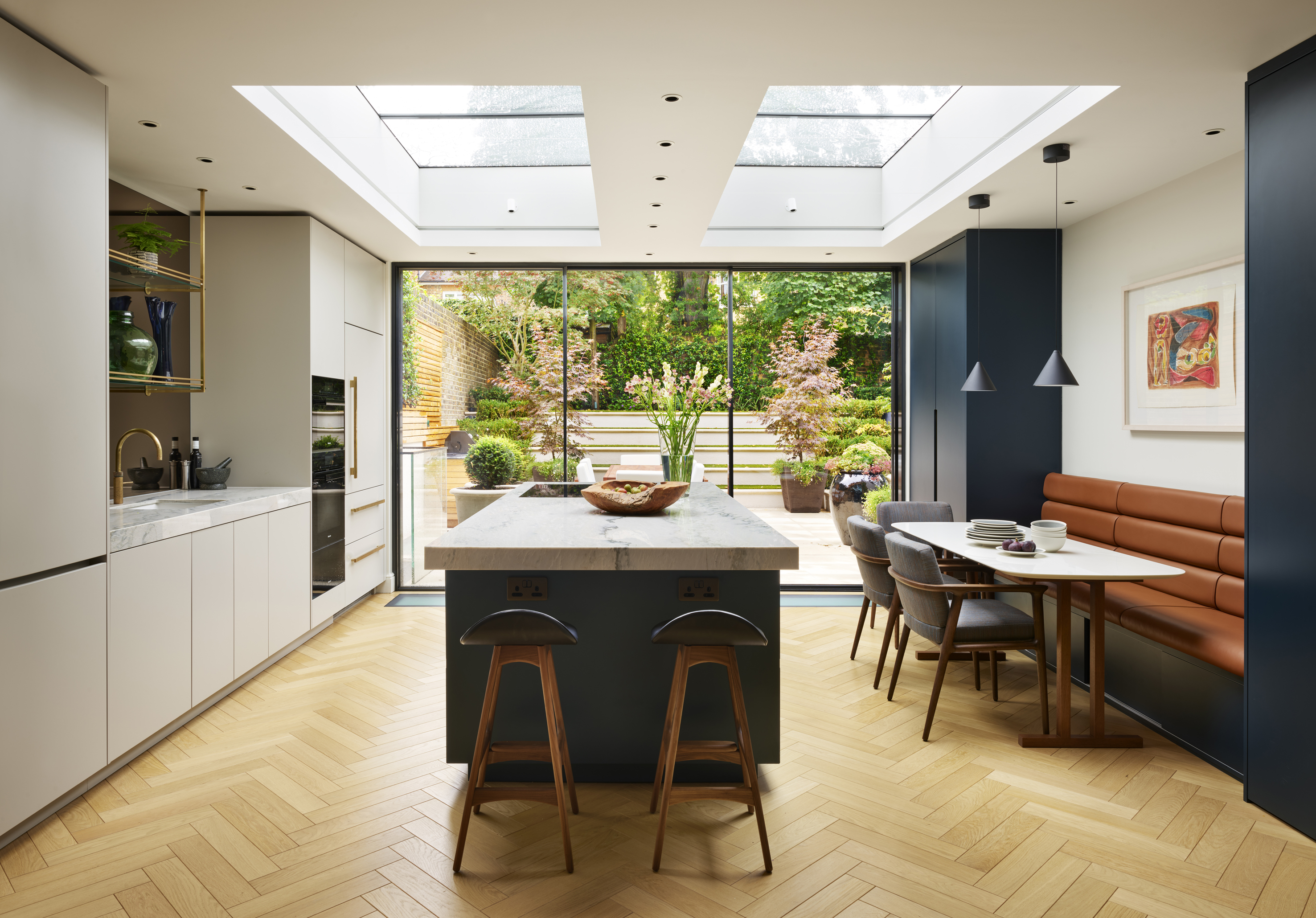 What are you most requested design features - islands etc? 
Islands have to be the number one request and a big fridge/freezer. Pantries are also up there too because one place for food is best rather than having it scattered around the kitchen.
How are kitchen designs evolving? 
Kitchen designs overall are more detailed, and more attention is paid to the fine detail. Drawers are wider and more stable, and mechanisms are improving and can meet the many finishes we have to offer. Kitchens are the rooms where people spend most of their time and so it matters to them to invest and get it right, including the appliances. They want the oven to meet their busy lifestyles, so to be ever more efficient. The dishwasher needs to keep up with busy family life plus entertaining, and the worktops need not only to be durable but aesthetically pleasing.
A kitchen is a big investment, do you have any advice on how to keep a design timeless? 
The handleless design is very timeless, as is Shaker, and because these styles are iconic, they are adaptable to modern living where we can play with materials. Painted doors are very easy to maintain and can also be repainted another colour which makes them worth having for a long time. Kitchen appliances are also moving with the times whether they are streamlined or a certain colour, as well as being user friendly, so the functions and style work well with today's kitchen designs.
What advice would you give to readers who are about to embark on a new kitchen?
Gather your inspiration and talk to a good designer who will really take the time to understand your lifestyle and requirements. Make sure you have the right budget to meet your wish list and to do your research on appliances. In particular go along to a Miele Experience Centre (London and Abingdon), and book in for the Taste for Design course which includes a four-course lunch cooked using a variety of appliances such as steam and induction.