The owners of this dream kitchen chose Neil Lerner Designs to help them transform two small rooms within their period Edwardian property into a sleek and uncluttered open-plan space designed for cooking, living and entertaining. Eve Turner Design Director at Neil Lerner explains how the design process evolved, to ensure everything on her client's wish list was included.
We understand that this stunning family kitchen is also used to entertain frequently, how did that impact on the design? 
As this is a really large open space, the owners wanted a separate dining area adjoining the kitchen so they are able to entertain both formally and informally, as well as 'en famille'. The room is very light and airy due to several windows, but this created a challenge in that wall space for storage was limited. The owner is a keen cook and loves to entertain a crowd so we needed to allow for the design to incorporate a bank of appliances and ensure there was a place for everything.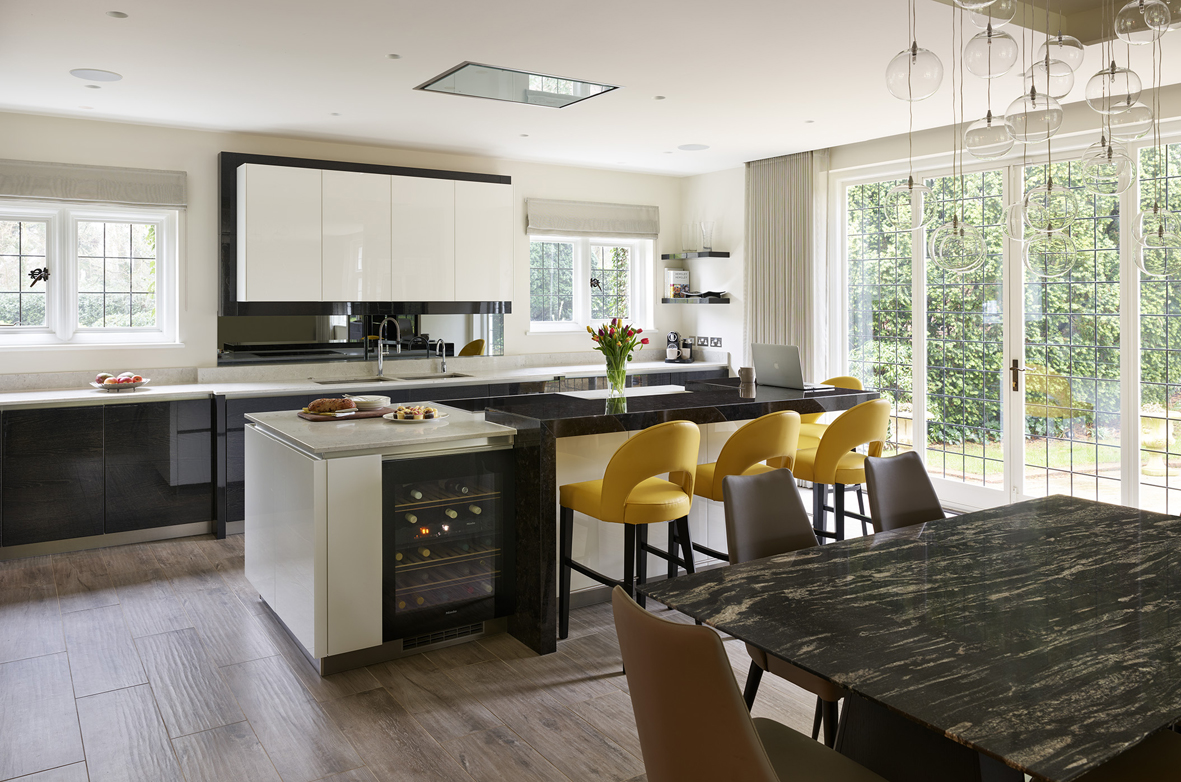 How did the kitchen design evolve? 
We worked with an interior designer appointed by the client. Given the overall room size, we planned the best place for the kitchen and the rest was zoned into dining and lounge areas integrating the units accordingly.
What are the main considerations when using handleless cabinetry? 
Ease of opening is the main criteria for handleless cabinetry, especially with large fridge doors.  It is also really important to make sure that the handleless trim runs all around the island. This creates a sophisticated look with clean lines.  
How was the colour scheme selected? 
This was chosen in tandem with the interior designer who was selecting the room's overall colour scheme but as you can see, neutral colours prevailed - until the interior designer decided to add a bold touch with the bright yellow chairs!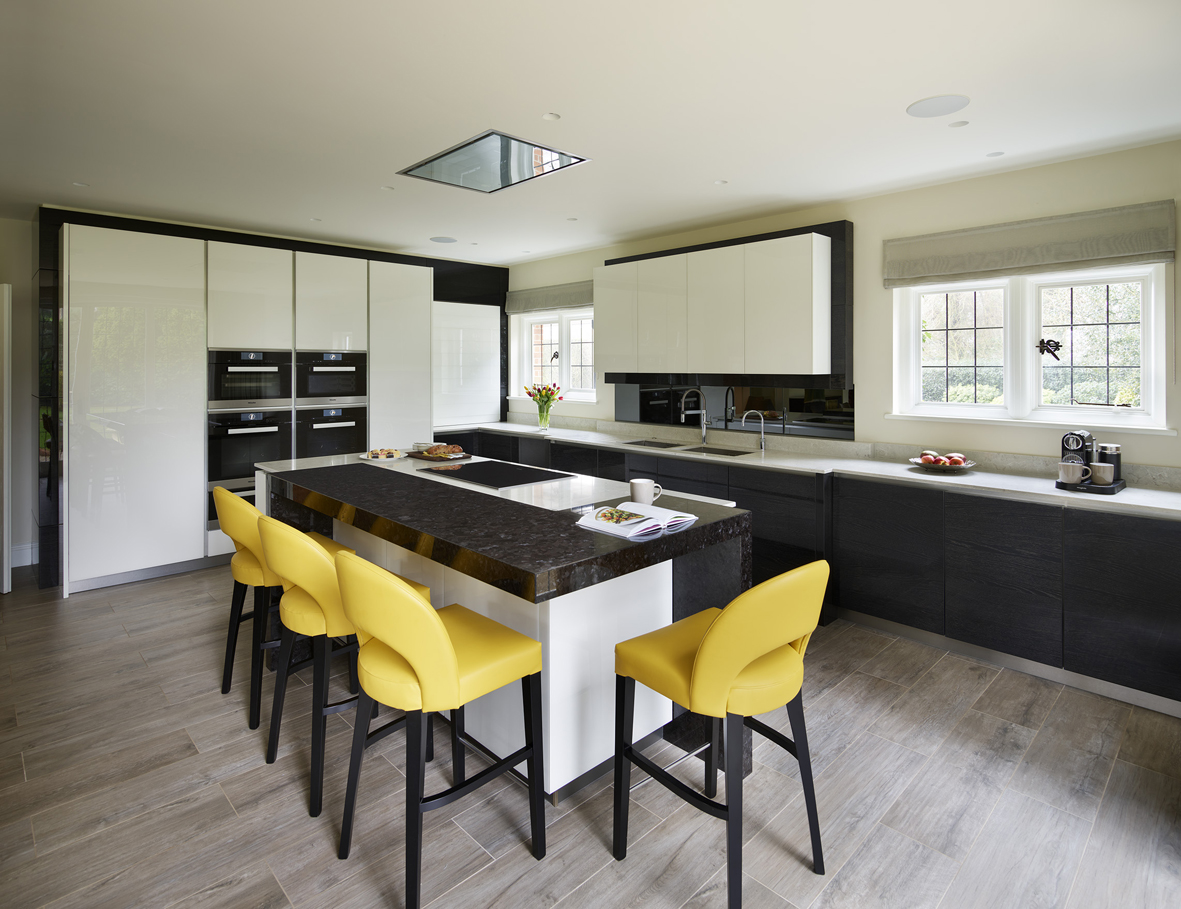 Did you face any challenges? 
Incorporating everything on the client's very long 'wish list' was definitely the main challenge on this one.  And achieving lots of hidden storage behind closed doors! The client spends most of her day in this room and so we even incorporated an 'empty' emergency drawer in the large island for quickly hiding any paperwork when unexpected visitors arrive or the children have friends round. There is a neat 'breakfast cupboard' where the toaster and crockery are stored behind an electric tambour door shutter so they can be easily accessed or discreetly hidden away when not in use.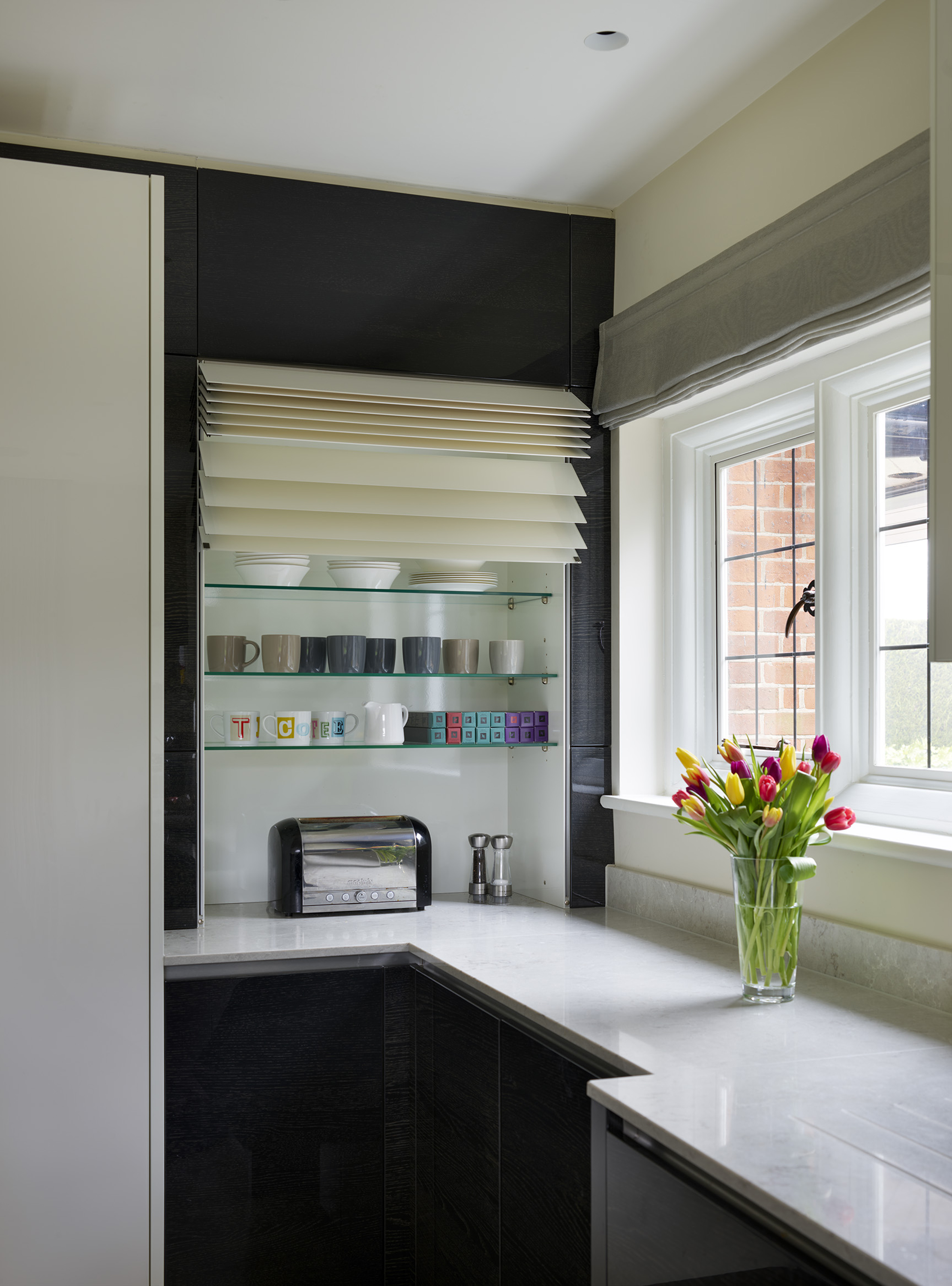 How does an open plan layout impact on a kitchen design?
An open plan layout is central to the whole design.  It requires careful zoning to accommodate the client's living requirements and ensure that each area is clearly defined. Quiet appliances are also essential as well as an effective extractor fan to minimise smells and condensation.
It is clear that your clients love to cook and entertain, can you tell us more about the appliances and the configuration?
The appliances were a key consideration for this client so I took her to the Miele Experience Centre in London where she was bowled over by the breadth of options.  In the end, she chose all Miele appliances – including a combi steam oven, two conventional ovens, a combi-microwave and two warming drawers. We created a bank of six cooking appliances on one wall with the streamlined induction hob positioned centrally on the island opposite.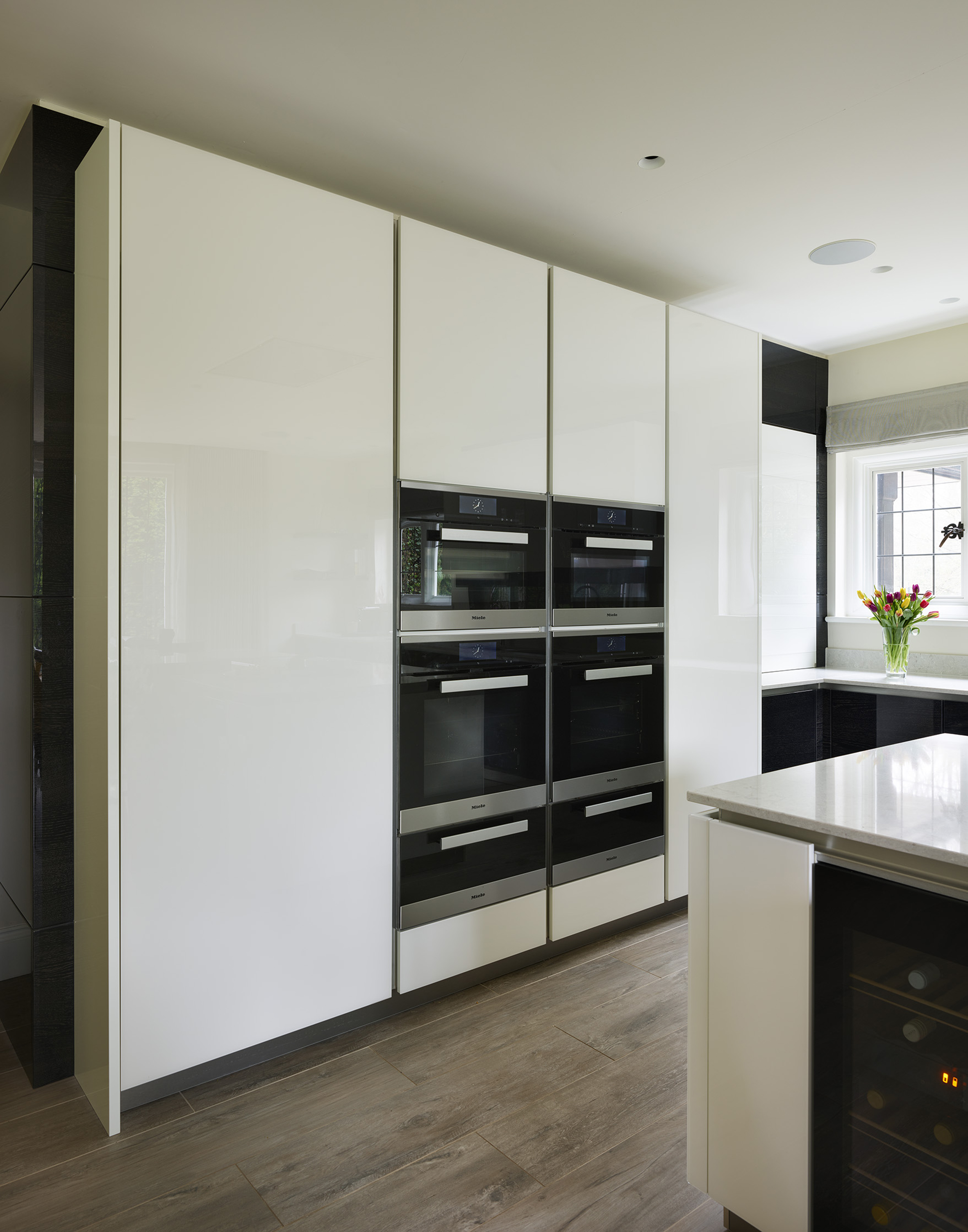 The kitchen offers three seating areas, how is each defined? 
We created a casual breakfast bar around the kitchen island with an adjacent large dining table, plus there is a relaxed living area beyond that with comfy sofas and a TV.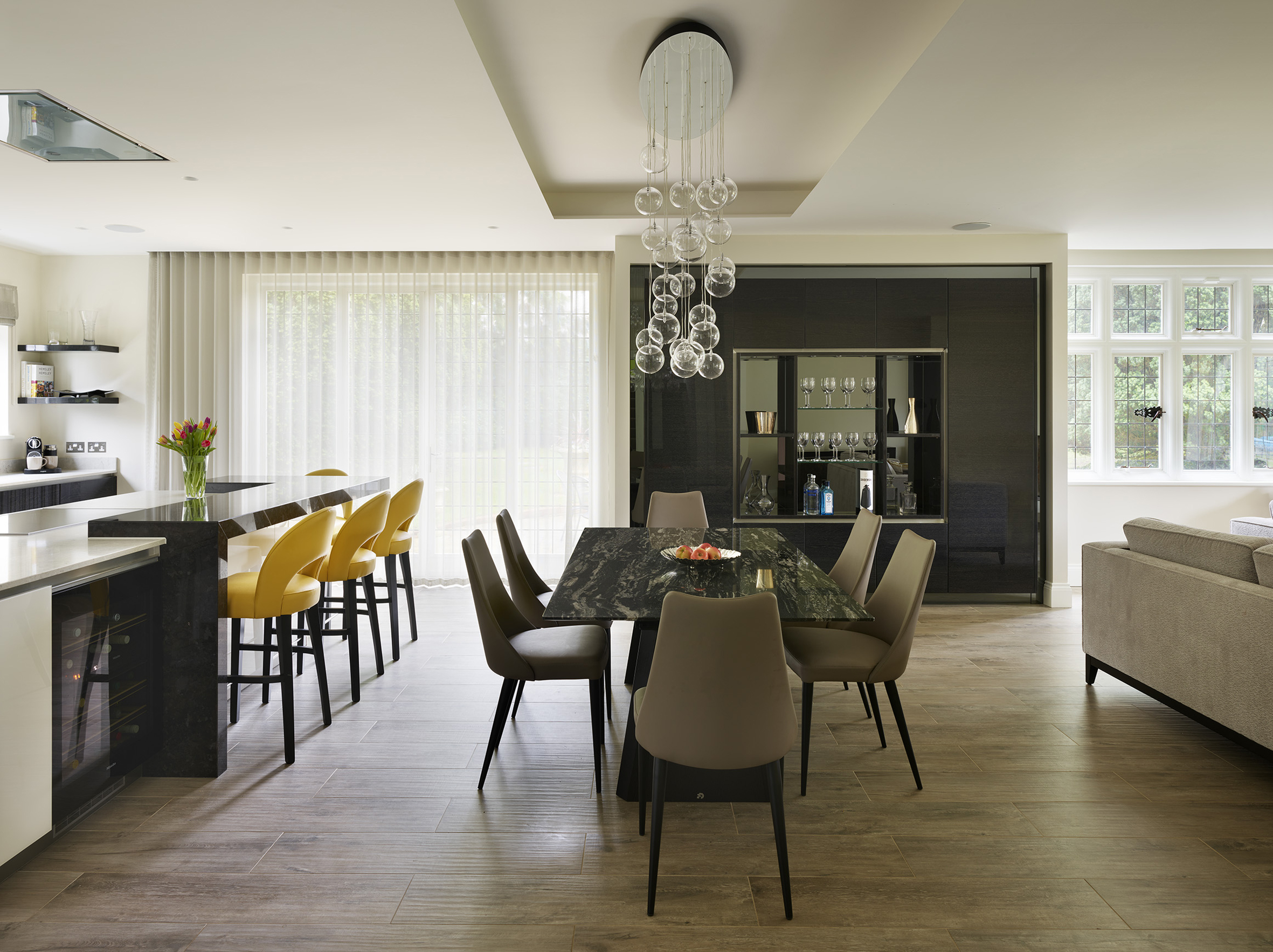 What is the best way to create a focus or design feature in a large space? 
Zoning!  As mentioned above, the kitchen is part of a much larger open plan room so it was important to define this area with an island.
Do you have a favourite part of the kitchen design? 
My favourite part is the stunning glass display cabinet in the dining area, which we suggested in order to be able to discreetly house additional units for even more storage space.  We also cleverly concealed an integrated freezer here as there was no more room in the kitchen - but you would never know! Even though it is made from the same cabinetry as the kitchen, it actually looks like a bespoke piece of furniture. We are doing a lot more of this type of unit in adjacent areas for the same reason; clients never seem to have enough storage space, however large their kitchen!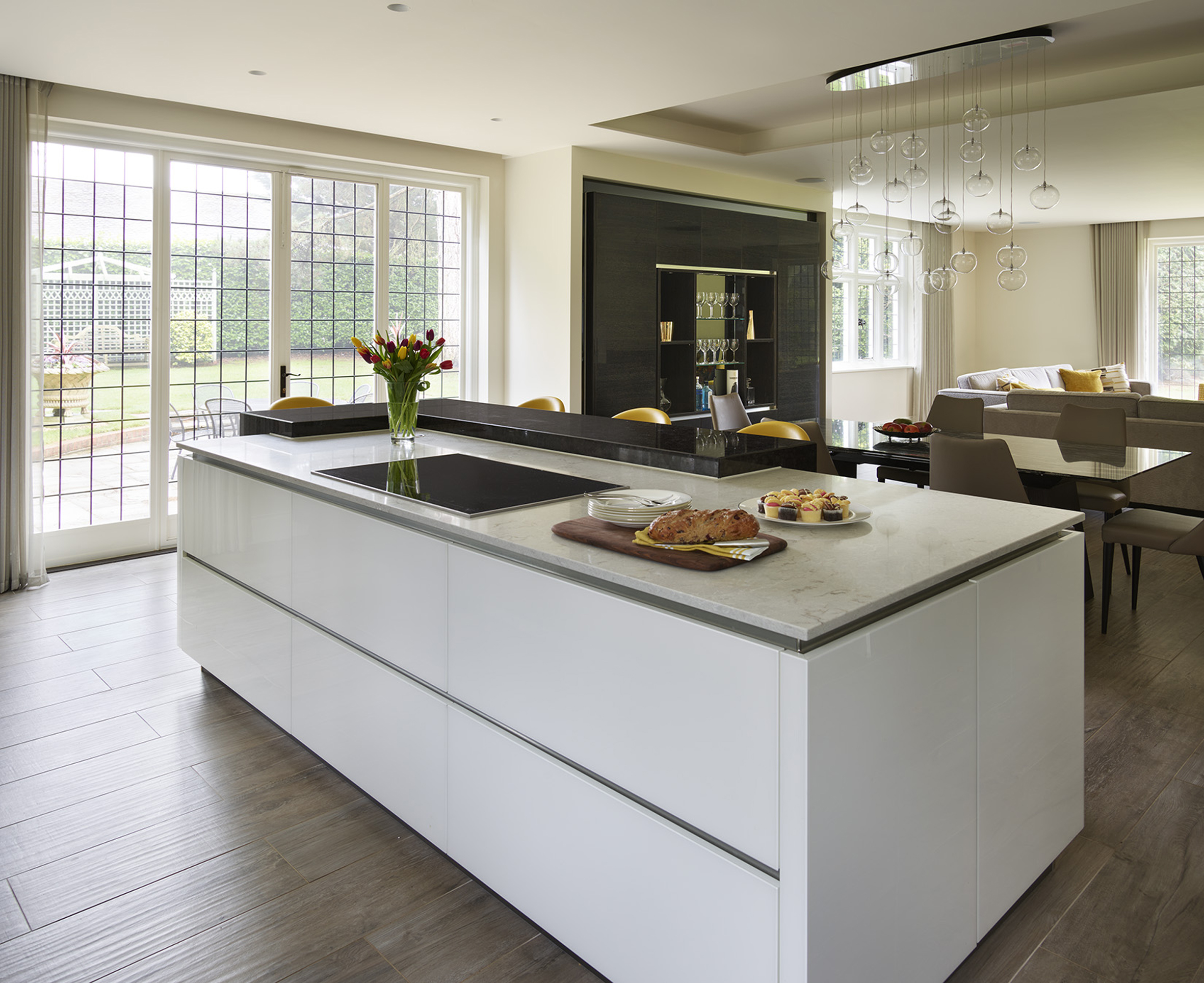 What advice would you give readers who are about to embark on a kitchen redesign?
Come to Neil Lerner Designs for expert advice!  Joking apart, I would say it's vital to consult a designer as early as you can in the process – in fact as soon as your plans are finalised.  We prefer to become involved right at the beginning of a building project to ensure that the space is allocated as accurately as possible.  Make a wish list of everything you require and how your family would like to use the space. Research the appliances carefully – visit showrooms where you can see them working and experience the food. The Miele Experience Centre is well worth a visit!