Sophie Paterson is fast becoming one of the UK's most well-known luxury interior designers, leading her own company, Sophie Paterson Interiors.  With a large following on Instagram and a beautiful feed documenting her client projects, stunning Surrey home and family life, Sophie's interior style is admired by many.  We sat down with the esteemed business woman to discuss her own utility room renovation, and how her careful eye for detail has transformed this space to balance style and practicality.
When was the moment you decided to become an interior designer?
I've always loved interior design, even as a child, but I decided to become a designer when I was 23.  I loved styling our first home in South Kensington, and it caught the eye of a property developer who we'd consulted on a possible extension project.  Initially, I worked solely with the one developer, but over the years my client list has grown and I now have a fantastic team working with me on a range of projects.
How would you describe your style?
Classic contemporary – I create interiors designed to last the test of time.  Often with a neutral base, but featuring delicate use of colour and texture.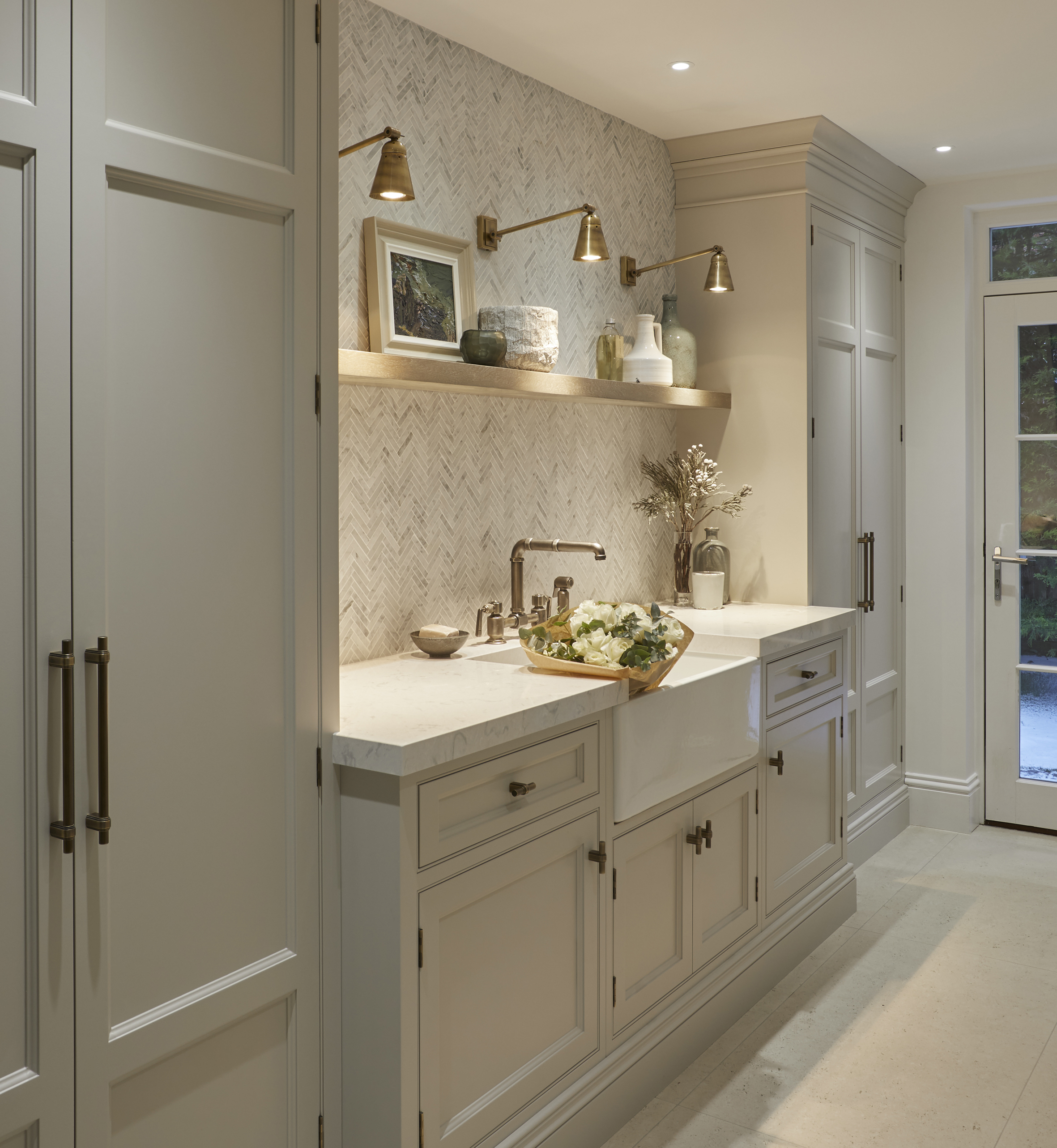 Why did you decide to update your utility room?
It is such a key room in any house and I use it all the time. I had previously given it no real thought or budget, but I wanted it to be beautiful and functional as it is such a hardworking and busy room in our house.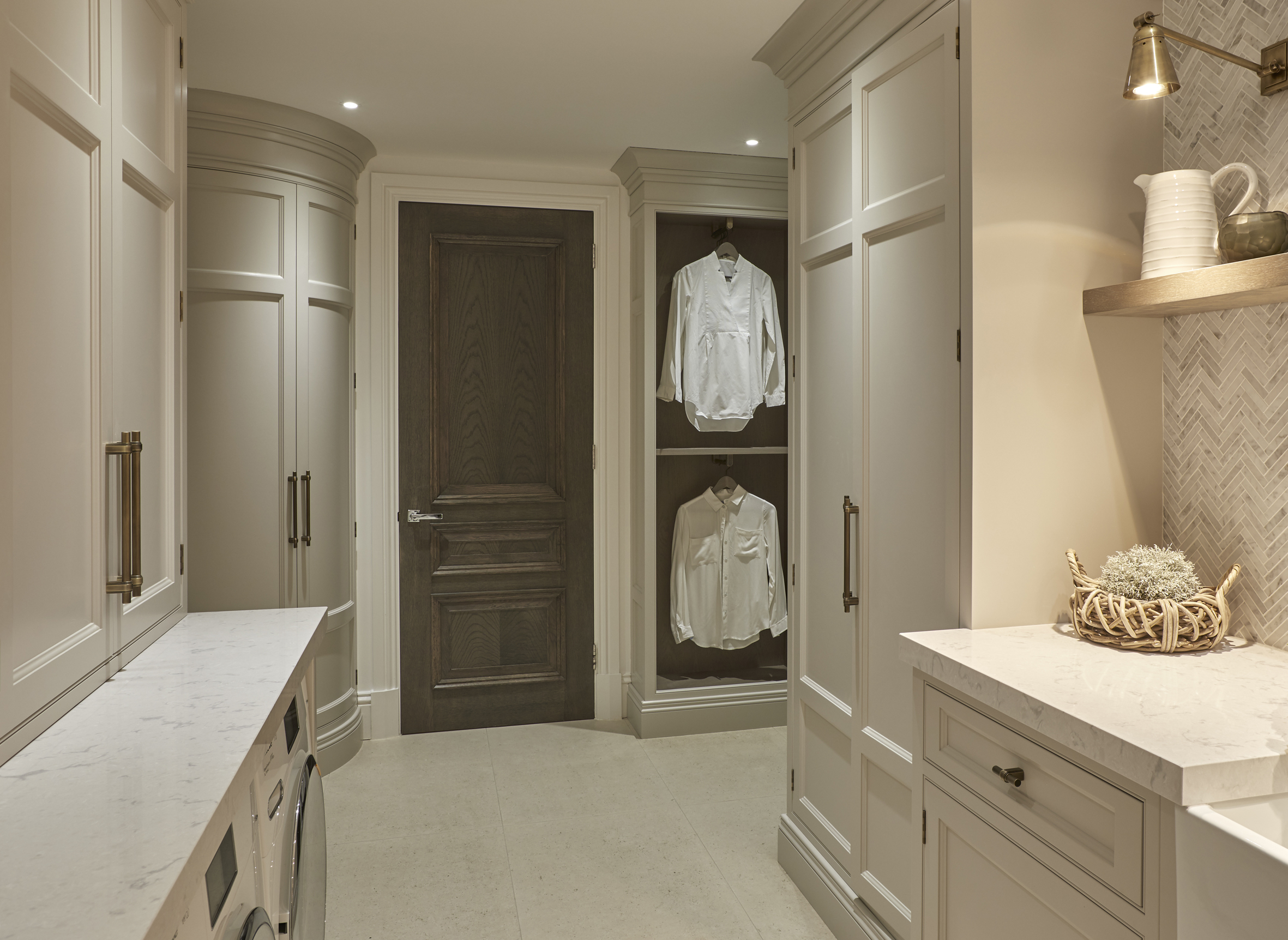 What practical elements need to be considered when designing a utility room?
Perhaps most importantly, how many washing machines and tumble dryers do you want?  I knew I needed two of each as it saves so much time in a busy household.  Storage is also a must, and I knew I wanted plenty of that in this room.  For clothes that cannot be tumble dried, I also wanted air drying space that didn't look ugly.  Always consider yours and your family's needs and how you intend to use the room.  For me, that included a few luxury must-haves such as the flower arranging pantry, candle cupboard and vase cupboard.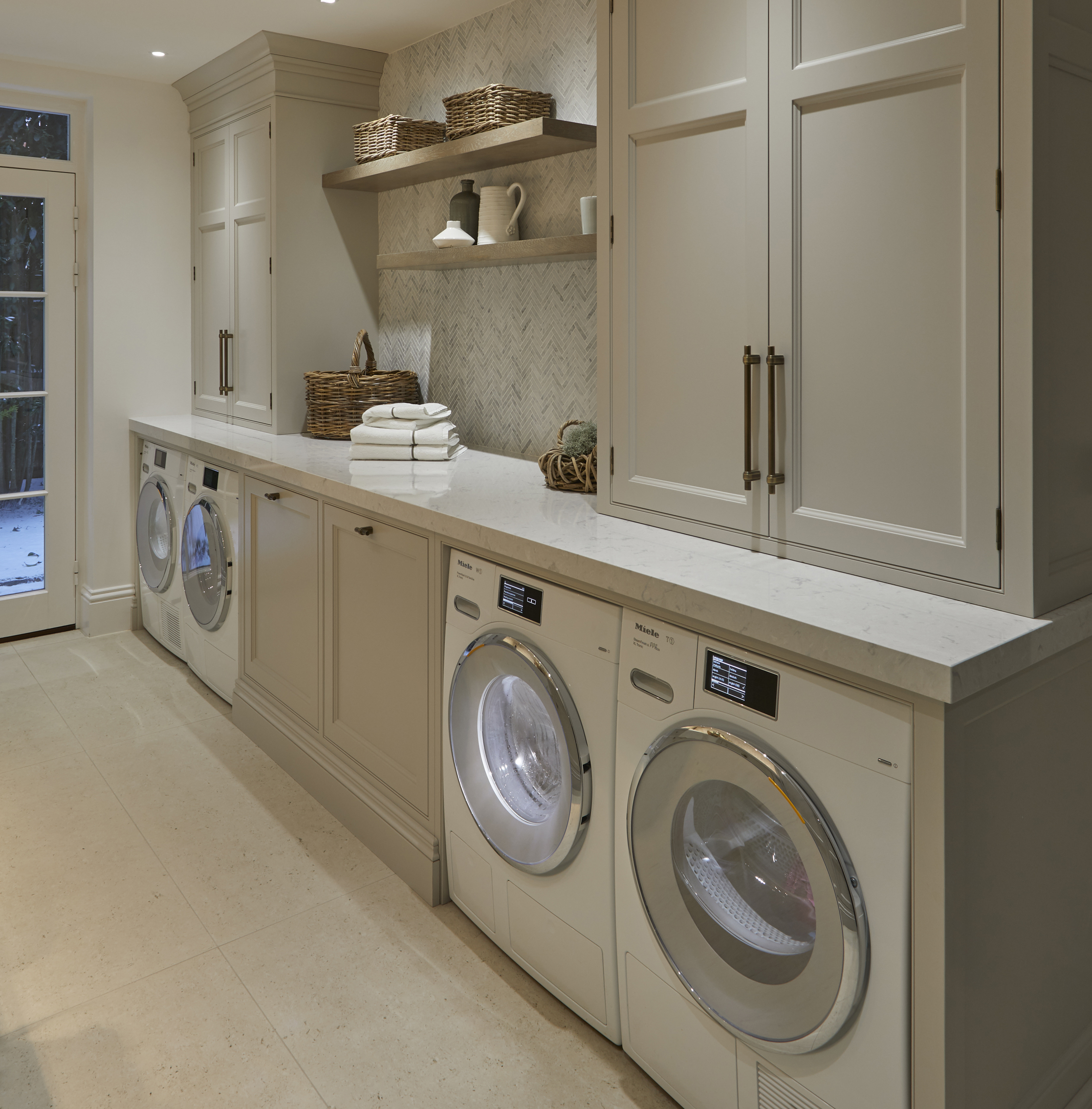 Why did you choose Miele laundry appliances?
I've always used Miele – they are reliable and top spec.  I had my eye on these particular models (Sophie has a WMV 960 Washing Machine and TMV 840 Tumble Dryer) as I'd seen them on Pinterest and thought the design would complement the room.  They are very sleek and elegant for washing machines and dryers.
After visiting the Miele Experience Centre in London, I was sure it had to be Miele.  Their machines offer so many clever options for ensuring you look after your clothes in the best way, plus the machines are much more environmentally friendly and efficient.
What are the stand out features of your Miele washing machines and tumble dryers?
I love the SteamCare option and the clever Twin Dos function.  It ensures you use the perfect amount of detergent every time (most people use too much or too little), plus it smells amazing.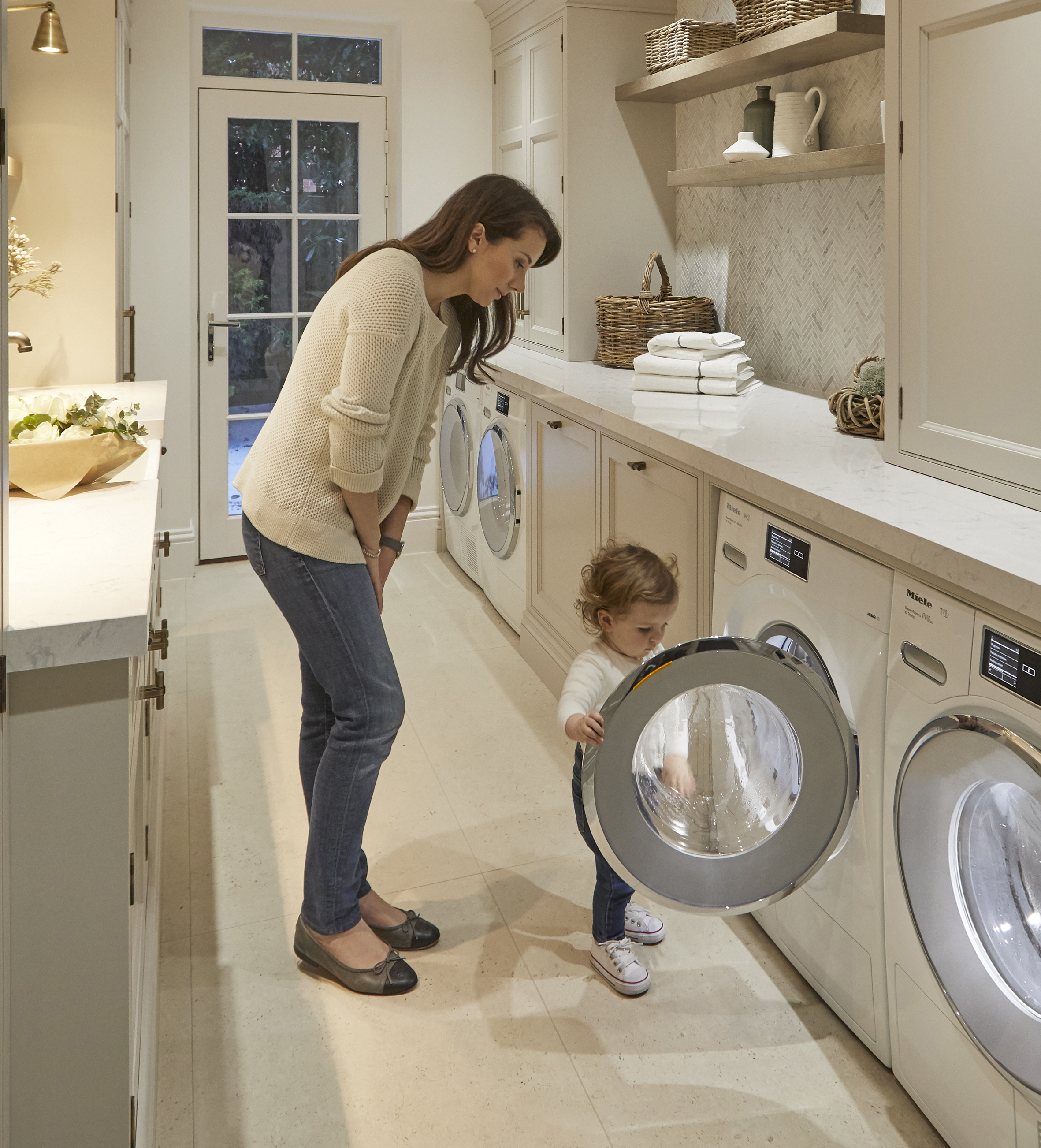 Why did you choose to have them freestanding rather than hidden away?
I like seeing them on show and my daughter, Ava loves watching the washing go round – just as I used to when I was a little girl!  It's also more functional for day to day use.
What programmes/ features do you most use on your washing machines and tumble dryers?
I do get a lot of use out of the SteamCare option, as it reduces the need for ironing.  Anything that saves time and hassle is great.
Are you seeing a trend for people specifying a utility room?
So many people have told me they now want to redo their utility room having seen my transformation!  It's such an underrated room, but it's like the new kitchen - we spend so much time in here and making it a pleasant space to be in can make such a difference.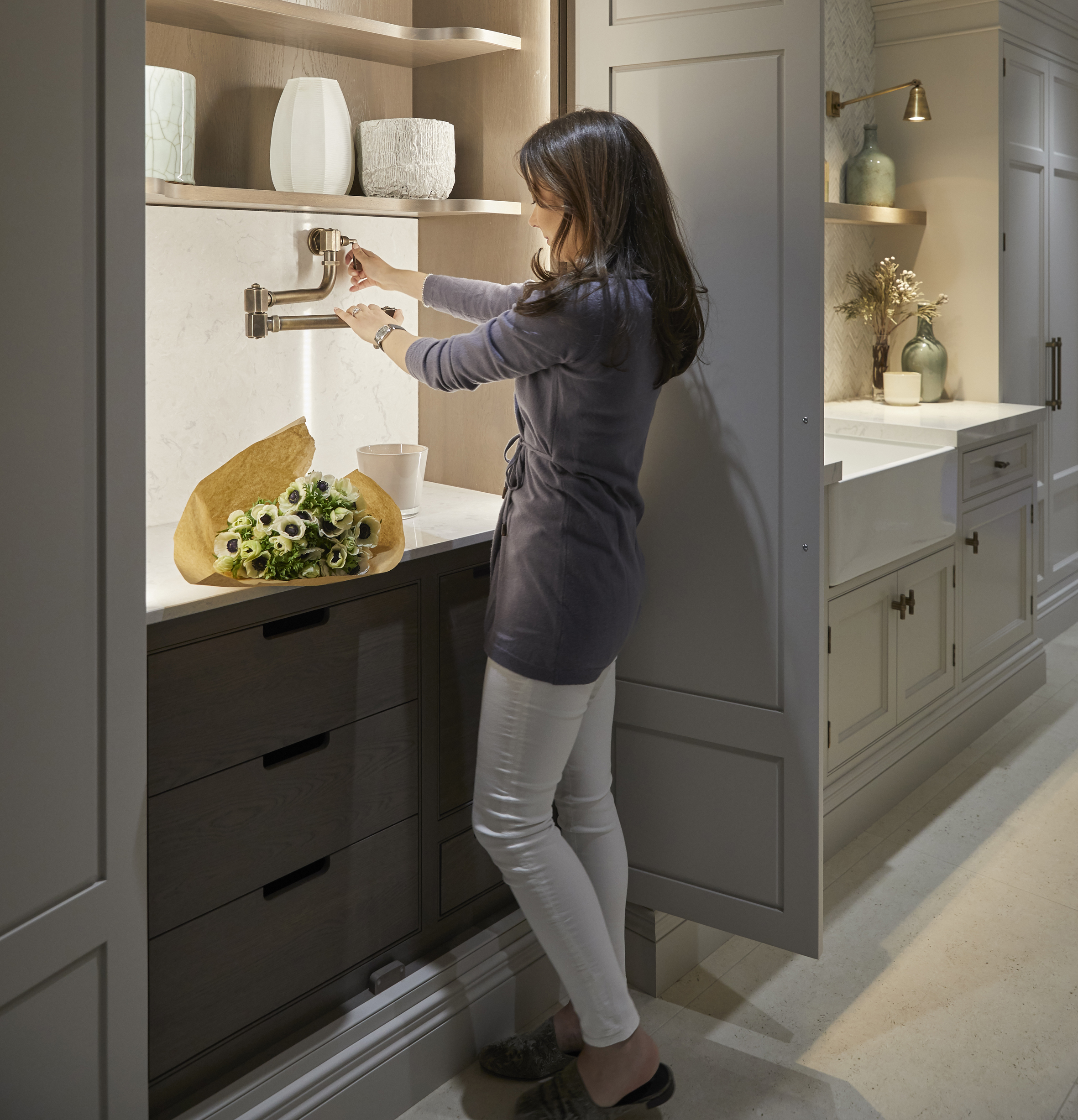 What advice would you give to our readers who are planning this space?
Think about how you want to use the space rather than just doing what is standard.  I knew I needed storage for my candle addiction and a space to arrange flowers, plus two dryers and two washing machines.  For some people that might be excessive, but it's how I wanted to use the space and it works for me.  I love the room because it perfectly suits our lifestyle and is so beautiful.  Don't be afraid to do the same and include elements that you love and work for you.
What should you never compromise on?
Storage and quality.  You only want to do a room like a utility, kitchen or bathroom once, so choose the best you can afford so it will last.